Happy D. is a well-known artist, whose hard work resulted in expanding her career worldwide. Her YouTube tutorials are respected and binge-watched by millions of beginners and professionals from the East to the West. She is a painter and an entrepreneur and you are probably thinking now: I wanna be her when I grow up. But the question is: how? How to become a freelance artist on YouTube, start your adventure as an influencer and build your audience? Where to begin and avoid being demotivated and lazy? It is your lucky day because you will find all the knowledge below. 
What were your first steps to become an artist?
Well, I think the VERY first step probably happened when I was a child.. I always had a natural interest and passion for creating art, and whenever someone asked me what I wanted to be when I grow up, I would always answer "artist". Then, life took me on somewhat of a detour career-wise, but I think when I started to share my artwork on social media, things started to change for me. Seeing the positive response and impact my art garnered from the online community really gave me the groundwork and confidence to pursue it full time.
When did you know that it's time to left your day job and become a full-time artist?
I think I've always felt out of place in my career because my heart wasn't fully invested. As much as I enjoyed the work environment and the people I got to meet in my job, there was always an emptiness that I couldn't eradicate. For a long time, I reassured myself that no one likes their job 100% of the time and that I should just be grateful to be employed at all. It wasn't until I started following artists on Instagram and getting an intimate look at their daily life that things finally clicked for me. Seeing them spending their hours painting, drawing, creating made me realize that life was what I had been longing for. I was in my early 20s, without a family or any "adult" responsibilities yet, and it suddenly dawned on me that I should at least give my childhood dream a fair shot. After saving up enough money from my job and gaining a small momentum on social media, I made the decision to try out being a full-time artist.
Where do you find inspiration? Your works are like true fairytales taken from our dreams.
Thank you so much! A lot of my inspiration comes from my dreams, the art I consume, the music I listen to, and sometimes even random words I hear throughout the day. I try to grab on to any small flicker of inspiration, and I usually write or sketch it down as immediately as I can. I am rarely gifted with a fully fleshed-out "inspiration" that can serve as a blueprint for an artwork. An inspiration for me starts as a small spark – it's usually a vague idea or even general "feel" that can't be put into words. And then through fleshing out that idea by sketching it, iterating on it, rendering it, the spark can grow into a flame. Inspiration comes more often when I am constantly creating, so sometimes the act of creating itself can be inspiring because your brain is working in that creative headspace.
How does your creative process look like? Because your art is only partly digital, right?
I had dabbled in a few digital paintings when I was still in school, but haven't touched it in many years. Normally I use oil paints and pencils to create my work, so my art isn't digital at all unless you count the process of scanning/photographing and digitally tweaking those files to match the original work (for web displays and prints). My creative process starts out usually with a rough thumbnail sketch that takes around 60 seconds or less, then finding reference photos to fit the concept. I usually combine multiple reference photos to serve as a "mood board" for my painting. After that, I start painting the piece with a rough idea of how I want the finished product to look like, but still keeping myself open to improvising along the way. Sometimes I will take a photograph of a work in progress and then use Photoshop to roughly try out different colors, ideas, and modifications. This helps me test out how things will look without the stress of painting and repainting on the original piece. When I see a rough mockup that I like, I will then reproduce it on the actual painting. Overall digital methods help guide me along the painting process, but my works are all traditional mediums – though lately, I have been considering incorporating more digital painting into my works! I'm very excited to try it out and see where it could take me 🙂 
When did you come up with an idea to show your work on YouTube?
I think it was around 2015. I had admired so many artists on YouTube and learned so much from watching their videos, so I was excited to contribute to the YouTube art community.
And what was first – your Instagram or YouTube?
Instagram.
What are the exact steps when you want to set up your own artistic vlog?
Oh, this is a tough one because I feel like I am still such a novice when it comes to vlogging haha. I'm not confident that my vlogging process is the best, but usually, with each vlog, I try to capture one full day because I want people to see an authentic "day in the life" of an artist. I don't do much planning or set up because I want the day to feel as real and organic as possible. It's only in the editing process that I try to structure the video clips in some sort of cohesive way to tell a story. I've still got so much to learn when it comes to cinematography, editing, and storytelling through video.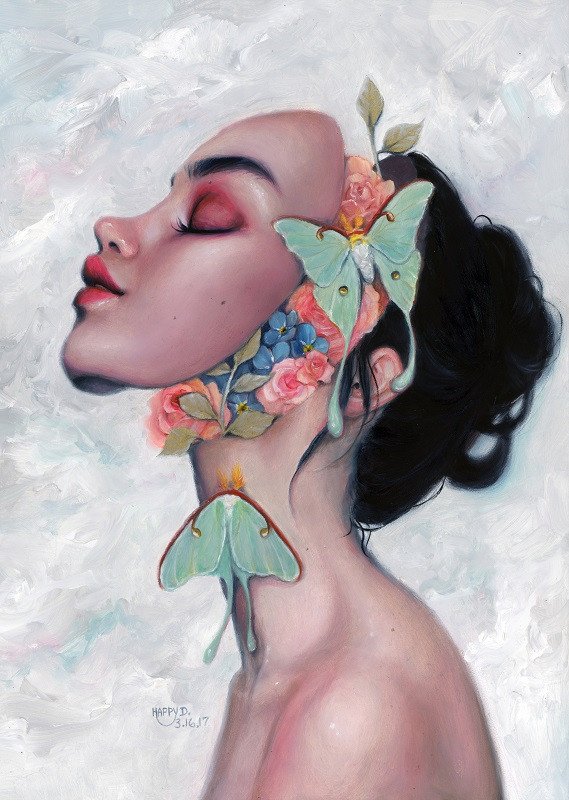 Do you record your movies yourself?
Yup, just me and my tripod 🙂
When did you notice that your Youtube channel is gaining popularity?

I don't think the popularity of my channel is something that I purposefully kept track of, and my YouTube channel didn't explode overnight. As I kept uploading videos, it slowly grew traction over time, so it's hard to say when I "noticed" it gaining popularity. I don't think there was one defining moment where my YouTube "got popular". Rather, it was a long process of continuing to share my art and engage with my audience. I'm so lucky to have a warm and supportive community on YouTube so making content that they would find useful and enjoyable was my number one priority.
Where do you find ideas for tips for artists?
Everywhere! Even just by following artists on social media, you can learn so much from them. I also enjoy listening to art related interviews and podcasts, reading blogs, and watching YouTube videos. Patreon was also a great way for me to learn more in-depth knowledge from my favorite artists for a very affordable price.
Do you have any tips for artists who would like to start their career on YouTube?
Don't be discouraged by numbers. In fact, don't pay attention to numbers much at all. It's so easy to get wrapped up in the toxic "popularity contest" aspect of YouTube, but that won't bring you the most fulfillment. Instead focus on creating content you are proud of, sharing your joy and passion for creating, and also try your best to engage with your audience no matter how big or small. Pay attention to what your community enjoys, what they connect with, and be open to constructive criticism. Also don't be afraid to try new things! A lot of people on YouTube are interested in getting to know the artist as well as the art they create.
How do you feel yourself promoting your art on social media? In your opinion – how powerful and essential it is for artists?
I think social media has become an integral platform for artists, and it has definitely shifted the old paradigms of the art industry. Before social media, most artists needed to rely on the rare opportunity to work through an art dealer or gallery in order to find a collector base. Nowadays, artists have the opportunity to reach their audience directly through social media – and not only can artists find collectors this way, but they can also share more intimate and personal insight into their life. Collectors can now more easily put a face and a story to the artworks they enjoy, and in my opinion that creates a deeper connection between the artist and the collector.
What should we do when we are a freelance artist and we are out of motivation? I assume it has to be difficult – work from your home.
Working from home is tough because it's the ultimate test of self-discipline, but it's also a huge luxury to be able to enjoy the comforts of home while you work. It's easy to get distracted when you have access to a bed, a couch, your TV, and no boss or coworkers to keep you in check. That's why it's important to try to mimic a normal work environment as much as possible. Pretend like there IS a boss watching and evaluating your performance so try to stay away from surfing the web too much and slacking off during your work hours. My main tip for working from home as a freelance artist is to set a schedule for yourself, both daily and weekly and monthly. Give yourself major goals you want to accomplish every year or quarter (whichever intervals work best for you), and then break down those goals into actionable task items. Then, assign those task items per week, and further break down those tasks into smaller daily tasks. I also recommend setting consistent daily work hours for yourself. Since you are working from home, you can definitely take advantage of sleeping in and not having to endure rush hour traffic, but still, try to work at least 8 hours. Instead of 9-5, it can be 11-7, whatever hours allow you to be at your most efficient and productive. Holding yourself accountable to a schedule can help you establish a work routine that is similar to a normal 9-5 job (but with the added bonus of getting to stay in your pajamas all day). 
What are your thoughts about print on demand websites? 😉 
I love them! They are such a great way for artists to set up up an online shop without needing to buy their own printing stations or pay for a bulk wholesale order. There is no upfront cost to artists so they can start making a profit right away, which relieves the artist of so much financial pressure. Print on demand has also allowed me to experiment with many different types of merchandise outside of just fine art paper prints, and also helps me save time on packaging and fulfilling orders.
Are you an artist? You should definitely binge-watch her YouTube channel. It's like a heaven on Earth for every creator! 
And if it's your dream to have her artwork on your walls, visit her Displate gallery, you will be amazed!