Synergy. That's the word we'd hang on the wall for 2022.
It's been a busy year that brought together our print magicians with seasoned maestros and fresh faces from all over the world in a synergistic effort to find out what else a Displate can be.
And it can be a lot: a dreadful dragon or a condescending duck. A highly exclusive Ultra Limited Edition launch or a collaborative Stand With Ukraine charity initiative. Yet another commissioned project in the line or the first real shot at a serious art gig.
It's only natural that with 41,000 artists onboard, Displates take up many forms. Let's see how the creators treated our metal canvas this year.
Top Displate Artists and Designs of 2022
Giving independent artists a platform, a technology, and a community to help them make money off their art and boost (or, in many cases, kick off) their careers is part of what Displate is all about.
We love to celebrate our artists' wins and observe how they beat their personal sales records, score a hit Displate artwork, or push our Design Studio into new creative directions with their Limited Edition ideas.
Give it up to the artists, creators, and designers who had an incredible year on metal!
Top-selling artists
Cosmic ventures, dark fantasy tales, and surreal dreams – this was the year of escapist designs, as 2022's top-selling artists have opened portals to other worlds right on our walls. 
He'll take you to outer space, make a stop in a buzzing neon city, and befriend a new mystical creature on the way. Benny Productions runs a private multiverse that's tied together by beaming colors and hues. Glad we could contribute to its expansion!
Congratulations on a stunning year! What was your biggest milestone in 2022?
The biggest milestone in my career this year has absolutely changed my life. Over the past few years. I've been able to monetize my design work in multiple ways and this allowed me to move into my own house and build a dedicated YouTube studio. I've seen how my past work paid off, and how I can grow even further in my new workspace, which is a big source of inspiration for me. I can already tell my work is changing, and absolutely in a good way!
What can you say about these last months, Displate-wise?
Seeing so many people appreciate my artwork means a lot to me, but realizing someone likes a design so much they want to have it on their wall feels even more amazing. It's a big motivation and reward, especially considering this all started out as a hobby!
Barrett's expressive work is where the familiar meets the surreal. This self-taught abstract explorer creates art that's packed with details to spot and shapes to untangle, but can also get minimal and to the point.
With more than 500 Displate designs, Nicebleed is one of the most prolific artists on our platform, stretching the boundaries of digital art. From toned-down illustrations to lustrous space impressions and murky dark fantasy vignettes, there's lots to love in his vast catalog.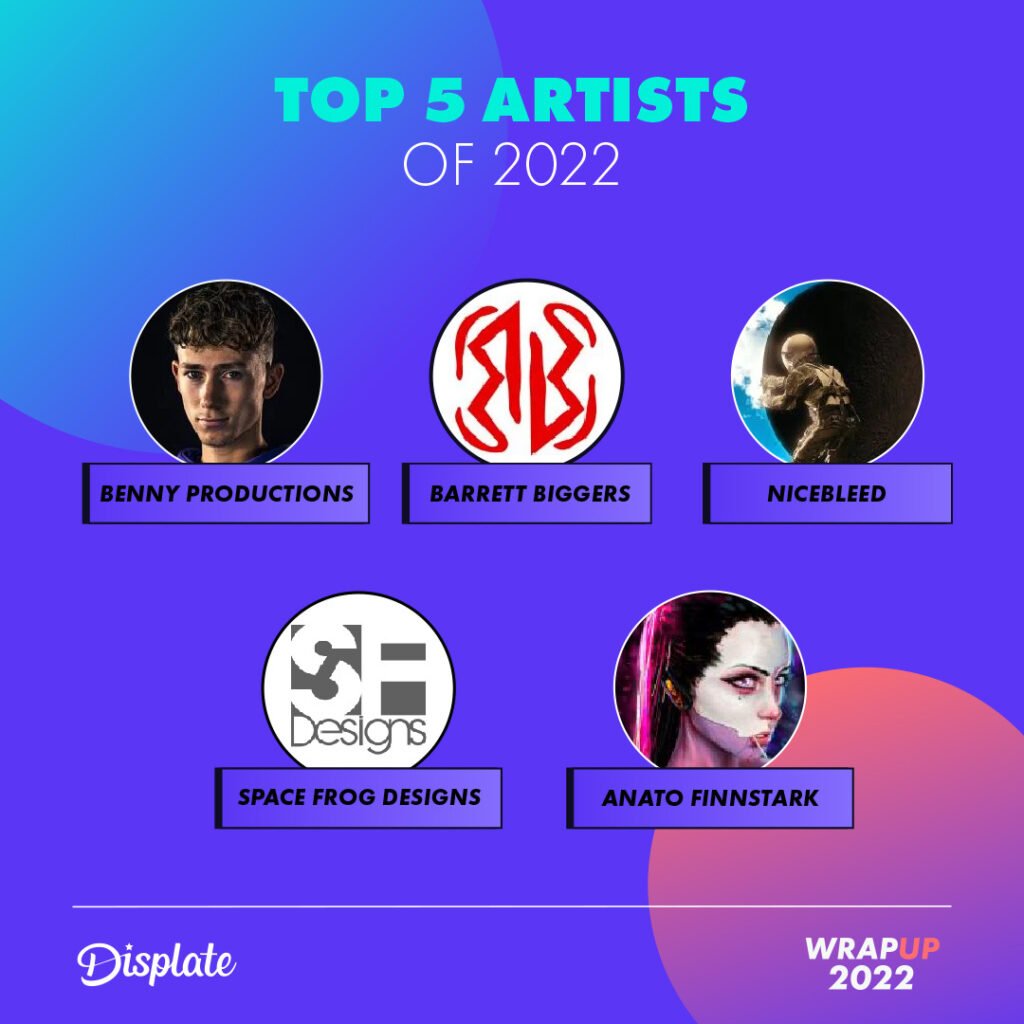 Top Displate debuts
2022 brought some amazing newcomers to our metal poster marketplace. Three of these debutants did especially well in the last twelve months, scoring the most sales out of all new Displate artists.
Lazaro45five took us down the neon-washed streets, Ellie MapleFox stole our hearts with her anime characters, and Snouleaf's cartoon drawings made our days a little cuter all year long.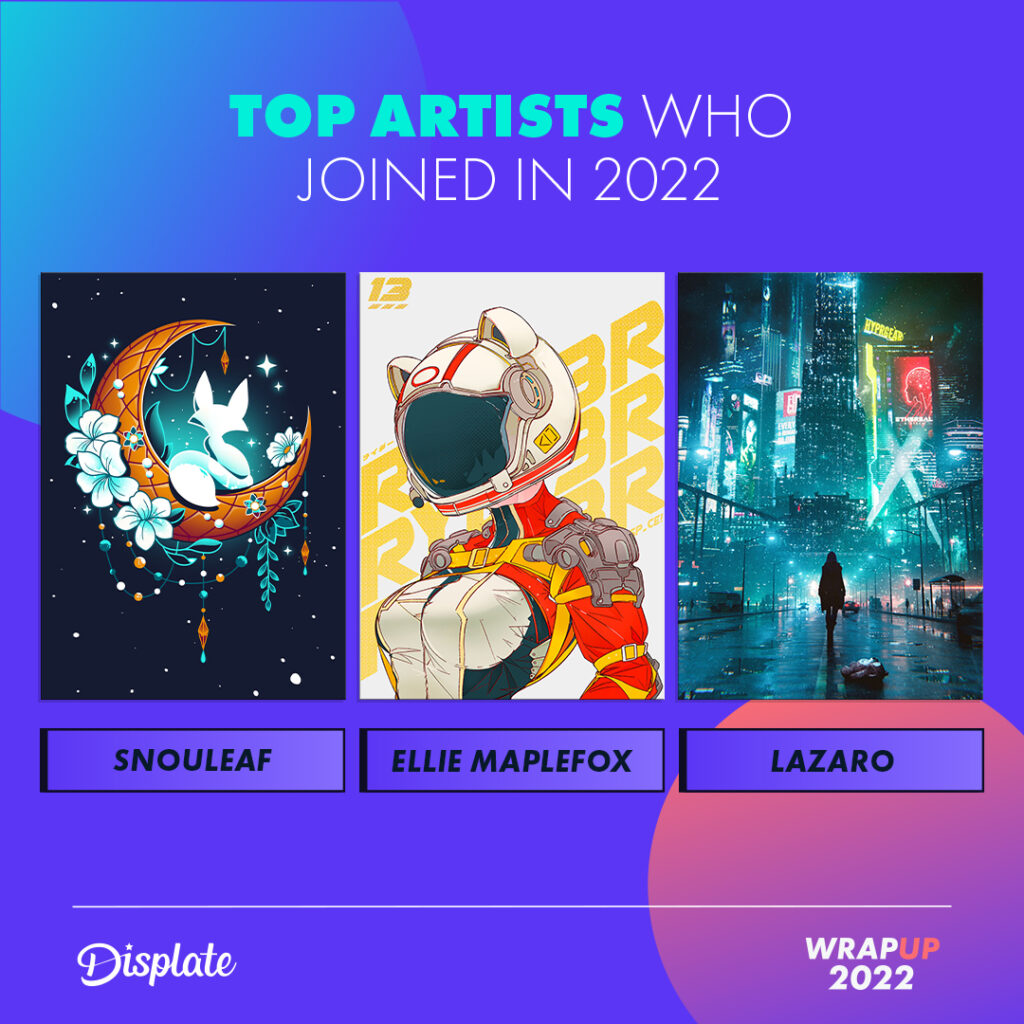 Top-selling designs
VaatiVidya's hugely popular Painted World made it to the top five yet again, while two of this year's best-selling designs come from Benny Productions: Colors of Space and Oblivion. Joining them on the list is minimalist Koi Fish Ying Yang by RubyArt.
But it's clear who's been 2022's biggest and snidest star: the one, the mighty Judgmental Duck, summoned by Tiberius Ciucinciu to express complete and non-stop disapproval. Looks like there's no ducking this reprimanding look.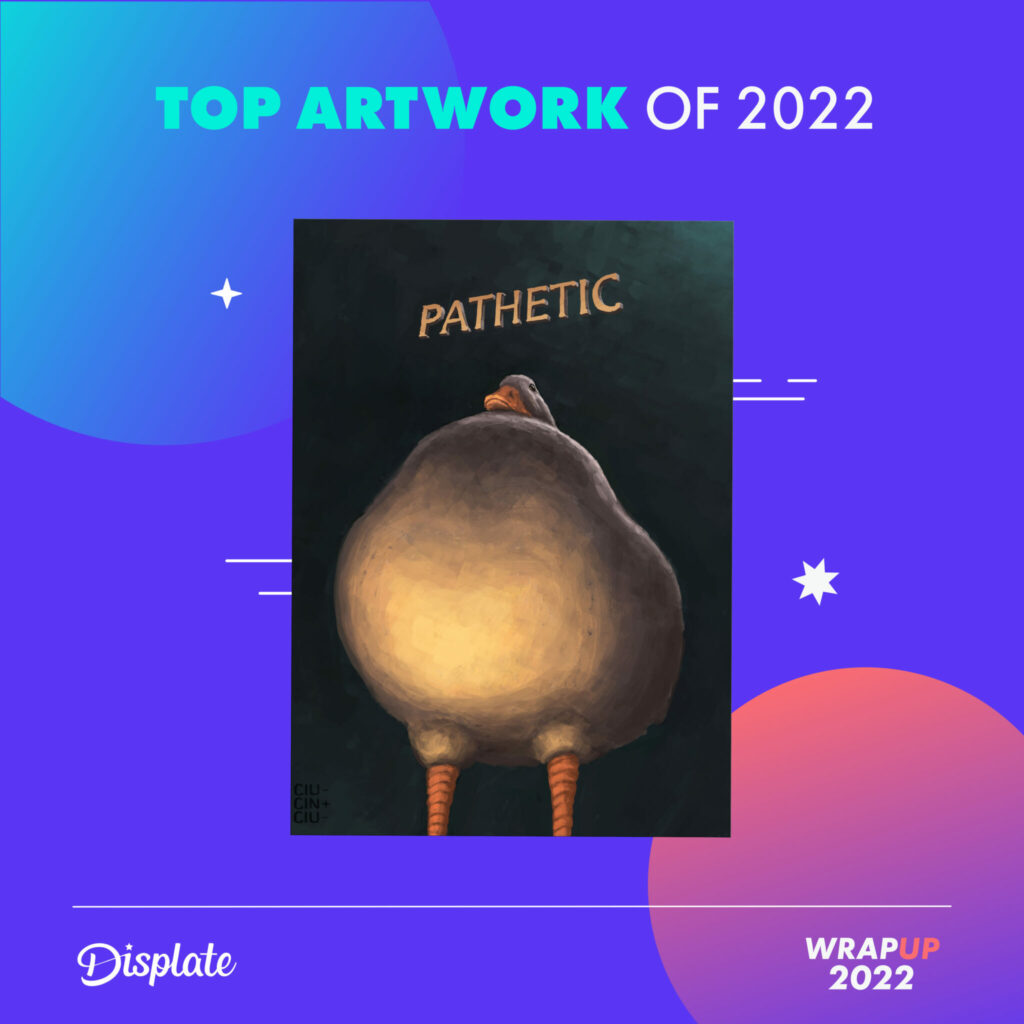 Top Displate collaborators
It's been a year of spectacular collaborative projects. 2022 welcomed a whole slew of stunning Limited Editions and a brand new, ultra-enhanced Ultra Limited collection. Not to brag or anything, but it might have been our best-looking year yet!
That's why we want to mention some of the creators who helped create these unique Displates and worked hand in hand with our Design Studio on pairing special art with special print. Call them The Great Six if you want, their names are engraved in metal already.
ScandyGirl, Anato Finnstark, RubyArt, Stefan Koidl, Dominik Mayer, Icosphere – thank you for your stunning gems of Displates. Here's to more coming in the future!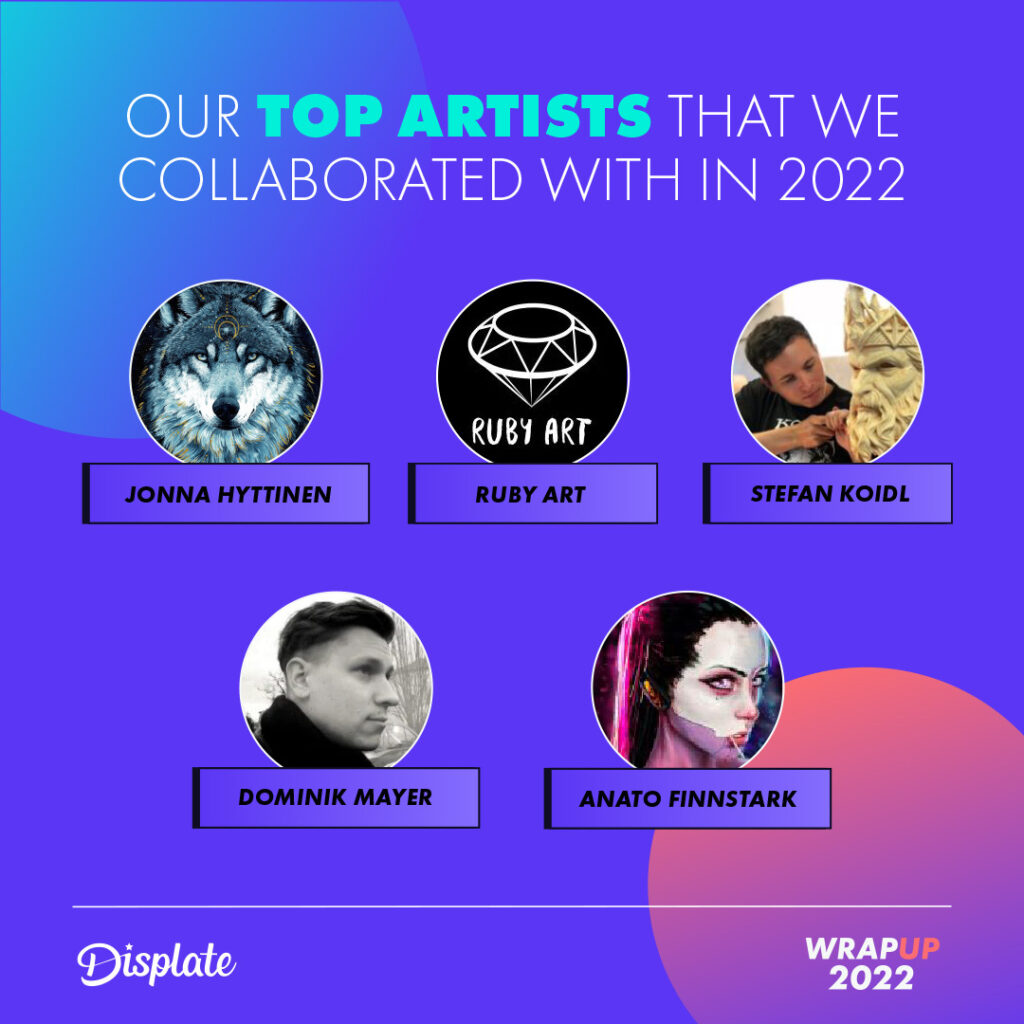 Ruby shared some insights about her experience
Working with Displate in 2022 was quite different than the few past experiences I had in 2021 with them already. My 3 last limited editions were mainly the adaptation of the design of my Japanese collection redesigned as LE.
In 2022 the experience reached a brand new level. It started with a video call with some members of the teams. I'm a person who really enjoys human connection and getting to talk on a video call with the Displate team really brought me a sentiment of belonging to the project more. They even add as a member of the Ultra artist team where we worked on a new Ultra limited edition together. I've got to communicate more with the Displate team and get myself challenged as we grow together to bring this new product to life.
This collaboration definitely brought me more confidence in pursuing my Asian and Japanese original art collection and added a sense of adding value to it. It's a collection that I plan to expand way more in the future.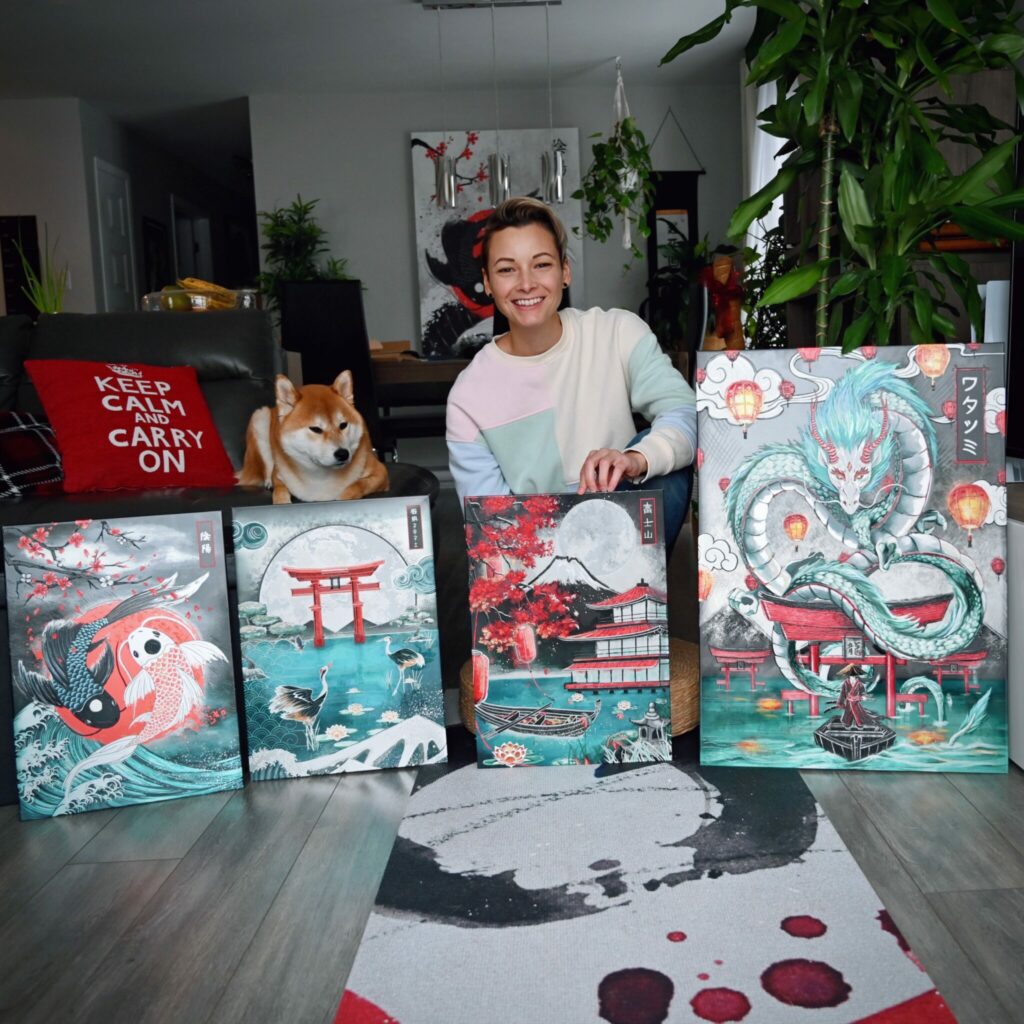 Top artist interviews
With 53 conversations published in 2022, this category goes to… everyone who agreed to take some time to talk and offer a private glimpse of their artistic process!
From Japan to Poland, each artist talk has brought something new to the table, showing there's a lot to learn both from accomplished professionals and self-taught beginners alike. Sometimes they all get inspired by the same video games.
Make sure to catch up with our Artist Interviews and get some inspiration yourself if you haven't yet.
The Year Of Special Projects
Collaborative Displates, special releases, and artist challenges have been our bread and butter for years, but 2022 saw some of the most spectacular yet. Together with creators from all across the globe we raised money for Ukraine, welcomed Displate's new new baby – Ultra Limited Edition, and redesigned our storage sleeve.
And that's just to name a few.
2022 in Limited Edition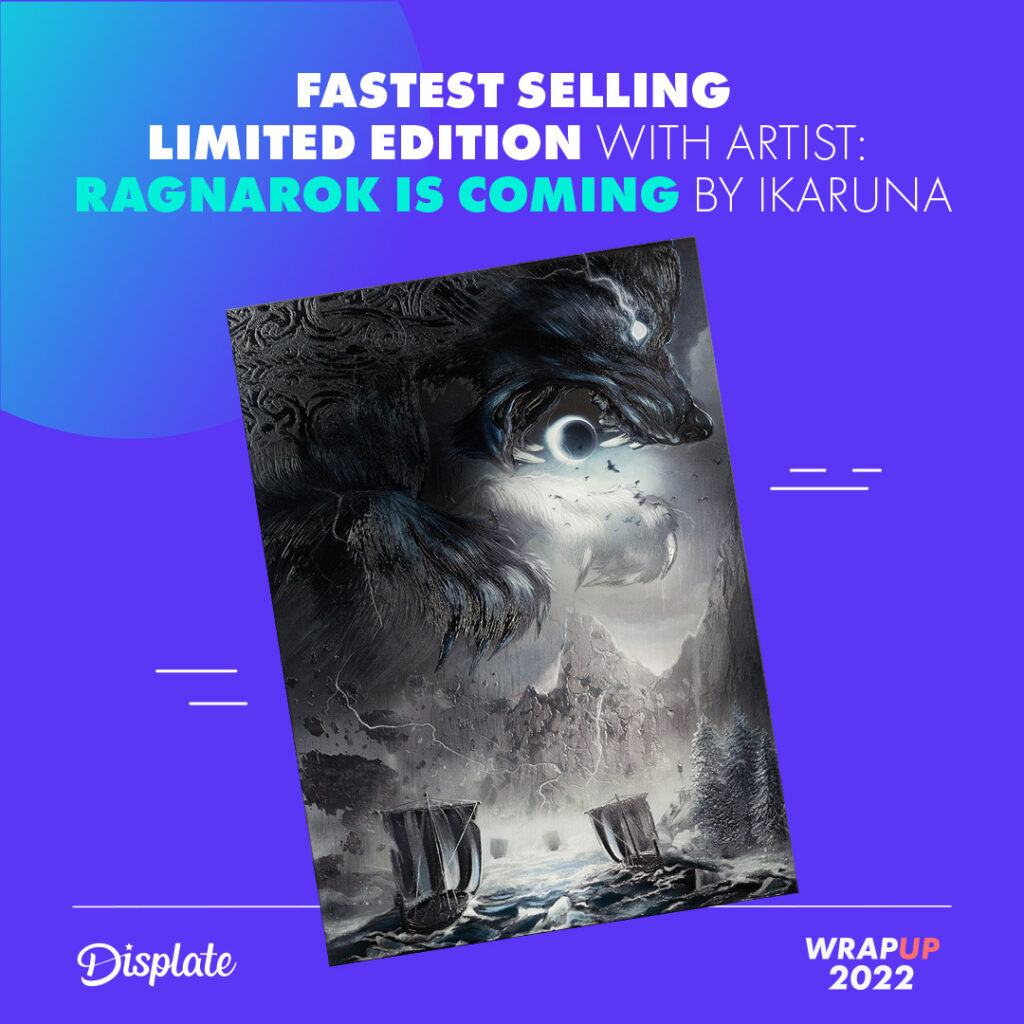 Ghostly horsemen, dragon hoards, an ancient revelation, and a full-scale Ragnarok – this is just some of the stuff our Limited Edition collection has been through in the past twelve months. And it's all thanks to our lovely artists! Thank you guys, you really didn't have to.
This last year we released a total of 34 collaborative Limited Edition Displates. 2022 was packed with amazing Limited Edition designs and we're happy to see new Displate artists jumping on the opportunity to create a unique artwork for the series. Just take a look.
Check the testimonials from some of our Artists:
Nicebleed: " Working with Displate's Limited Edition was a great experience. The Design Studio team was very clear and precisely guide me through the process. It went smoothly and the final actual print looks perfectly cool."
MrWerewolf: "I'm very happy that I decided on this collaboration. I rarely work on projects not related to the IP and worlds I create, so I pay more attention and I'm sensitive to many things. The cooperation and approach of the Displate team to this project was super professional from start to finish and gave me full autonomy and creative freedom as an artist. Communication was also very professional and straightforward. Great project with fantastic and passionate people."
Danielle English: "When I was first approached with taking part to help create a Limited Edition Displate of one of my pieces I was really excited and keen to know more. The information provided and the explanation on the techniques used were very helpful and well explained. Overall a very smooth and positive experience, one I enjoyed taking part in and incredibly happy with how my Limited Edition Displate turned out!"
Jonna Hyttinen: "Communication has always been super easy and effortless and I've always been kept up to date. Personally my favorite thing about working with Displate on LE's is that I get my own copies too. I love having goods I've made/others have made of my art as a memory of what all my art has been turned into. Safe to say the LE's are the favorite thing I own of my own art!"
Ilustrata: "It was a pleasure to be part of the Displate artist community, and also it was even more special to be featured in the Limited Edition. When we saw the reception of the Displate audience about our edition, it brought us a lot of good feelings. We only can make a living as artists due to companies that respect our work and give us the possibility to earn through our passion, as Displate does"
Stefan Koidl: "After 4 wonderful limited edition Displates this year that beautify my office I can confidently say that I am very satisfied with Displate and their quality. Not only is the quality excellent also the team behind the production and design process fulfill their magic! It is rare that communication works as good as it does here. I am looking forward to hopefully working on many more LE designs together with Displate."
Dominik Mayer: "Working with Displate is great. Super easy and fun. Wonderful nice people and the product is just amazing!"
We go Ultra!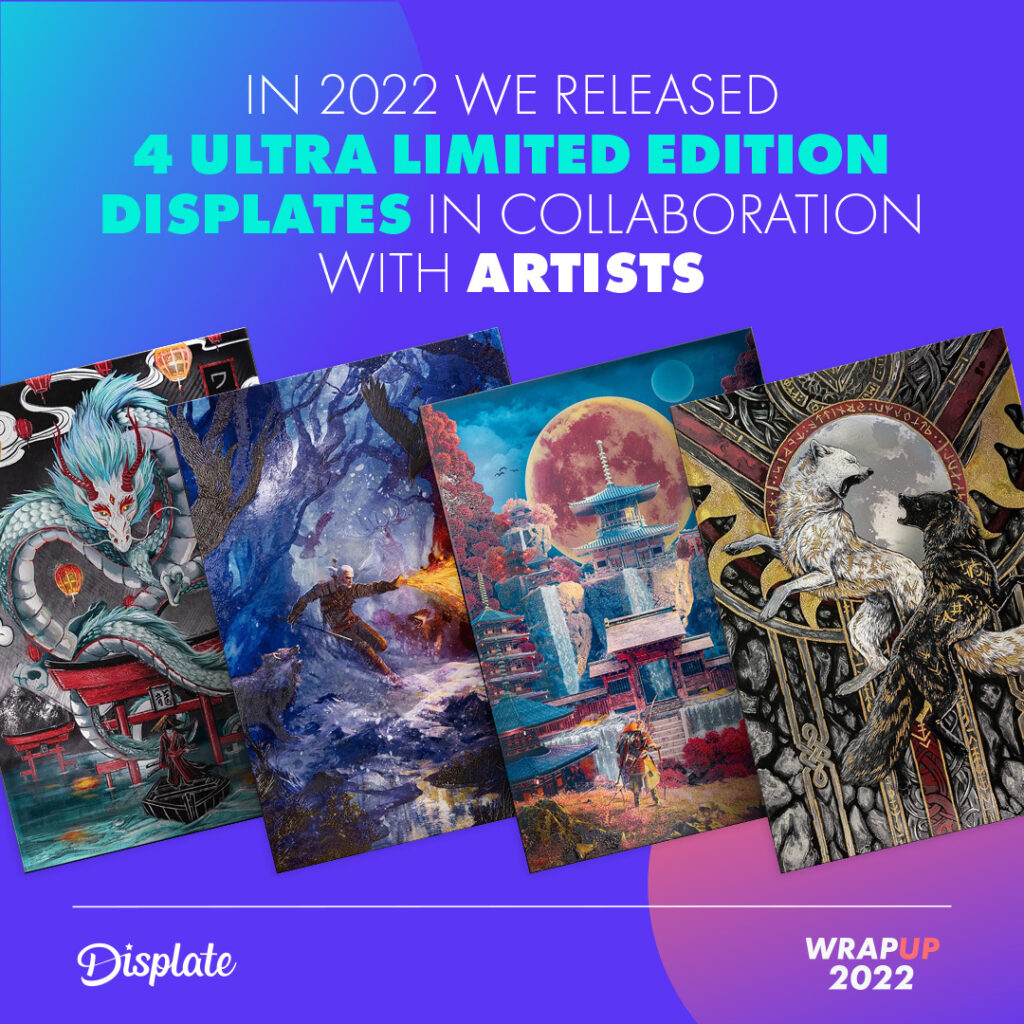 After months of planning, in 2022 we finally launched our most exclusive project yet: the Ultra Limited series. It's ultra-sized, ultra-enhanced, and now – also ultra-successful. Ok, this time we ARE bragging.
Month by month, new commissioned designs created in collaboration with select artists have been selling out in minutes. So far, we've premiered four entries, including our first-ever licensed Ultra Limited Edition Displate which saw Anato Finnstark joining forces with CD PROJEKT RED.
An ultra year for Anato Finnstark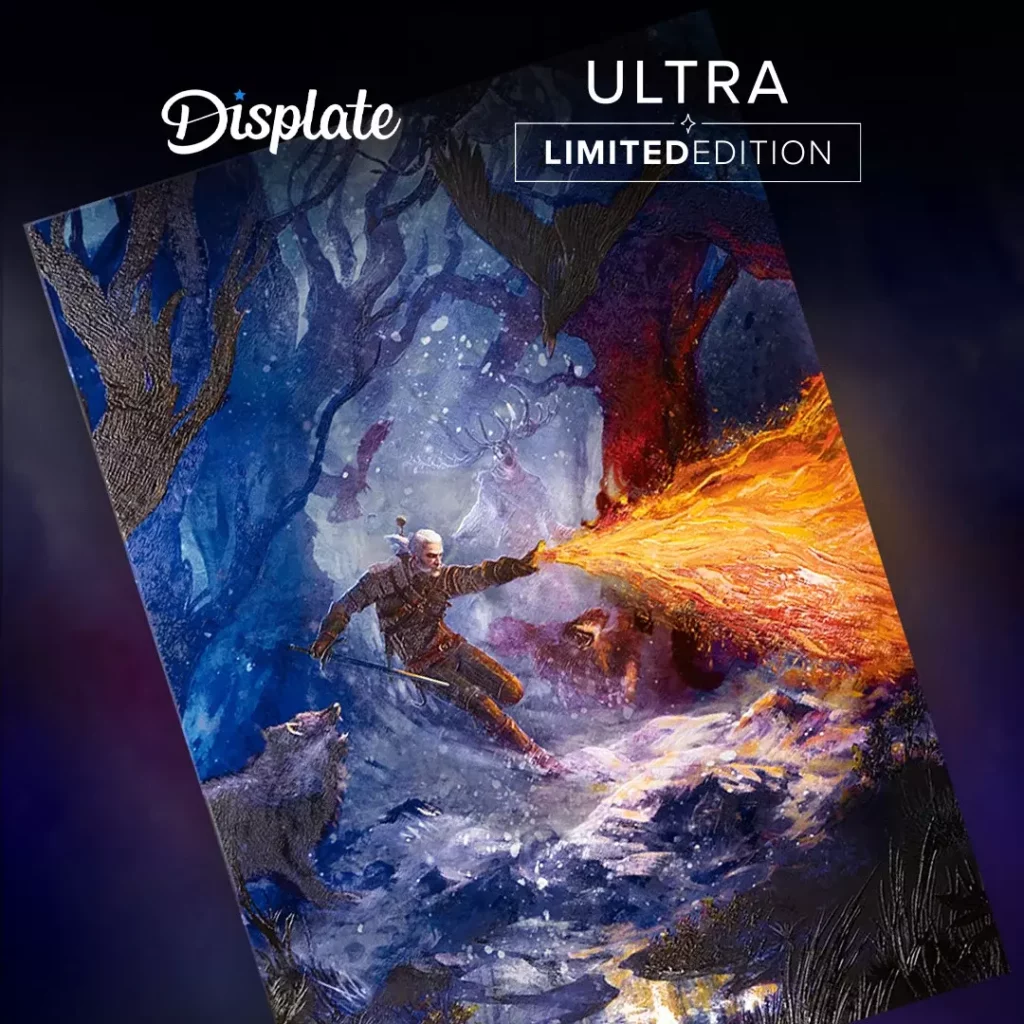 What has your partnership with Displate been like in 2022?
This year has been really great, because my shop has really taken off and made my work known to a lot of people. I've also had the pleasure of seeing my work used on multiple occasions, such as for Limited Editions, which are a wonderful way to see your own artwork in a new and original light.
What was it like creating one of the first Ultra Limited Edition designs?
The experience was truly wonderful in every way. Communication with Displate teams was really fluid and friendly, I had a lot of fun making this illustration based on the universe of The Witcher. My artistic vision was respected, and I was also motivated to deepen my creation by pushing the details as far as possible. Thanks to the Displate team for their kindness and open-mindedness!
Stand With Ukraine collection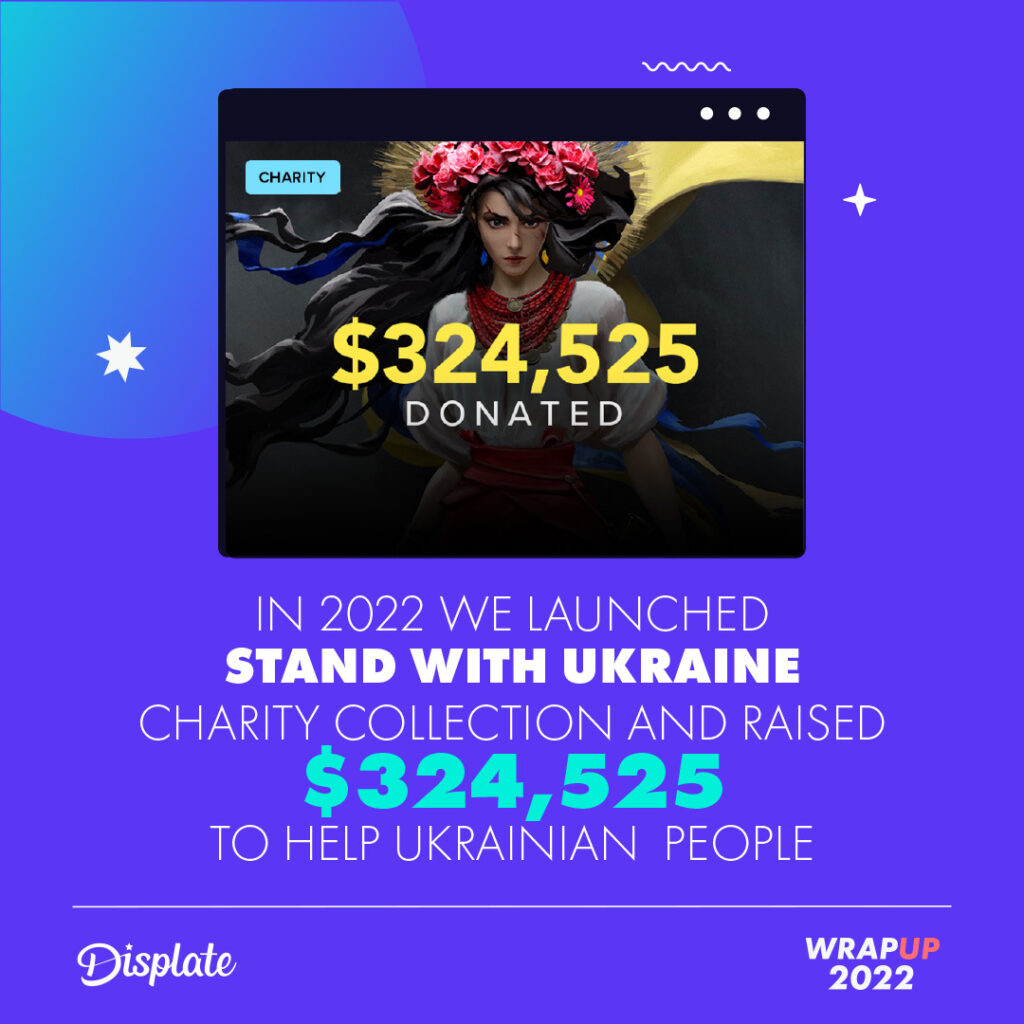 As the situation in Ukraine unfolded, we couldn't just stand and watch. We launched an open call for artists and shortly after, launched a special Stand With Ukraine collection raising funds for Ukrainian people together with artists from all across the world.
So far, we've raised $324, 525.
This also includes all the money gathered through the exclusive Limited Edition release by Ukrainian artist Stanislav Lunin.
Displate Birthday Challenge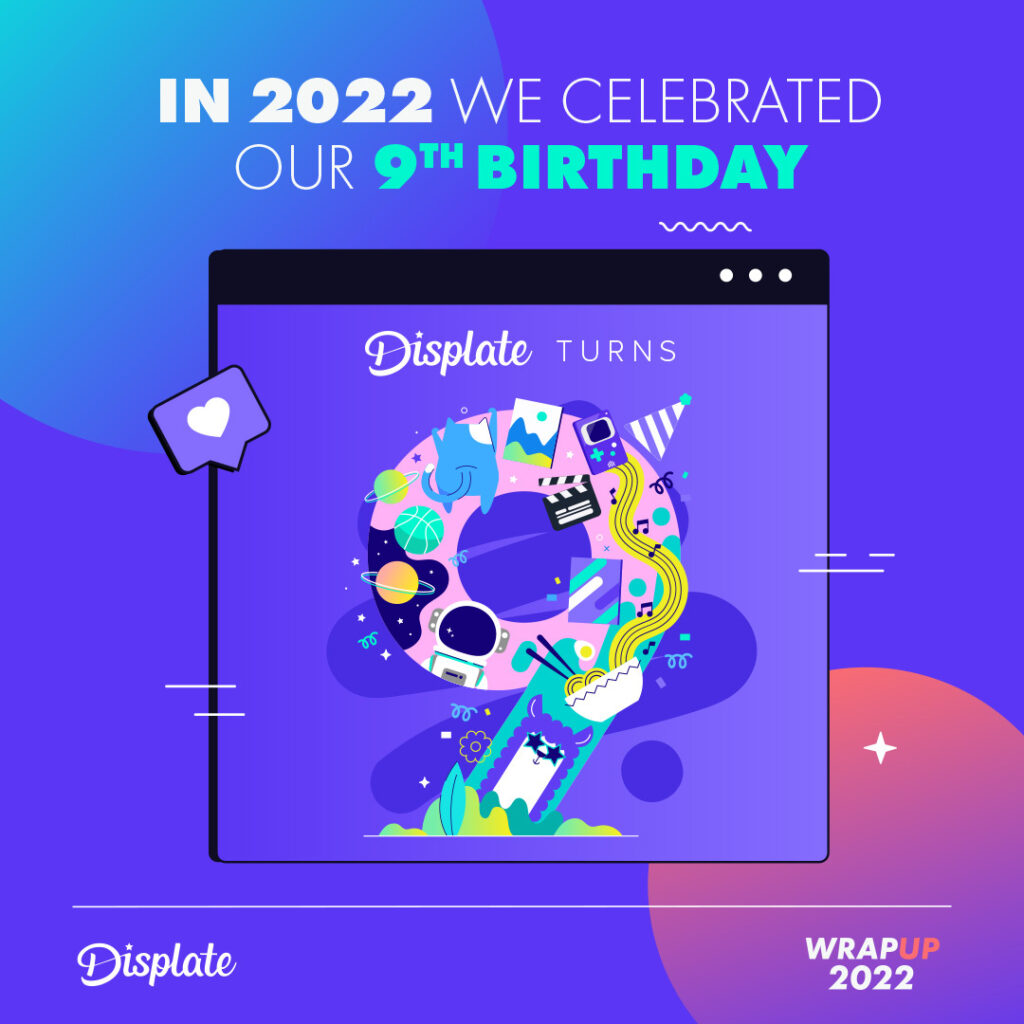 Our 9th birthday called for some creative celebration, so we invited artists to join a little contest. We got so many amazing entries that choosing the ten winners was far from a piece of cake. Thanks for the party everyone and remember – we're turning TEN next year. Expect everything.
Storage Sleeve Contest
Finally, let's wrap up this wrap-up with a special mention of Bruno Pires, the designer of our new Storage Sleeve! He won our hearts (and our contest) with his cartoons-slash-graffiti characters that now hug the posters of Displate Club subscribers.
So, are you in for 2023?
Phew. What a year.
Together with artists, we've discovered that this metal canvas called Displate can do much more than we ever imagined. And we're not talking just about the looks – we're talking about the community, the initiative, and the creative connection.
This is what we had in mind back in the early days of Displate, and we're happy to see this vision alive and well going into our tenth year with 41,000 artists onboard.
Remember: there's still plenty of room for more, so join in!