On the spot
is the series of interviews, which introduces you to the coolest artist noticed on Displate. 
Hence this time, we want you to meet Maximilian Auer, aka RETRIC DREAMS, a young artist from Germany, whose cyberpunkish style is something you will love. He told us about the meaning of purple, his love for synthwave music, and the necessity to constantly develop as an artist, so scroll down, get to know him and just enjoy his art.
Where do you live?
I'm from the lovely South of Germany, originally coming from Bavaria and currently based in the
neighboring Baden-Württemberg! 🙂 
Are you a professional artist or a self-taught?
Right now I'm actually still studying at a german film school with a focus in Animation & Digital Effects,
where I'm working on my final graduation project, finishing next year. So I have gone (and still go 🙂 ) through some education in the field of Digital Art, however I would still describe myself as mostly self-taught, as I started exploring the possibilities of 3D at home besides school, even before starting to study. I think the wish to create art almost always involves some part of self-education and especially nowadays there is a lot of information out there to get started and the digital tools are constantly getting easier to use. But what a university can give you is the freedom to develop yourself further by creating your own or team projects in a rather safe environment and learning from being with other people of similar interests. 
What were your beginnings in creating 3D art?
I started using my first 3D software at the age of around 15 when I was playing around with friends to create little short movies with spectacular effects in them of course 😉 And from there it evolved into becoming more serious and finally leading to starting my studies at university
in that area after finishing school. The art of "RETRIC DREAMS" as what it is today actually started pretty late while I was working on my second-year project in university in 2017 / early 2018. The project was an animated short film involving lots of abstract neon visuals, which somehow got me into Synthwave Music and led me to start experimenting in creating my own artworks in a similar visual style. That's why in mid-2018 I published my first post on Instagram and the rest moved on from there. 
What are your biggest inspirations?
So-called Synthwave or Retro 80s music is definitely a huge inspiration for me. I always try to have an emotion in mind when creating new artwork and then imagine a scene or situation which I feel like can transport it in some way. And if a music track can evoke or pick up on emotion it can be very inspiring for coming up with these scenes. Visually I'm very inspired by all sorts of nightlife-related art or photography like, for example, Liam Wong's awesome work or Edward Hopper's paintings. But inspiration can be found in many different places. My personal favorite: the occasional outside stroll at night best combined with some music.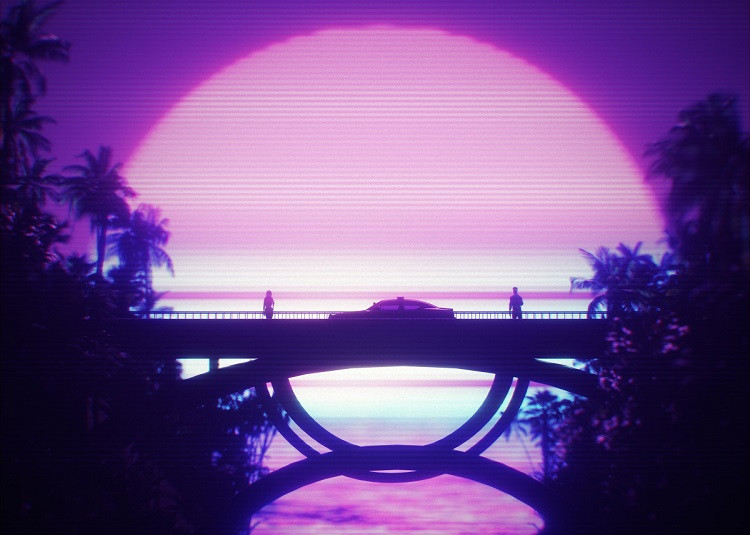 When did you develop your final artistic style?
I wouldn't say that my current style is my final artistic style but rather just one phase or step before turning into something else. But it is a style I, for now, definitely like creating and will have to see how long it will go on. The starting point for this current "purple neon" styling of my artworks came quite unforeseen. I was starting out doing my first artworks by wanting to do some neon styled visuals. After I did some trying around it was with, I think, my fourth personal artwork where I first came up with that purple hue and I felt like it fits the emotion I wanted to express perfectly.
I love how, for me, purple somewhat lives between being a cold and at the same time warm color and therefore turns the scene in a kind of surreal atmosphere when being used as a light source. I felt like that fits emotions of longing & nostalgia, which are oftentimes core parts of my artworks, perfectly. So from there on, I continued to keep experimenting in that color scheme and that's when all of my other current artworks came to life one after another.
What are your other passions?
It always takes some time for me to answer questions like that as I am quite happy when I'm being able to create work that I like creating myself 😀 But I also love to get some balance to that by being away from a computer and doing some hiking or just spending some time outside in the nondigital world. As I really feel the desire to take those breaks when working on the computer for multiple hours.
Also, I recently started to get into some analog sketching again and created a little side project I called @thedoodle.dude on Instagram. So if you are into some weird cartoon-like dudes, you'll be very warmly welcomed over there 😀
As an artist, what channels do you consider as the best for promoting and selling your art?

My current main platform is on Instagram (@retric.dreams), which is where I try to upload my latest artworks first and also try to share some additional infos / making ofs etc. So that is definitely my largest audience of people currently but I also think that there are a lot of other ways to reach out to new people and create some interest in my art out there. That's why I'm always looking into trying to create new projects, see how I could implement new platforms / techniques in those & reach new audiences.
How do you work on promoting or selling your art offline?
That is definitely something I will have to & would like to get a lot more into in the future. I have been a part of conferences & such events in the past but for the most part not particularly related to my own art yet. But I really like that at such events people actually come together in person and you can really get some more direct insights / reactions and feedback by talking about your work / art or other related topics together. Of course, currently something like this isn't really possible but hopefully someday it will be again and I would like to join then. Also I'm really looking into sharing some of my insights / workflows or techniques with others in the future in the form of workshops, courses etc. So, let's see how all of that will work out! 😀
What's most important in a platform that makes you decide to join it?
For me personally, I look for if on a platform there is already a community on a platform, which I would like to join. And, if that community might share similar interests than I do and might appreciate my artwork. But in addition to that, I really love it if you can feel that the people behind a platform or basically any tool etc. are actually as passionate about creating and offering it to a community as they want you to be while using and being part of it. I think that's something that really makes for an enjoyable usage and not only convinces you to join but also to happily stay and continue being part.