Great discoveries always come at a cost.
That's why we need the curious and brave trailblazers to go first.
Sometimes peril finds them before they can come back to report on the dangers ahead but their legend never fades away!
Such is the story behind Florian Renaux's The Explorer, his first Ultra Limited Edition design full of exotic images and print enhancements.
Perhaps this poor astronaut will never make it back, but his journeys shall not be forgotten anytime soon. Not if we -and Florian- have anything to say about it!
Which we do. Quite a bit in fact.
When talent comes naturally
Perhaps it's no surprise given his name, but if there's one thing Florian loves above all else is the original artist: nature! As a self-taught artist himself, this is where he returns for inspiration, and peace of mind:
"I started my journey as an artist by following a lot of tutorials on the internet. Then I took some online courses (at School of Motion) to get some basic knowledge of the 3D world. From there I started creating as many artworks as I could in order to improve myself and my style. I've been doing this for more than 3 years now!
I used to travel a lot, so my inspiration comes from all my travels and the landscapes I see. I live in a place (south of Belgium) where we are surrounded by forests and different kinds of animals. Plus, I live near France, where you can easily find various types of landscapes, from seaside to mountains.
When I was a child I was always fascinated by the environment and nature surrounding my home. I am very lucky to be able to live in a place where everything I see around me can be a source of inspiration.
The more I create, the more I realize that nature is the element that always comes back in my renderings. I think nature is a part of me and that's why it's my main theme."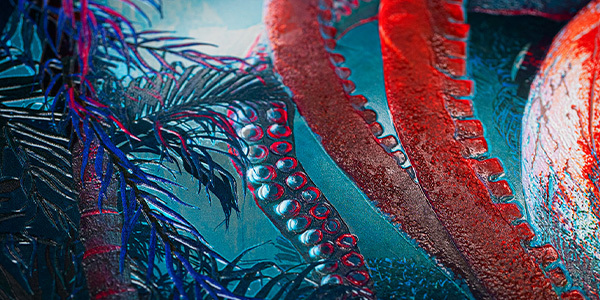 Speaking of themes, we were dying to find out the story behind The Explorer and what the process of creating it looked like. Florian was happy to indulge us:
"With this artwork, I want to take people to a strange and surreal world with bright colors that leap off the canvas.
I wanted viewers to feel a certain solitude coming off this design: being alone with strange creatures in an unknown world. At the same time, I wanted to use a common and comforting color combination for contrast.
As for the story? It's about an astronaut who's headed for his capsule, while stranded on a strange planet where palm trees can grow underwater. Suddenly, a giant octopus attacks and ensnares the capsule with its tentacles!
I always start by creating a moodboard of the colors I want to use, the universe in which my character lives, and the nature that surrounds them.
After that I start placing simple elements in my 3D project to block the scene and have a better idea of its composition.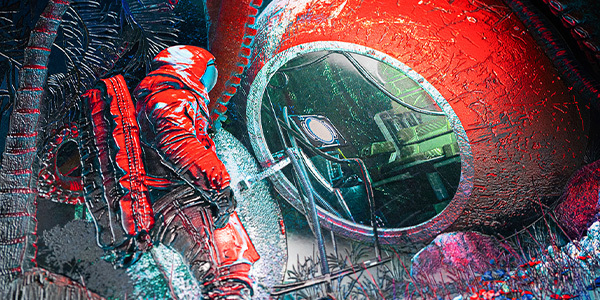 Once the groundwork for this was done, I added textures and then the vegetation, looking for the best placement of my trees and plants. Then I changed the color of the vegetation to make it look less "earthy".
After this was done, I replaced my "block" elements with the real models, like the astronaut and his space capsule.
I then placed the lights to add depth to my artwork. Lighting can change the atmosphere of a scene completely, so this step is very important.
I also applied some effects directly in my 3D suite, like a LUT and bloom.
Once the render was finished, I continued with post-production: mainly color correction and the addition of some effects. That's when I also highlighted certain elements, managing the light and dark areas of the artwork.
Wow, that's a lot of steps! Wish there was a video so we could see Florian going through all of them…
Oh wait, here it is!
Our Design Studio comes in to explore more possibilities
With Florian's work done and delivered, it was time for our Design Studio to meet The Explorer and find new ways to bring his misadventures to life. Product Designer Ola Mosiej and her crew of explorers jumped right in:
"Our first thought was: Florian Renaux has to be a huge fan of nature!
This exotic thicket was actually a bit of a challenge for us. With this amount of leaves and plants the biggest difficulty was to manage the feeling of perspective.
In this case, we had to take a few steps back in order to achieve a nice visual effect. Eventually, we reached a point where the amount of detail was way too overwhelming, so we made the decision to mark certain background elements only as silhouettes.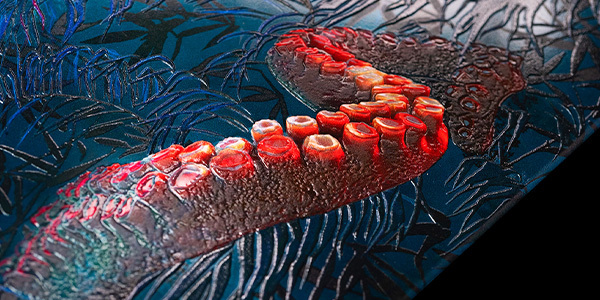 And this did the trick!
We also used one of our favorite features in this: the silver overprint! What makes it so great and fun to use? Well, it gives extra depth to the colors and makes them more foggy (air perspective!), while the metallic finish works amazingly in this watery-like environment.
What's more, we truly love this scene! It's hard to say where this place is. Is it underwater? Is it a jungle planet inhabited by enormous animals?
There's just something incredibly intriguing about this place that draws us right in!"
Keep the adventure alive, collectors!
The Explorer knew the risks when he got into that capsule. Even if those giant tentacles turn out to be his demise, his story doesn't end here. In fact it's been amplified with 3D-printed elements, glossy details on his spacesuit, and a silver overprint.
Now there's only one thing left for him to be truly immortalized: joining your Ultra Limited collection! But be warned: these pieces tend to get snatched up by grabby appendages the moment they go on sale, so make sure to be in the right place at the right time!