There is no such amount of cuteness that we can't handle. Spanish artist Ignacio Diaz Arjona aka Naolito turns everyday situations into insanely charming illustrations that we can all relate to, and we just can't get enough of them. We talked to him about his cartoon characters, passion for 3D, and all things nice.
What does 'Naolito' mean?
The word 'Naolito' has no meaning in itself. When I was little, I started playing with computers and modeling in 3d, I created this nickname to participate in the forums. Later I started to publish my drawings and I kept using the same name, so people started to know me like. In my ID, my name is 'Ignacio' but in Spain, the Ignacios are usually called Nacho (sounds fun, doesn't it?), So I surely wanted to change the diminutive of Nacho / Nachito a bit… and it became to Naolito.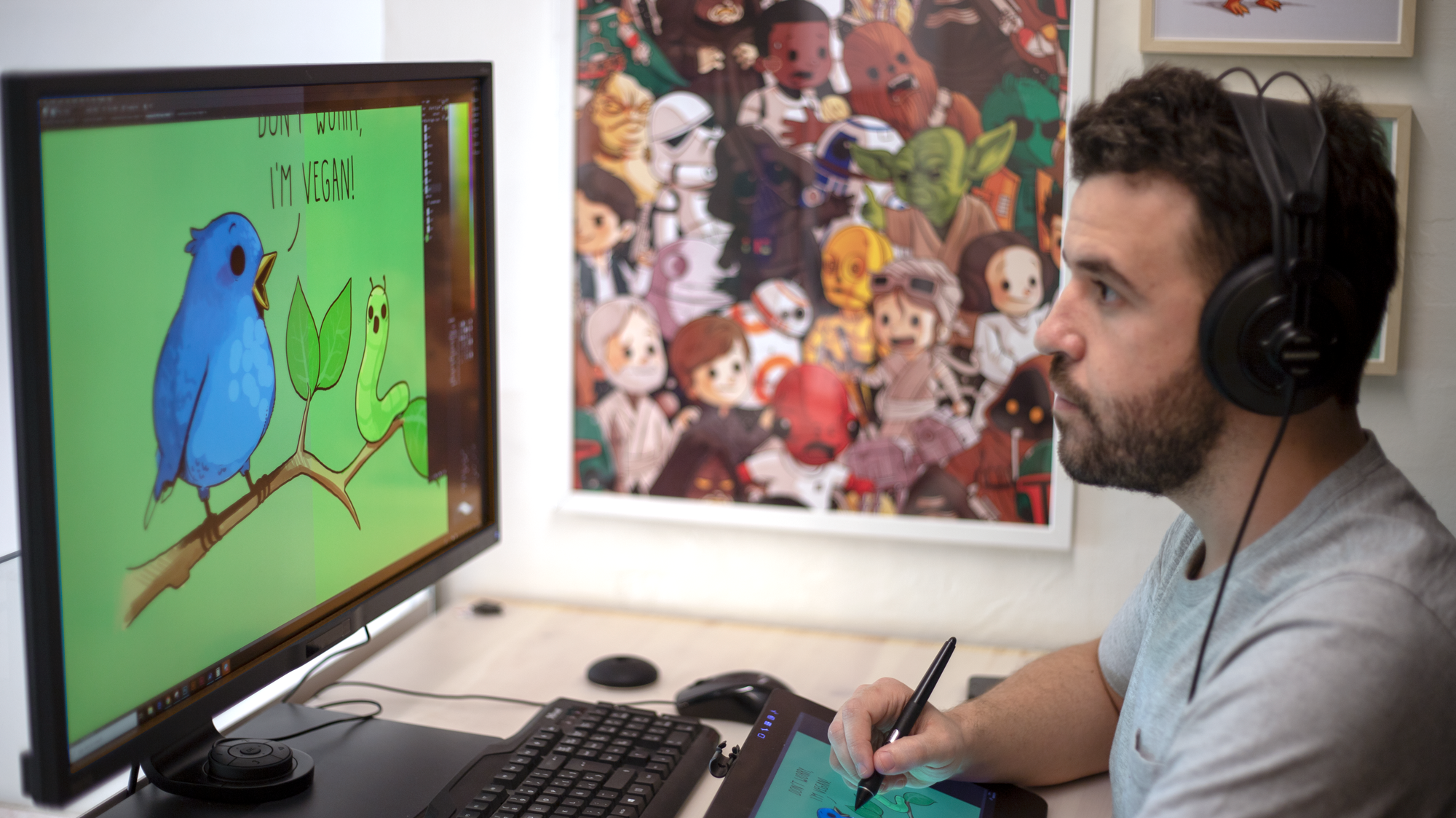 How did you come up with the idea for your cartoons?
It is a constant work process, since every day I sit down to 'think' ideas for at least two hours. I make sketches, write concepts, and relate them to each other … I find a strong concept, I transform them into cute characters. It is hard work that requires effort since ideas do not come alone. The more you train your brain, the easier it will be to come up with an original idea. As Picasso said, 'better than inspiration catches you working!'
Which was your first one?
There were many illustrations that I've published before people recognized me. The first illustration that gave me money, was one of an old Waldo, seeing himself on a poster saying 'still wanted'.
When did you know for sure that you want drawing to be your daily job?
I was always a restless child who loved to draw, model… I was passionate about all creative works. I spent a long time submitting illustrations to competitions until I was chosen for one. At the time I checked that I could earn some money with them, I started working harder than ever. After that, my illustrations started to go viral.
You are a very creative person. How do you stay so motivated and with so many brilliant ideas for illustrations?
I love working creatively, I love learning from others and I also love cinema. I think that the combination of these three factors is reflected in my work. I watch a lot of tutorials and I also love chatting with friends and professionals in the creative sector, who feed me with knowledge and open my mind even more. Also, I watch all types of movies, so I am always working on new ideas and experimenting with what I have learned. I consider myself an ambitious person, so my true motivation is always to improve myself every day and do things in a better way.
How is your sense of humor?
I am quite sarcastic, but at the same time, I consider myself a sensitive person. I think that balance can be seen in my illustrations since they are usually cute, but they are always accompanied by a little twist or joke with a double meaning!
Do you have any other passions other than drawing?
Yes, the 3D. It is something that I always liked to do and, for a year, I have learned a lot and currently I dedicate myself almost totally to it.
How do you react when you see people smiling while looking at your illustrations?
It's something that I love to see, I really enjoy it when I know that a person has been happy with one of my illustrations. In fact, when I had my physical stores in Barcelona (Spain), I used to work in a small studio that I had on the top floor of one of them. From there, I had the chance to watch people inside the store. You don't know how happy I was while I was working and listening to people laughing, while they pointed to the art prints on the walls, and took pictures with them in the background. Also, many people also came asking for me and wanted to meet me, it was impressive! I remember that stage of my life with a lot of affection.
How does Instagram work for you as an artist?
Instagram has been a great boost for Naolito for a few years and it gave me the chance to launch my brand in a big way. But experience tells me that we must open up to other fields and renew communication strategies since there are more and more new social networks and the public changes with them.
What is your biggest accomplishment as an artist so far?
In these 13 years as an artist, I can say that I have done many things: open my online store. open three physical stores in Barcelona, work for large international companies, work as an illustrator, be a 3D animator … I can't decide which has been the greatest achievement! What I can say is that I am proud to have done so many different things. I am a person open to change and that seems to me to be a proactive attitude, so I think that, while I can, I would like to work on projects other than the ones I am currently doing.
What are your plans for the near future?
My long-term plans are 3D oriented, I would like to do higher-quality animation projects, like a feature film.
Naolito on Instagram: @naolito