Home is where your art is. As cheesy as it sounds, Mike Koubou is one of the artists who had the courage to leave everything behind and start creating 100% from home. Now he has a beautiful workspace and his beloved ones around, and it only makes his designs better. We talked about his favorite collection, biggest inspirations and why he dresses animals in people's clothes, so scroll down and fall in love with his old-fashioned style.
Where is your home?
I don't know where exactly home is! I'm from Greece, born and raised in Germany, but live and work in Athens now! I could say that home is everywhere, as long as I have my beloved ones with me!
What does your studio look like?
My workspace is full of plants and very vintage! I'm a fan of collecting old stuff! It is important to create a space that you feel comfortable, especially if you spend many hours there!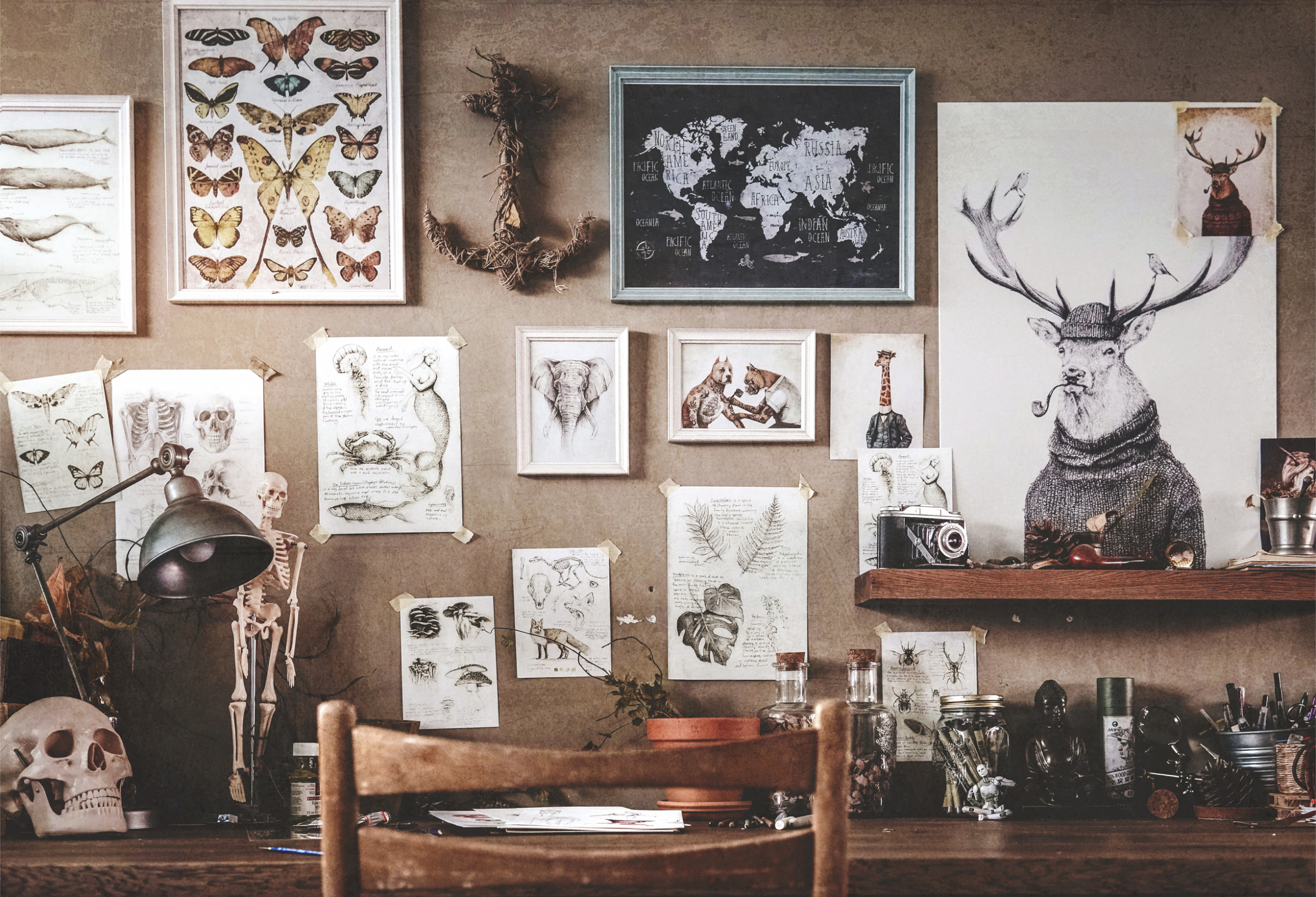 How did you create your vintage-looking style?
Usually, I search for some old vintage portraits of people for inspiration. After I finish the pencil drawing, I continue digitally to edit the details and add some colors and old textures to the drawing to create this vintage look!
Traditional drawing or digital?
For my own work, I prefer mostly traditional drawing. It's a different feeling, you don't have an "undo" button and that makes it more interesting and unique. I just love to draw and practice with many materials like watercolor and ink.
What's with the animals dressing like people? 🙂
I don't really know where that came from. Maybe the love I have for wild animals, combined with an old vintage sense that I also like. Of course, I was inspired by many artists, old and new ones too.
What inspires you the most?
My children! They give me strength that I never thought I would have. I want to give them the best possible future and at the same time, I want to teach them that when you love what you do, you will be happier in life!
Which of your artworks is your favorite and why?
I don't really have a favorite artwork! Every time I start with a new drawing, I think that this is the one until I start with the next one! You can ask every artist and you will receive the same answer! 😉 But I can tell, that my favorite collection is the Old Family Album, as a whole for sure.

How did you start selling your art?
I just found an online marketplace accidentally, years ago, and I thought I could give it a try. At that time, I was working in a publishing house illustrating educational books for children. It was just one simple drawing and I really forgot that I had uploaded it until one day someone bought my drawing. That really made my day. It was just a small amount, but I felt so happy and weird at the same time knowing that someone was interested to buy it. So I started uploading more drawings and what happened next is history. I quit my full-time job as an illustrator 3 years ago and focused mostly on my own ideas! And when someone buys my work, I'm still excited like the first time when it happened.
What's the best thing about being a full-time artist?
The best thing about being a full-time artist is that I do what I love. Don't let others tell you what you should be. People will always have something to tell, but it's easier to wake up every day happy, without having to do something that you hate.
What are your plans for the future?
My goal is to find and draw in as many different styles as I can, for each person differently. I want to make as many people as I can happy. If I know that someone, somewhere, hangs my art, then I'm happy 2 times more!
Check out Mike's cool workspace tour!