Thea Magerand, aka Ikaruna, feels right at home among Nordic runes, mythical creatures, and cryptic symbols. In her art, this digital illustrator and book cover artist merges fantasy worlds with a touch of realism.
Ikaruna collaborated with Displate on our latest Limited Edition – the mighty "Ragnarok Is Coming". That's why this week we sat down with her to follow her artistic path through motorcycle doodles and H.R. Giger-like horror abominations. Join in!
So what exactly does Ikaruna mean?
It's actually an almost made-up word! I was trying to think of an online artist alias but everything I came up with felt just too pretentious or too self-important.
Eventually, I turned for inspiration to Buddhism and explored some ideas I liked. One of them was the concept of Karuna, which in Sanskrit means "self-compassion" or "spiritual longing". I added the "i" just to veer a little from the original and create something unique 🙂
Fantasy is clearly your number one thing. How did this passion begin?
I suppose the same way as my passion for reading. It offered an enticing universe where I could escape from anything and everything for a couple of hours, and where literally anything was possible. You know, when you're a kid, even homework can seem like a daunting venture, so I just couldn't resist that.
The fantasy worlds may not always be better than the real one, but they're definitely complementary. When I started doodling as a kid, I immediately started to merge them together. However, it wasn't until many years later that I thought of actually doing something with this.
Does the fantasy world sneak into your personal and daily life?
Oh, absolutely! Being a book cover artist, especially for the fantasy, sci-fi, and horror genres, gives me the perfect excuse to just read all the fantasy I want, play video games whenever I feel like it, and surround myself with video game figurines and cool artworks from artists I love. I mean, it's research, right? 🙂
Not to mention that I can rewatch the Lord of the Rings movies as many times I like and still feel just as excited as I did back when I was a kid!
Out of all your Displate artworks, the Norse mythology collection is your most popular one. What's the story behind this series?
It all began with this project I did some time ago for a Norse-themed board game. It eventually got canceled due to Covid, but I still got to taste the joy of drawing something I really love – mythical heroes and creatures, that is.
As a kid, I was fascinated by Greek mythology. As an adult, this has turned into a passion for Norse mythology. Now I have two shelves of interesting historical and archaeological books on the subject, and an even more burning passion than before. No wonder then that this is my favorite art subject now!
One of the main parts of your work is creating book covers. How much does literature influence your art?
It's a huge influence, I mean really huge. I think that 90% of my inspiration and drive to do what I do comes from my extensive reading of fantasy and sci-fi – the rest being video games and music.
Literature has been my refuge and source of joy from a very, very early age, and I can't even remember the last day I didn't read any book. It's absolutely essential to both what I draw and how I perceive the world.
What's your artistic journey and what did your first artworks look like?
Most of my first doodles pictured horses, motorcycles, and abstract landscapes. My mom probably still has some of them.
Then I started narrowing down the things I most liked drawing. For example, after I left high school 20 years ago, I made this pencil and charcoal tribute to H.R. Giger's Xenomorph. He had influenced my artistic view in a big way. Back in the day, I used to draw a lot of Aliens and biomechs.
I'm a completely self-taught artist. My approach to learning was rather methodical and initially involved a lot of observation and reproducing photos. I also did a lot of paleontological fossil drawings at the university. I studied geology and paleontology, so that's where most of my understanding of animal (and creature) anatomy comes from.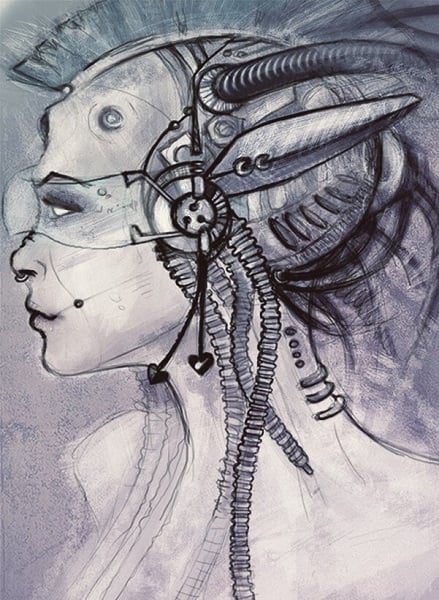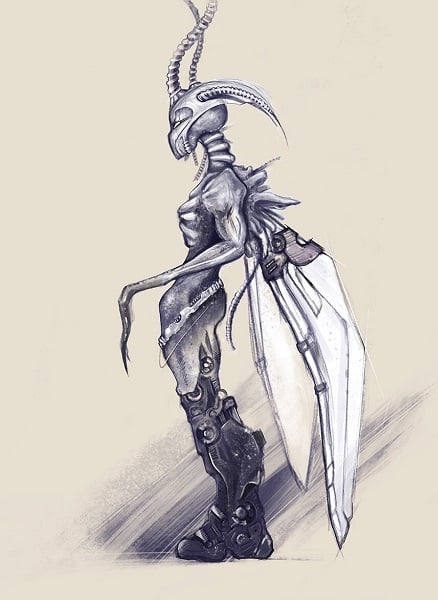 What was the most exciting project you've ever worked on?
Last year, I had the chance to work on a book cover for Doug Brode – an accomplished Hollywood storyboard artist with an impressive portfolio. He designed props and weapons for Star Trek, Iron Man, and Planet of the Apes. He also worked on some major movies like Thor, Looper, Men In Black, Harry Potter, or Maze Runner, not to mention he's the creator and the head writer for Netflix's Forbidden Science.
You can imagine how thrilled I was when Doug asked me to create the cover for the second book in the series. I mean how could I possibly say no to that? So I think these are my two most exciting projects that helped me realize just how far my art can reach 🙂
Aside from creating art, what are the things that you most love doing?
Reading. I love reading, all day, every day – it's a vital necessity for me! I also love hiking mountains with my husband, taking one of my two motorcycles for a ride, or simply spending some time with our extended pet family. We've got three cats and two dogs, and they're all like children to us 🙂 I enjoy nature-related activities, too – like forest walks, skiing, fishing, gardening, or basically anything that takes me outdoors.
What's your biggest dream as an artist?
Actually, I have already accomplished my biggest dream: to make a living solely through drawing. I had always thought that this was the ultimate recognition for me as an artist.
Other than that, I don't have any specific goals in mind to be honest. What I do know is that I want to never get tired of drawing monsters, creatures, weird worlds, and machines, no matter if it's for me or someone else. I know some people dream of creating things for popular video games and so on, but I just like the freedom of creating whatever you want, whenever you want it. In my mind, it's a much more valid artistic endeavor!
---