Uploading your artworks is just the first step in your journey from a register to a sell. We prepared a few practical tips on how to use the potential of tags, names, and descriptions. All of that to help you boost your sales by becoming more visible on our website and in Displate's internal search engine.
What's also important is that properly naming, describing, and tagging your artwork will make it easier for Search Engines (like Google or Bing) to index it, and display it in search results for related queries. People will not only be able to find you through Displate, but via search engines as well.
Your art will be more visible, increasing your chances of more sales!
So, how can you make sure that your art is easy to find?
1. Add proper meta-data (good news, we do this for you!)

2. Name your artwork accurately

3. Write a concise, descriptive, and unique description of your artwork

4. Add proper tags and use them wisely
How to Get Found in Search
In detail:
1. Add proper meta-data
Proper meta-data is important for Google (and other search engines), as it makes it easier for them to discover the topic of a page. In this case – your artworks page.
A page title is really important (it's a "ranking factor" in search engines), and meta-description serves as a short description of the page. Those two elements need to be unique!
You don't have to worry about those two. Our systems construct both elements automatically, based on the information we get from the artwork's name, as well as some other elements we take from your profile (like your profile name, or collection name).
Example of page title from "Entropism" Metal Poster from Cyberpunk 2077 Officialy Licensed Metal Posters
What you can do to help potential buyers find your art is to make sure that you name, describe, and tag it properly. We will talk about this below.
2. Artwork name/title
The artwork name is one of the most important content elements that you have control over. There are basically two important rules to follow when naming your artwork:
1. It should be descriptive of the art you're uploading

2. If possible, it should be unique (or: as unique as possible) to your piece
This simply means that the title should reflect the topic of your artwork in a concise way, but it should also be unique (if possible).
For example, if you upload a picture of a tree, and name it simply "Tree" or "Nature", there will be hundreds or even thousands (!) of pages (artworks) having the exact same name.
This has disadvantages:
Your art is harder to find on Displate, as there are many other works with the same name (you have big competition)
It's harder to find it on Google (and other search engines), because the title is very popular and similar to others.
Long story short, keep your art names unique and descriptive.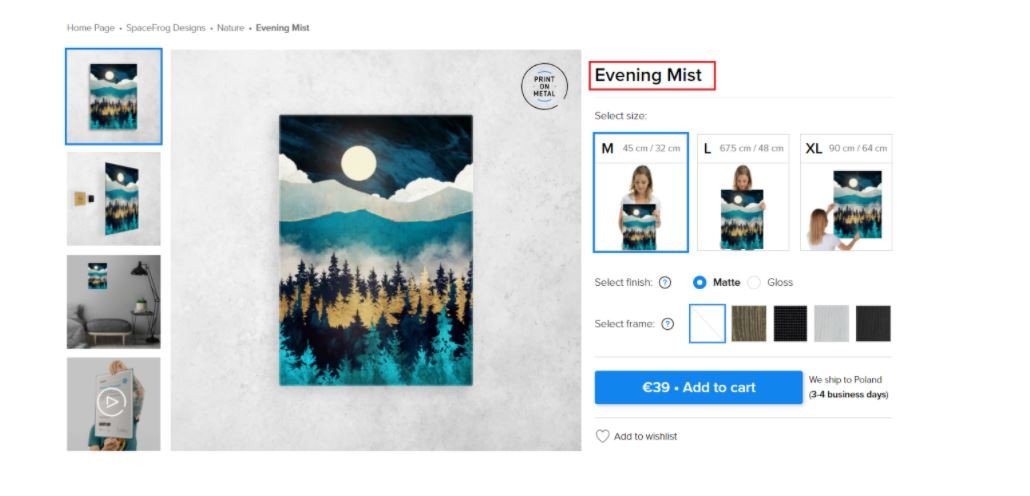 3. Artwork description
The "Artwork description" is different from the "meta description" we talked about in the first point of this guide.
Whereas meta description is not visible to users (but visible to search engines), artwork description shows up on a product page and is visible to anyone who visits the page.
With this piece of content, you can describe your art in more detail, giving users a better understanding of the theme.
This also benefits search engines. When the search bots visit the pages, they look for content, and textual content is the easiest for them to discover and interpret. It gives them context and allows them to "decide" on the topic of the page. This can benefit you too.
As with the proper artwork name, the description should be unique and descriptive of your art. A few tips:
Describe the topic, subject, location of the artwork
Mention colors and color palettes
Specify the technique/style (pixel art, line art, watercolor, typography, etc.)
More unique and better content = higher chances of getting found on Displate and Google!
Description of "Evening Mist" Metal Poster from SpaceFrog Designs. Although a bit short, it is descriptive and unique.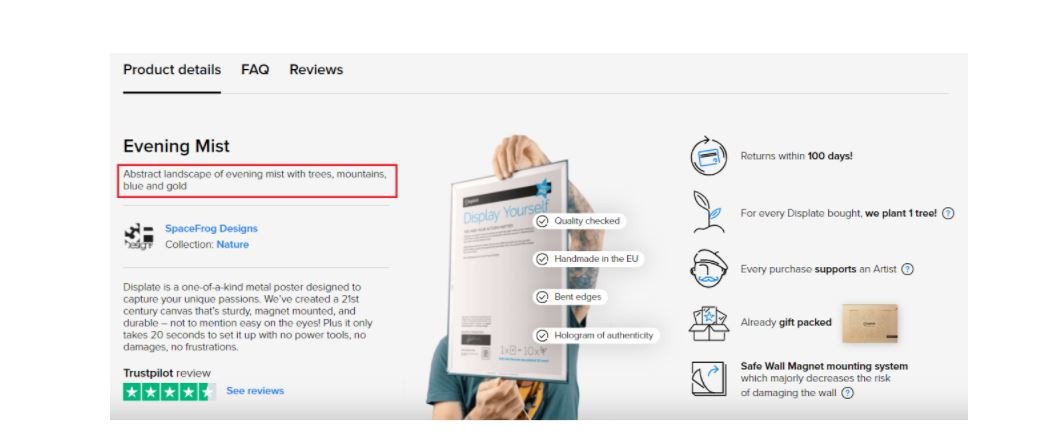 Using tags – tagging your artwork
Tags are really important if you want to make your art discoverable. Proper tag use makes your work easier to be found in our internal search engine, and the more people find it, the better chances of you getting a sale.
As with other elements, you have to be thoughtful when adding tags. Theoretically, you can, of course, spam them, but this will do no good for you, as your art will be buried deep down in the results, where no one can find it.
Before we dig into some practical tips on improving your tags, let's check some facts

For 5m phrases our customers searched for in 2018, only 3m were successful. It means that for 2m searches there were no artworks found and there's still a niche you can find and fill with your unique tags.

Only 50% of tags assigned by Artists to their artworks were used by our Customers in our search engine. At the same time, when we look at the top 500 best-selling designs, this number goes up to 95% – almost all of them were successfully found by tags. It shows how important tagging is for artwork discoverability and purchase.
How to Tag Your Art
We have a few tips for you that will, hopefully, make the tagging process easier.
Add 7-20 tags to each of your artworks
Add only one-word tags
Currently, our system doesn't allow for multi-word tags. Each word is a tag (and it's separated by space). If you need to use multiple words, consider using hyphens ("-") to separate words. But this is only a "workaround" which doesn't work perfectly. Only use this when you actually need it. In normal cases, please use single-word tags.
Think about what keywords you would type to find any design you want. Describe what you see and what tags truthfully represent your design and its style.
Add a mix of popular and unique tags
Think of any words that may be unique for your audience and include a range of tags describing the work, e.g. cityscape, london, travel.
Use tags for location, time of a day, season, or event
Add a location or place where the image was captured. You can include the time that is presented in your artwork or when you took this photo.
Include a technique you used
Customers look for coherent collections and often buy more than one Displate. Add tags connected to style or technique like illustration, abstract, photo, watercolor, watercolor, etc.
Include the subject of your art
Use the name of a city, landmark, subject, or overall theme of your art
We see a significant number of tags written with typos – remember to double-check them as you cannot edit tags after the upload.
What to avoid when tagging your art
Don't add tags that don't fit the art you upload (for example, in order to get more views)
Adding tags that don't fit your art, only to get more views won't get you far. When users search Displate, they want to find relevant results – even if they find your art, they won't buy it if it doesn't match their search criteria. Moreover, we will "devalue" the artwork if we see spammy tag practices.
Don't use conjunctions and prepositions
Conjunctions (and, but, either, neither, or, so, there, therefore)
Prepositions (in, on, with, under, for, etc.)
They will not improve the position of your artworks in search results, so it's a waste of tags to be used.
Don't add your name or nick
The nick you gave to your account will be included in search results, so there is no need to add it again as a tag.
Don't enter a specific time your photo was taken
Keywords like days of the week or months are not popular among our shoppers.
Don't mention equipment and tools used
Buyers do not search by camera type, the aperture used, or the tool and software you use at work. However, this may be interesting info to be added to a description ;
Don't use emojis or special characters as tags
Although emojis are broadly used nowadays they do not improve positioning in search results besides taking space, which could be used for other tags.
Please do not add a hashtag (#) in a tag as well any other special characters like #, *, $ or !.
Don't merge several words into one tag
Think like a customer. Would you write: newyork or new york in the search box? Yup.
Tips For Finding Perfect Tags
1. Try different searches on Displate – look how many artworks show up and what's their style
2. Research on social media:
▪ Instagram – try different hashtags and see in popular posts what other hashtags are used in the description, e.g. animal illustration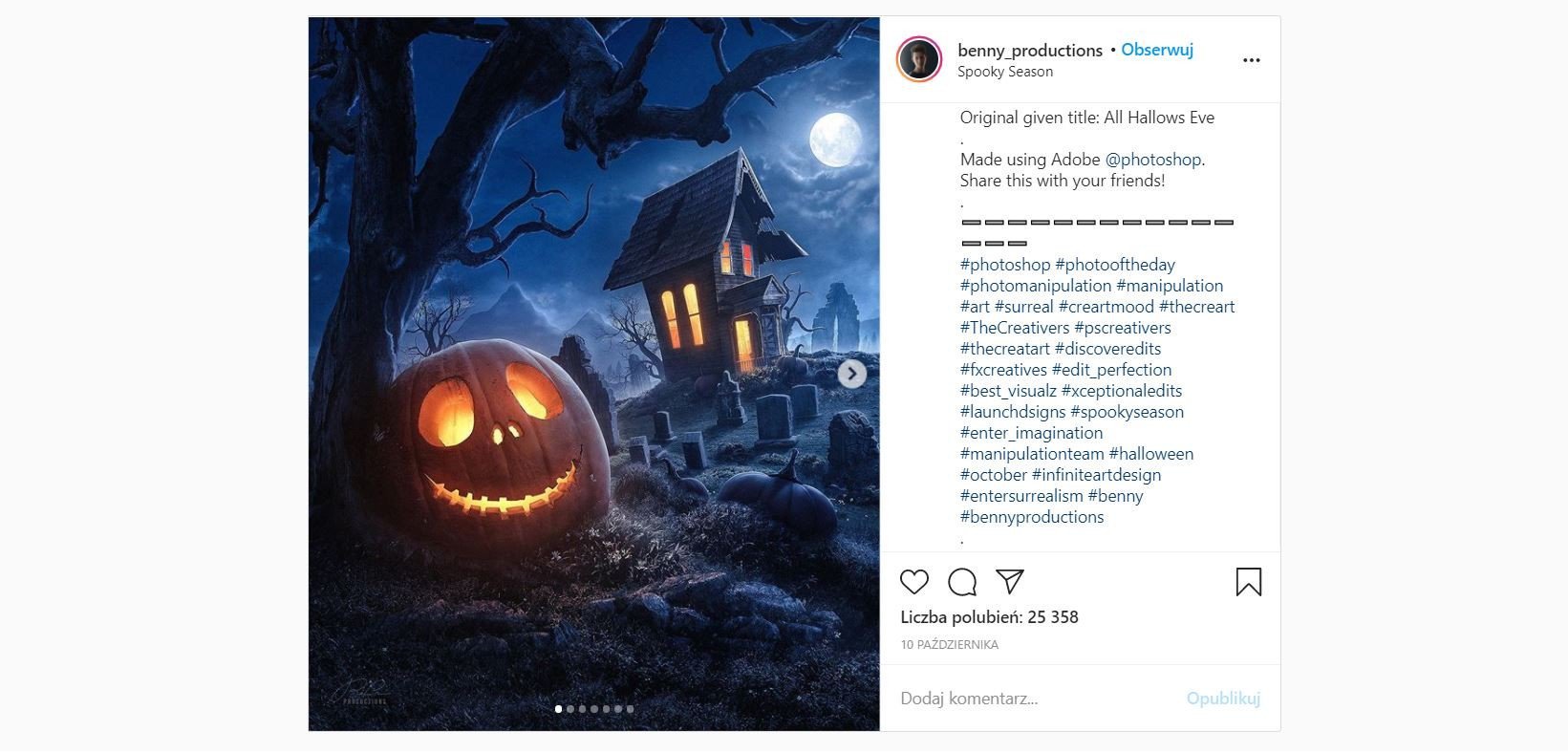 ▪ Pinterest – do the same – search for tags from your niche and check:
Auto suggested phrases: 

Phrases suggested in a top bar:

Collections Sell Best
When you upload artworks you may put them into a new collection or add them to the existing one. Next to tagging, it is the most important factor in the discoverability of artworks.
In fact, an average total sales for artists with 15 Displates is 14,5x times higher than those who uploaded only 1 art.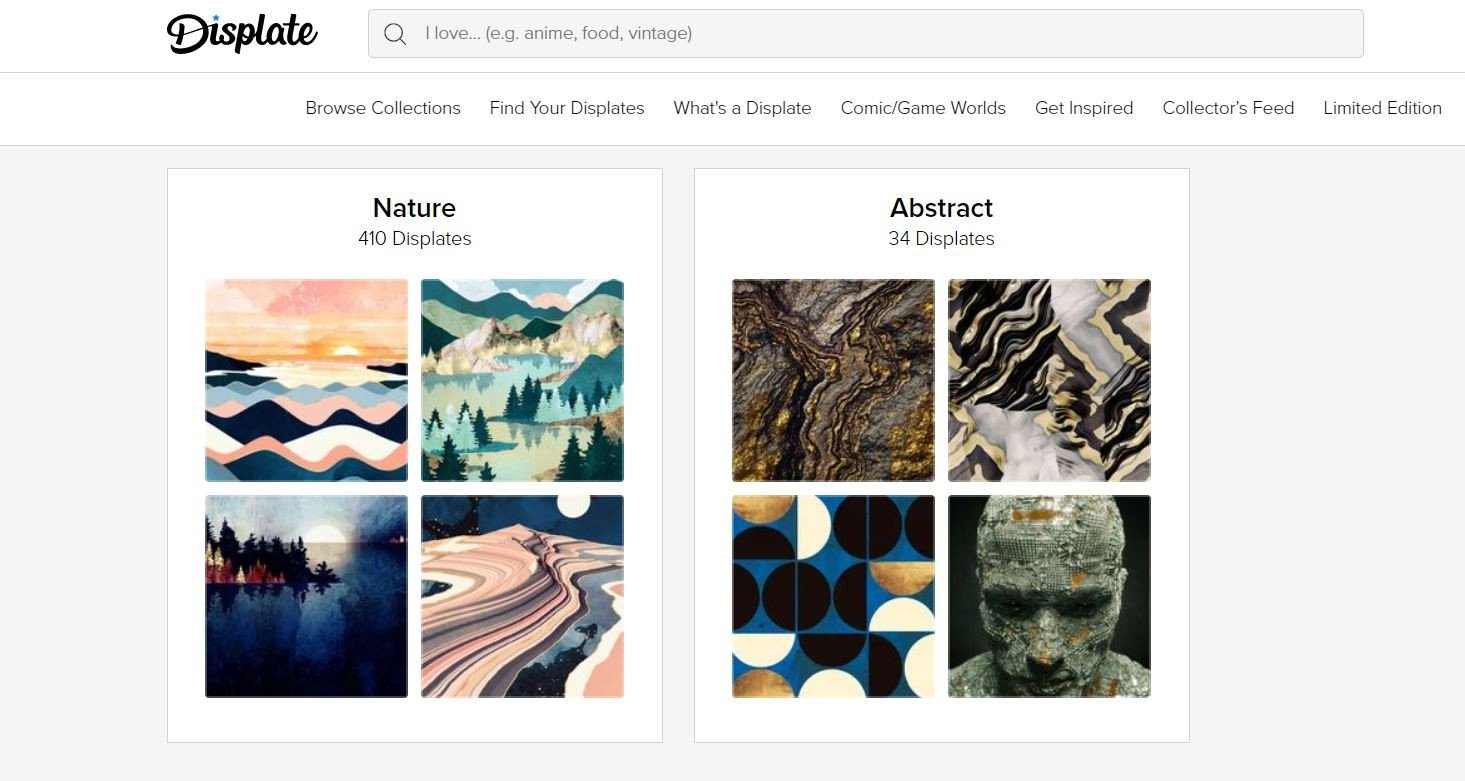 Wanna know how to boost your sales by creating coherent collections? Read here!
To sum things up, remember:
Before submitting your artwork always double-check if all provided information is correct and there are no mistakes and typos.
Make sure your art title and description are unique and descriptive
Make sure to use proper, one word tags, that describe your work accurately
You're done!

We know, it looks like a lot of work, but believe us, it's fundamental to our mutual success!
All of the aforementioned activities will allow you to increase the discoverability of your works and will bring you bags of money! There are people waiting for you, searching for awesome art everywhere! Let's help them find what they wish for!