Something wicked this way comes…And we couldn't be more excited!
A few months ago, A Knight In Flames swept through Limited Edition, giving new meaning to the term "eerily beautiful".
Turns out, this was only the beginning.
Now a whole army of otherworldly specters has invaded our realm, led by the ruthless Night Rider.
Naturally, we wanted to find out more about the origins of this supernatural visitor.
A word from Dominik Mayer, summoner supreme
As expected, the spectral warriors of the Night Rider Limited Edition were brought into our world by none other than the uniquely talented Dominik Mayer. And according to what he told us, this was no accident.
How would you describe the story behind this artwork?
The ghostly horsemen ride through the misty forests in eternal silence.
They haunt the land for centuries and every unlucky soul that crosses their path joins their ranks forever.
This painting combines the creepy mood of my previous artwork Nightly March and the energy of many of my cavalry themed speed paintings and creates dark and beautiful new scenery.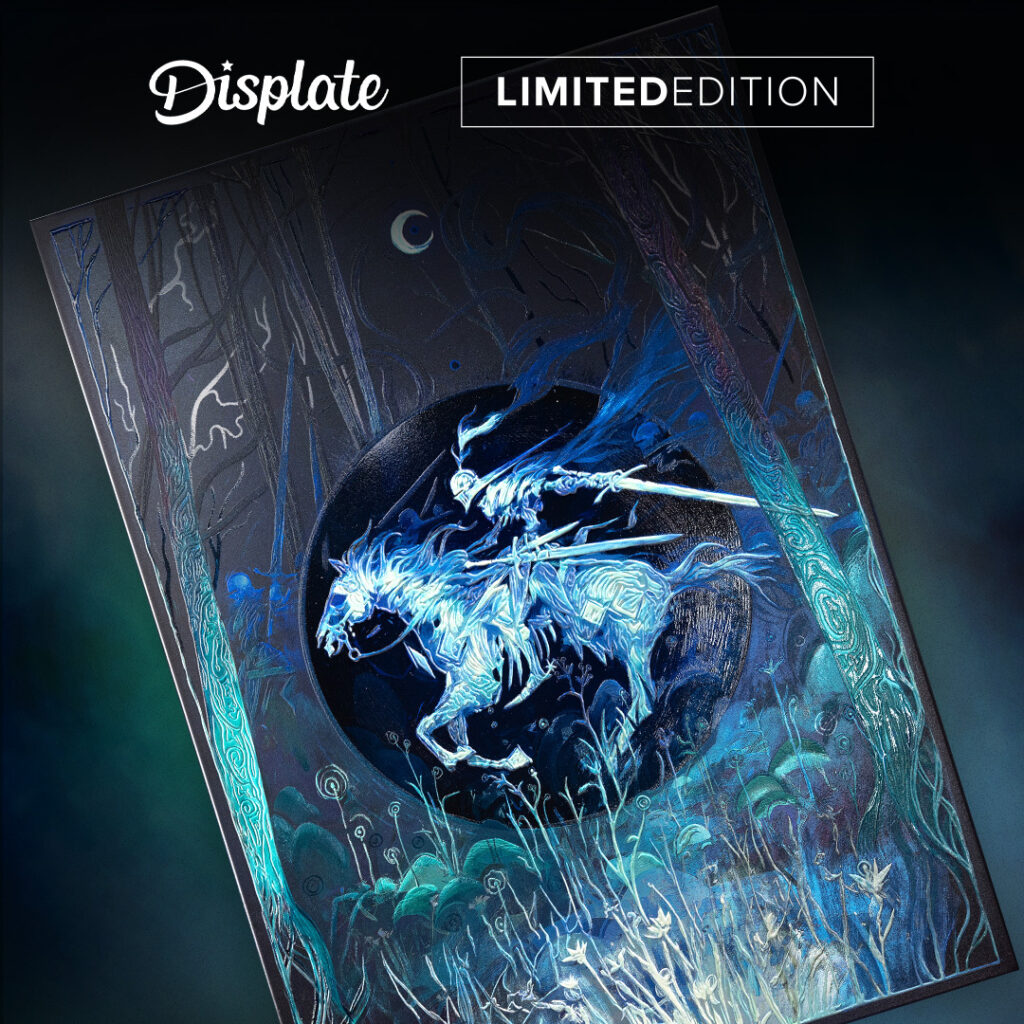 Then our Design Studio made it even more spooky
Once it was summoned forth by Dominik, our Design Studio got hold of this Limited Edition design and made it into a true sight to behold. But Dominik hadn't said his last word yet…
Kasia recounts the story of how this spooky masterpiece came to be:
"The Night Rider is another work by Dominik Mayer, which continues our knights collection. We decided to listen to our community on reddit and work on this previously drawn artwork titled Nightly Marsh. But we wanted to also add a main character, supplement the art with a frame and refine the details. Dominik did it all flawlessly! The beautiful blue and green colors looked great on the silver underprint, so we decided to take advantage of that. We then added phosphorescent powder, thanks to which the knight glows blue when exposed to UV rays. These enhancements further emphasize the eerie atmosphere that the artist managed to achieve when creating the original design."
A Night to remember
This Limited Edition rider is not joking around – he's out for blood and empty walls! And thanks to the combined efforts of Domink Mayer and our Design Studio, he will most certainly succeed. When he does pay you a visit, dare to turn off the lights in order to appreciate him in all his spooky glory.
Now make sure you're quick to grab a piece because the hunt is on!