Julien is the proud owner of a unique Star Wars collection boasting one-of-a-kind set of items such as collectibles signed by the actors who played Boba Fett, Chewbacca, C3PO, and General Grievous. Here, he tells us about his lifelong passion and how it evolved through time.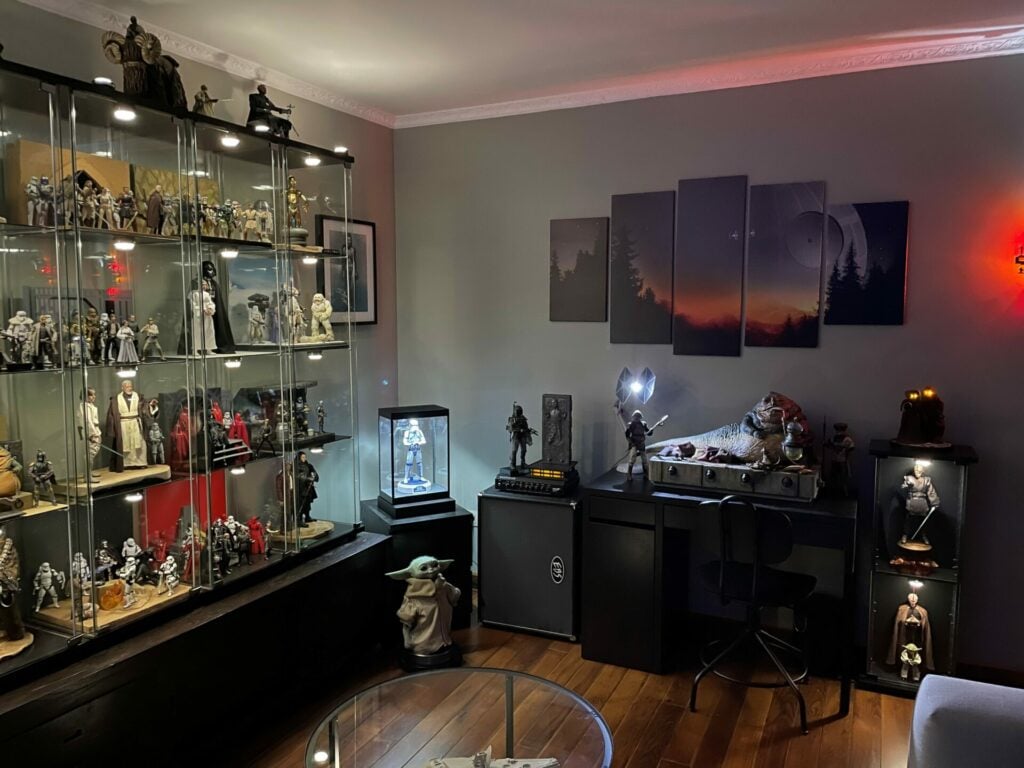 When and how did you start collecting?
I got my first Star Wars toys when I was 10 and, like all kids, I just played with them. I really started collecting in 2015 with the release of the most recent Star Wars movies.
What do you collect?
I only collect Star Wars stuff. Most of my items are realistic 12th and 6th scale articulated figures. I have a few 3.75 inch-scaled ships, a few vintage (70's and 80's) original figures, and several beautiful resin statues. I also have a few paintings, photos, and Displate metal posters signed by Star Wars actors!
What is it that you love the most about Star Wars?
Star Wars is a space opera told like an ancient Greek tragedy with Asian (samurai) influences. I love how Georges Lucas and his partners created such a rich and wide universe from the main characters, their quest, their beliefs to the smallest aliens that appear for half a second. I have watched the Star Wars movies dozens of times and I still discover details I've never noticed before.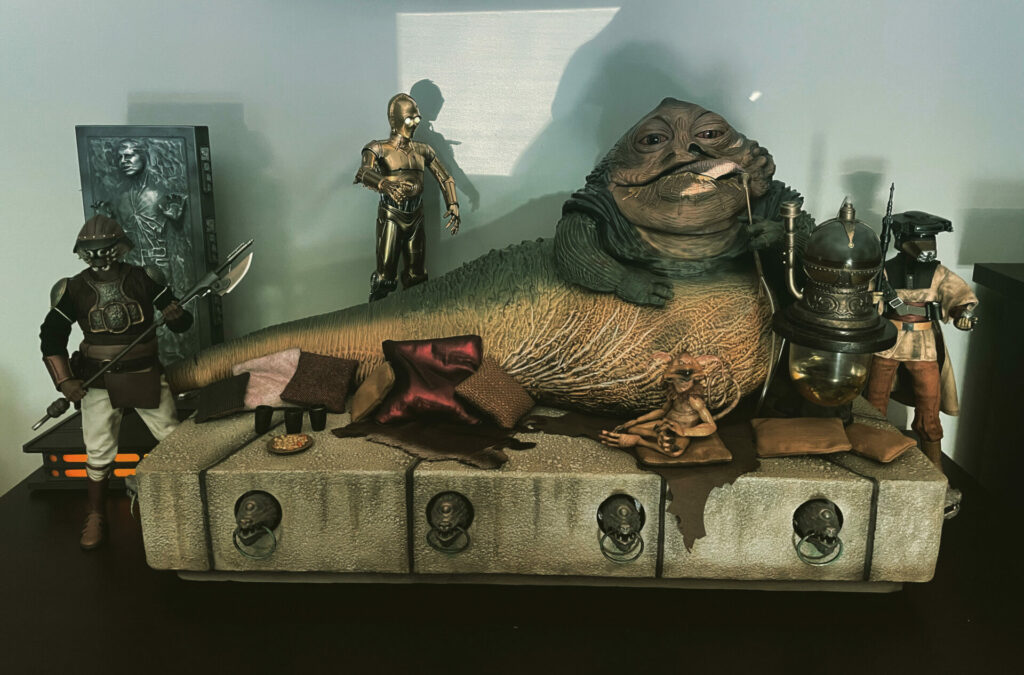 Which item in your collection is the most special to you and why?
My lifesize Grogu (aka Baby Yoda) statue. I pre-ordered it 9 months before receiving it. I used a picture of him to announce to my family and friends that our own child was going to arrive in 9 months.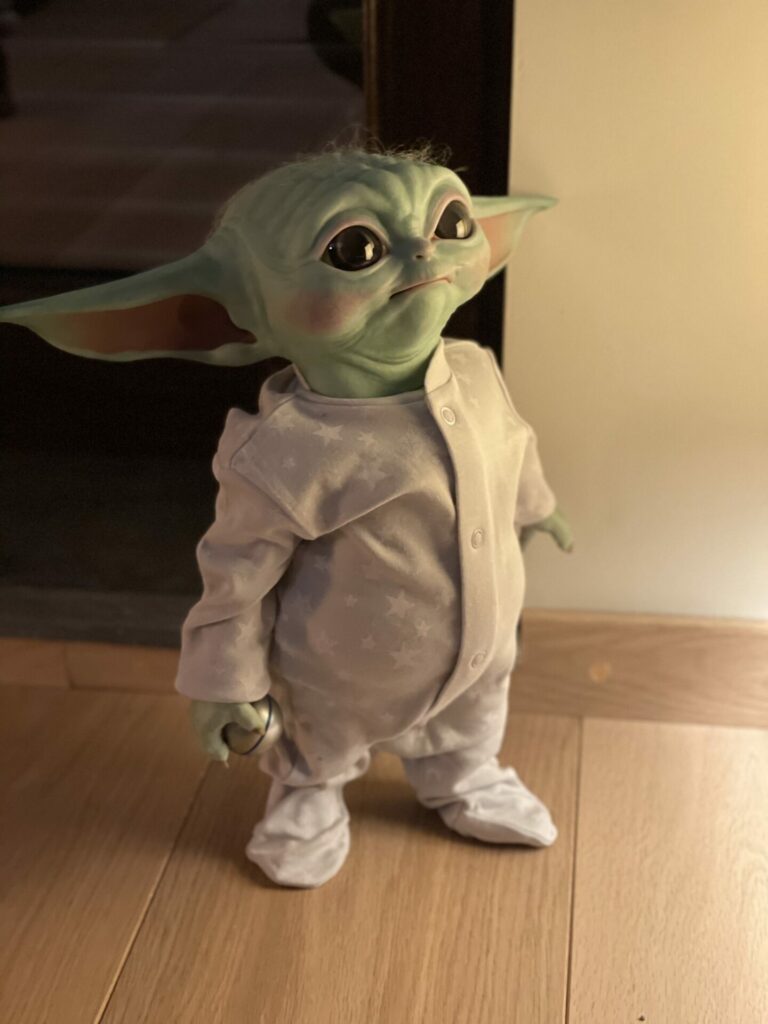 Do you have any super rare items in your collection?
I would certainly highlight 3 items:
My 6th scale Sideshow Deluxe Jabba The Hutt on his Throne: an impressive, realistic piece of the slimy crime lord
My Sideshow life-size Salacious B Crumb limited edition statue (only 600 copies worldwide). When you enter my collection room, it looks at you from the sofa as if it just got out of the screen. You can practically hear him snickering!
My Hot Toys Sideshow Exclusive (limited edition) 6th scale stormtrooper with a white and blue Chinese porcelain pattern: an artistic creation mixing Star Wars and Asian Art.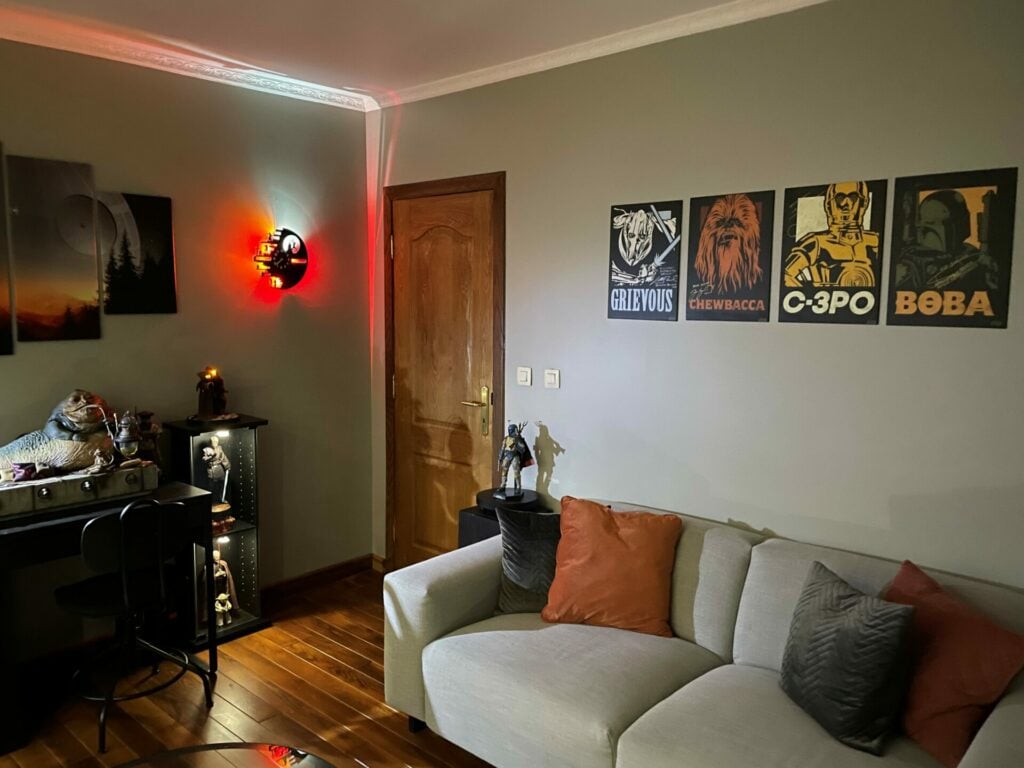 What's the best part about being a collector?
The answer is personal, I think. Collecting is like creating your own treasure… From the outside, people may not see the value of what you collect. Actually, that is part of what makes your collection special to you. Spending time in my collection room helps me disconnect from my stressful work. It makes me travel a long time ago in a galaxy far, far away. I see it as a relaxing activity when I practically recreate movie scenes and pair up the characters. My way of collecting has evolved. With time (and lack of space…), I tend to look for more exceptional and rare pieces; pieces a "regular" collector wouldn't have.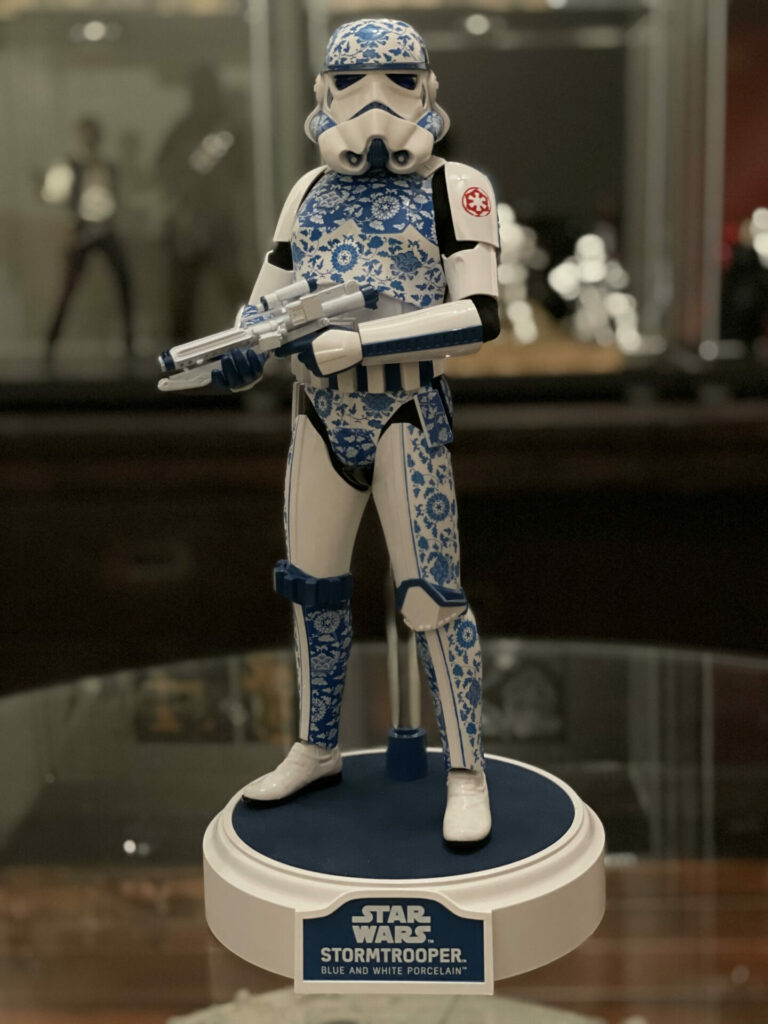 How do you organize your collection?
Everything stays in my collection room.
I have 4 glass shelves (forming a 4×4 square) in which I display my 12th and 6th scale figures.
The square is cut by a diagonal of 6th scale figures chosen from one of the original trilogy movies (episode 4, 5, or 6).
The upper left corner is dedicated to a couple of 6th scale prequel trilogy figures (episodes 1-3).
The lower right corner is dedicated to a couple of 6th scale sequel figures (episodes 7-9).
The 10 other squares are occupied by 12th scaled figures displayed in chronological order.
My biggest masterpieces are spread across the rest of the room in a place where they are highlighted
I try to keep my collection as visually pleasing as possible.
I don't exhibit everything at once to make the display look spacious. That's why I show some items in turns.
It makes the collection more alive and makes me rediscover my items every time.
I also pay particular attention to the lighting to bring out the best in my items.
How many Displates do you have in your collection?
I have six Displate metal posters. Five are signed by Star Wars actors: the ones playing Boba Fett (actor & stuntman), Chewbacca, C3PO, and General Grievous. These always stay in my collection room. The sixth one is a picture of Wicket the Ewok on a blooming tree, which is hanging on my newborn daughter's bedroom wall.
What do you like most about Displates?
They are solid, stunning pieces. And there are so many cool designs! They are easy to hang, adjust, and interchange (which is great for a collector!). All Star Wars actors I have met seemed to be touched/impressed when I handed them the Displate for signing. Most reactions were "Wow", "Lovely".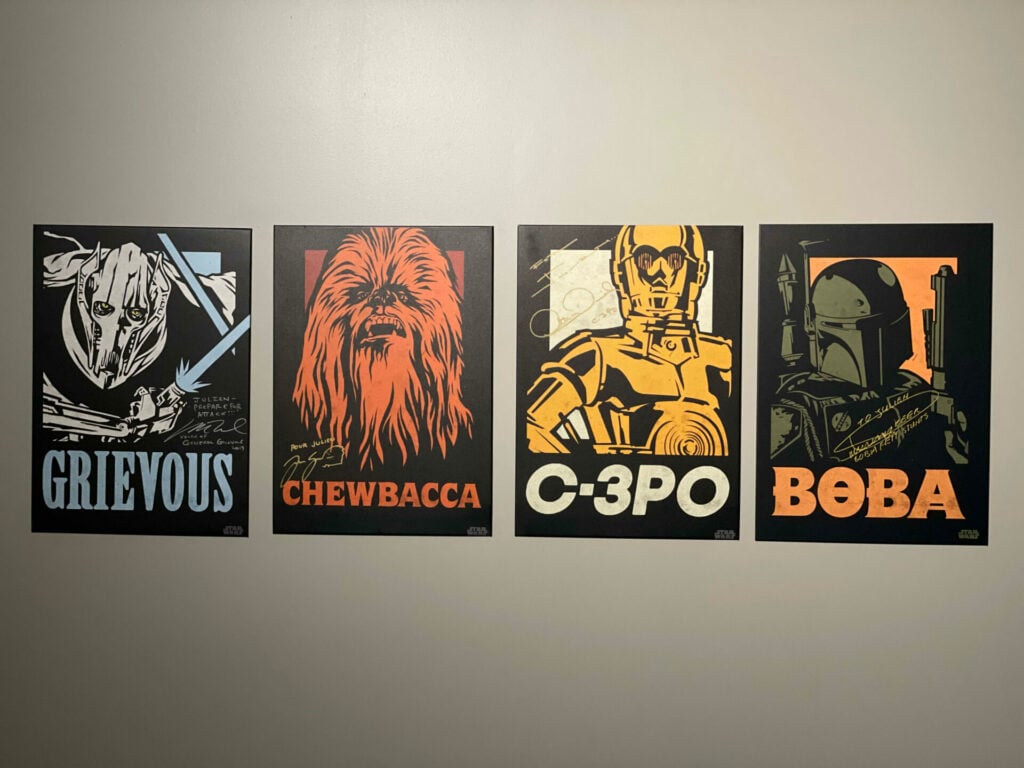 Which Displate is your favorite and why?
Personally, I cannot choose because they all remind me of incredible and unforgettable meet-and-greet events.
Anything else you would like to share?
If you like my collection, follow my Instagram "oxixo86" 😉
All photos used in this post are © Julien, used with permission.