Jeremy Pryer is a collector of many things – T-shirts, posters, figures – but his biggest collection is Resident Evil memorabilia. His haul covers items based on video games and films and includes some real rarities. Check him out showing off his Resident Evil stash!
When and how did you start collecting?
In the final year of High School, I began working part-time at Toys R Us for class credits. When the school year ended and the program was set to wrap up, they offered me a full-time job. Working there I would regularly encounter collectors. And I started to just see more value in obtaining things I really liked as I was witnessing how much harder (or pricier) it would become to find those same things later on.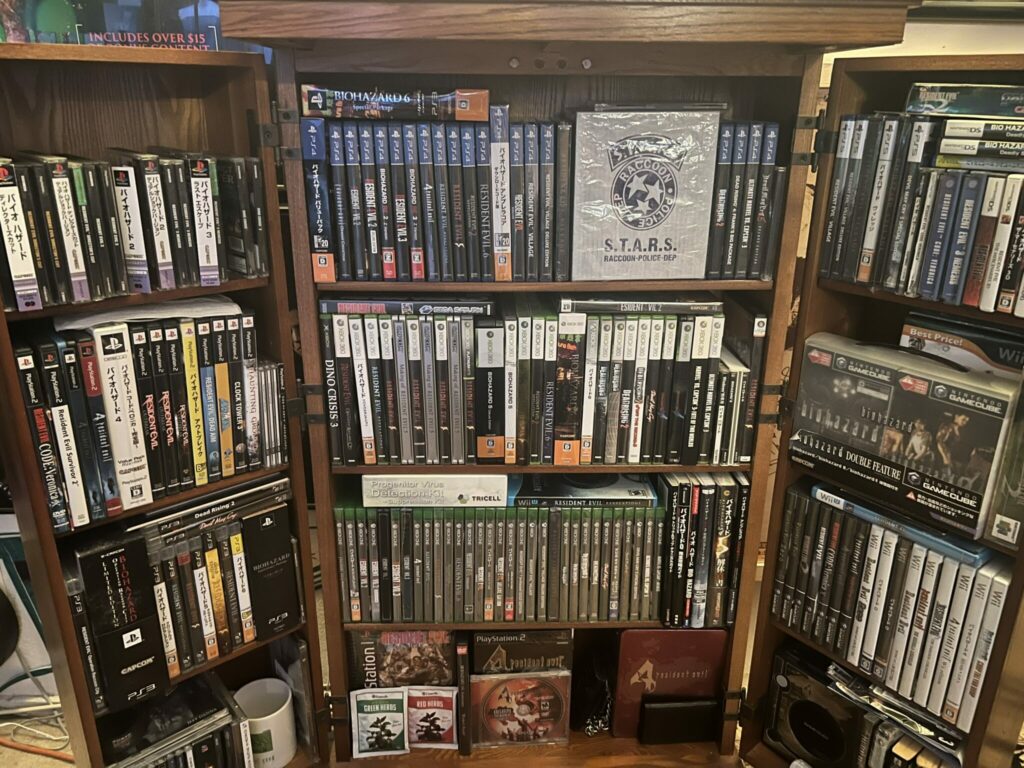 What do you collect?/What sort of things?
I collect pretty much anything and everything (t-shirts, posters, standees, movies, games, figures, statues, etc.) from any products that I like but the largest part of my collection has been dedicated to the "Resident Evil" series. Originally there was not a whole lot to collect but as the brand became more popular I began to see more items make their way to the US. I always prioritized officially licensed merchandise for the most part although in the past year I have begun to pick up some fan-made items as some of the work out there is insanely impressive.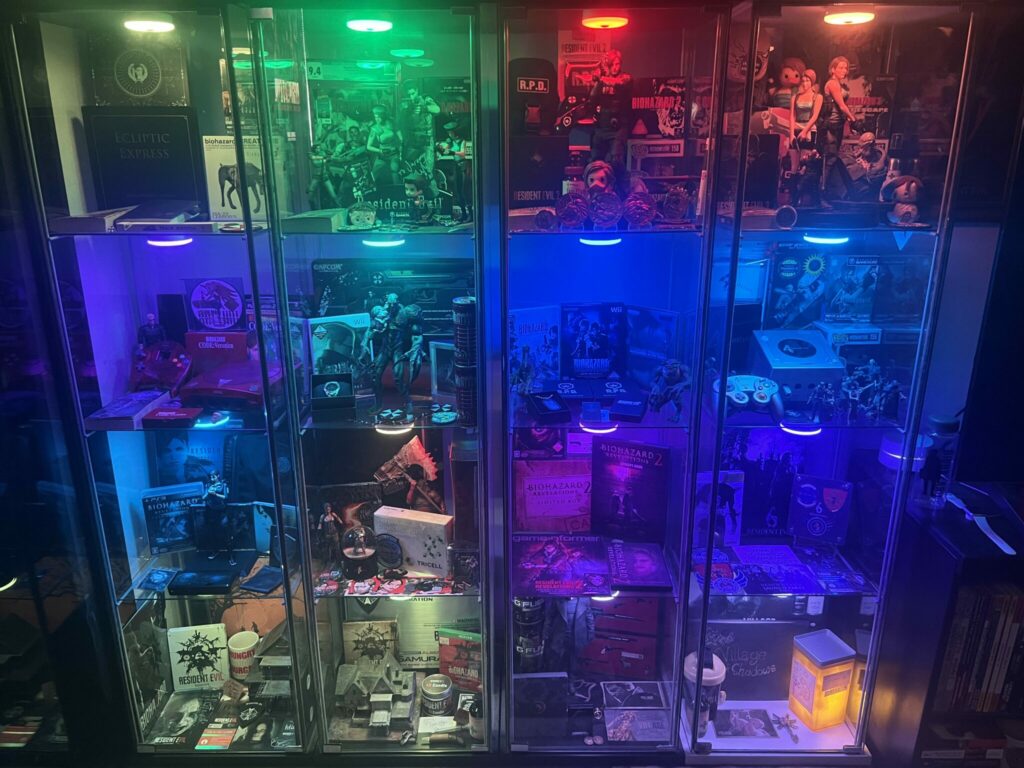 What is that you love most about Resident Evil?
The Horror element. Even as it shifted more into Action, there was really nothing else quite like it to me. The original was the most suspenseful experience I ever had in gaming when I played it. That feeling was only topped by the amazing REmake in 2002 and then again, more recently, by Resident Evil VII. No other franchise has ever had the same impact on me and I owe it, in large parts, to having shaped my own career path eventually.
I always enjoyed games but "Resident Evil" changed it from being casual fun to being something I was fascinated with from a design standpoint. Now, 25 years later, I work in the video game industry as the QA Manager at WayForward. Although I have yet to work on any Resident Evil games – if you ever play a WayForward game and get an achievement/trophy that references Resident Evil… that is most likely my doing.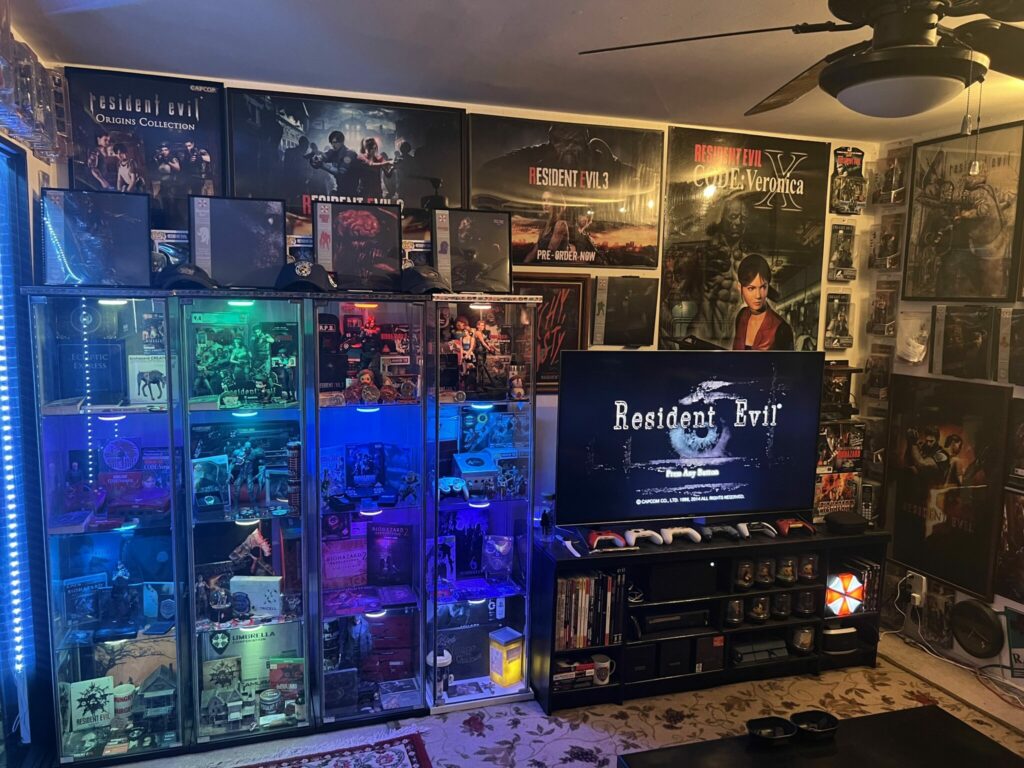 Which item in your collection is the most special to you and why?
Sienna Guillory's original on-screen Jill Valentine outfit from "Resident Evil: Apocalypse". Back in 2004, I was working at Universal Studios Hollywood and started to see more value in collecting film props. I had observed a few years earlier that Constantin Films would often team up with Premiere Props and list pretty much everything at auction on eBay around a film's theatrical release. So leading into the release of that second live action film – I had already seen Jill Valentine, my favorite character in the series, would be featured in the new film and when images started to come out I saw they actually were trying to match the film outfit design to the actual game outfit from "Resident Evil 3: Nemesis".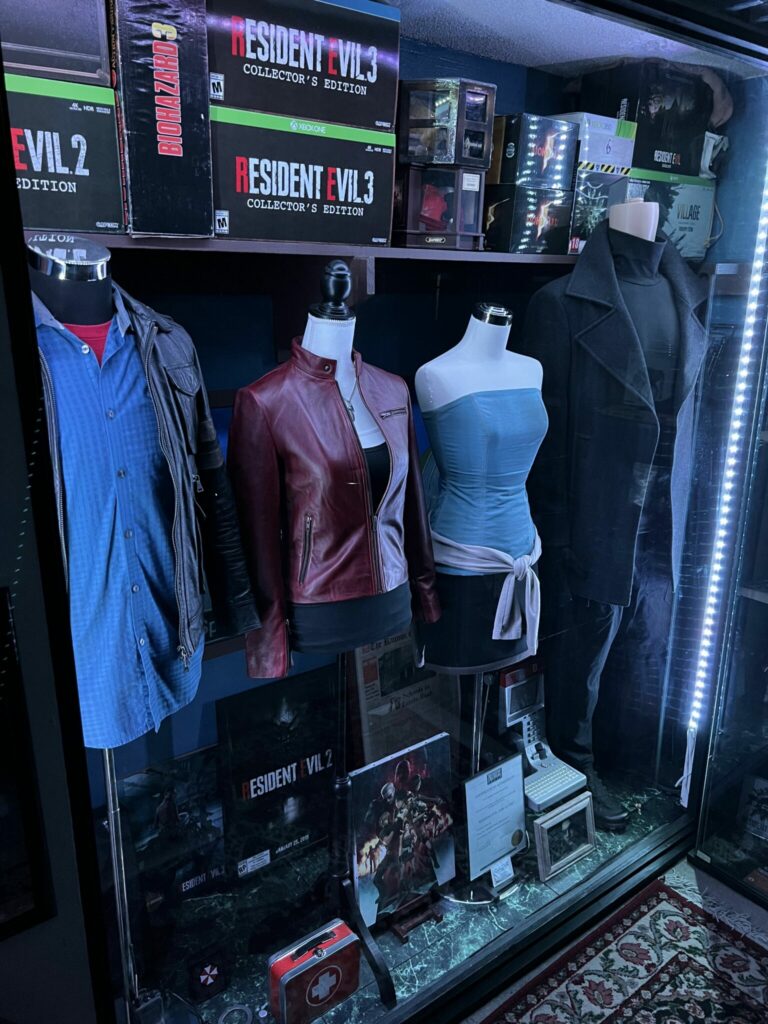 At that point, my Resident Evil collection really wasn't all that impressive but I knew I wanted that outfit and I started saving up for the auction before it even began. I remember the auction ended the day before the film even released to the public and I got a bit nervous that maybe I would hate the way the character was portrayed and I may regret that I won it (I was active in a bidding war with someone else over it) but a friend of mine managed to get advanced screening passes to the film through a radio station and I loved Sienna in the role. I went home that night and raised my max bid to make sure I won it. And when I won… then I discovered I had to pay California sales tax on it which I was not estimating into my budget. But, thankfully, Premiere Props was actually really cool about it.
Do you have any weird/super rare items in your collection?
About 2 years ago I met a very good friend, Alex Aniel (writer of "Itchy, Tasty: An Unofficial History of Resident Evil" ). When he saw my collection, he actually went out of his way to help me to grow it further by tracking down or offering, from his own collection, some very very rare items. And that includes the weirder ones. I never expected I would own a pair of "Biohazard" boxers… but here we are. And that is easily the weirdest item to me!
On the rarer side – I now have a European Resident Evil 4 GameCube and a red Japanese Code: Veronica Dreamcast system – both signed by Shinji Mikami (the CV Dreamcast is also signed by director Hiroki Katō). Obviously, the Jill Valentine outfit is a pretty rare item, as well, but one of my more recent items is easily my rarest – the statue of Resident Evil Village's Alcina Dimitrescu. She was the prize from a Twitter contest that Capcom ran this year. Only one statue for only a single winner. I still can't believe I won and she has taken the top spot as the rarest item in my entire collection now.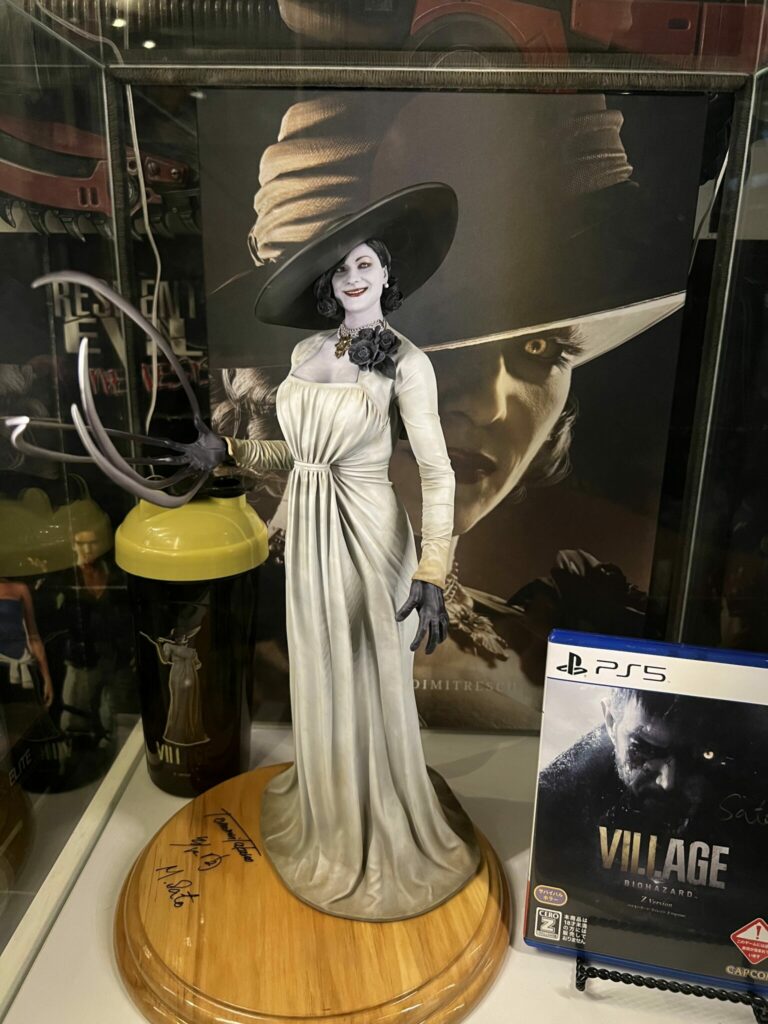 What's the best part about being a collector?
The best part is seeing others being excited by it. My entire goal of displaying my collection (which two years ago was largely all in boxes) as I have was to share my enthusiasm for the series with other fans and collectors. And it has led to a handful of people reaching out to tell me they are inspired by seeing what I have done with my collection and hope to someday have something similar or even bigger and that's really awesome to me! I love seeing that kind of positivity within a fan community.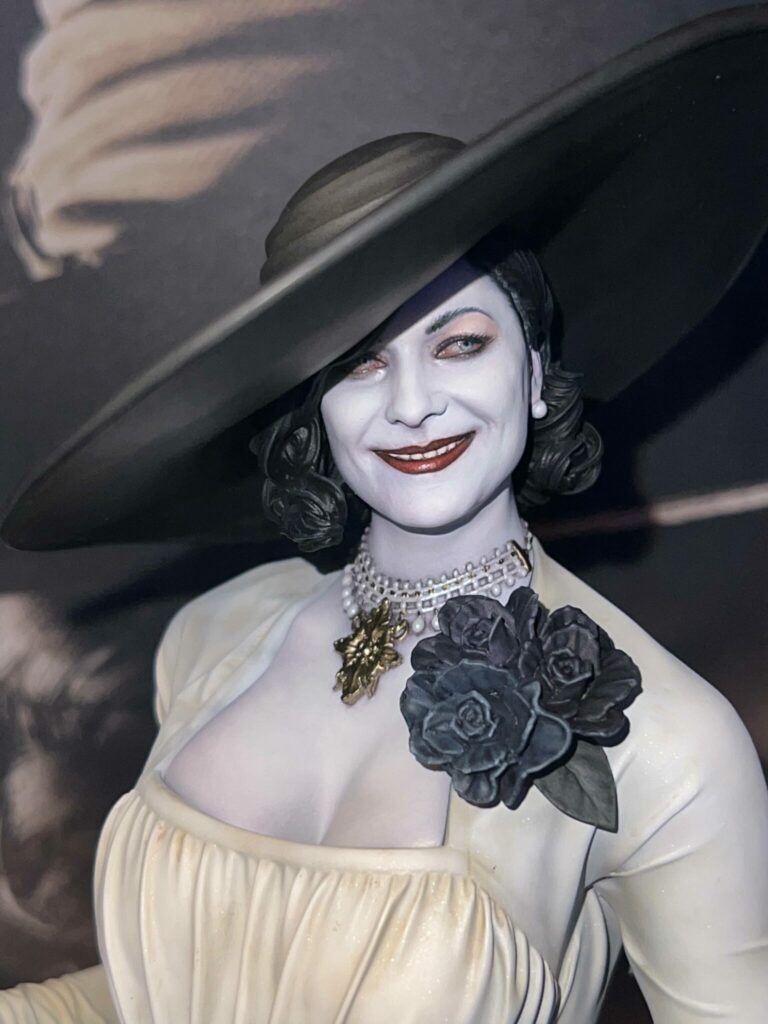 How do you organize your collection?
For the past couple of years, I used to keep all the Resident Evil stuff to a single wall. I would switch out what was displayed from time to time but it was always just one part of an entertainment room dedicated to this specific property. I did eventually expand to each wall having something related to RE on it but outside of the main wall – it would be just one small thing alongside various other entertainment items.
But then… the world changed quite a bit and my entertainment room also became my home office. A little before that Capcom had introduced an RE Ambassador program where the higher your rank, the more likely you would be selected for possible access to Betas or special events. The way you "ranked up" was by tagging #REBHFun in posts on social media. I wasn't really that active on social media at the time so I wanted to have a justification for myself to use the tag daily. What I ended up deciding on was to post images of my RE collection. So I started taking everything out of boxes and taking pics so I could post pretty daily and during that I just started to think "I could probably redecorate this entire room using only my RE stuff…". So I did!
When I started there was some basic organization (for example, two walls display the posters in order of continuity) but nothing set in stone. Only earlier this year I decided to entirely remove a closet and replace it with a wardrobe display that would feature key outfits from the main characters of the first two games. At this point, I have just come to accept that my design for this all is a constantly moving target as I keep making adjustments every few months.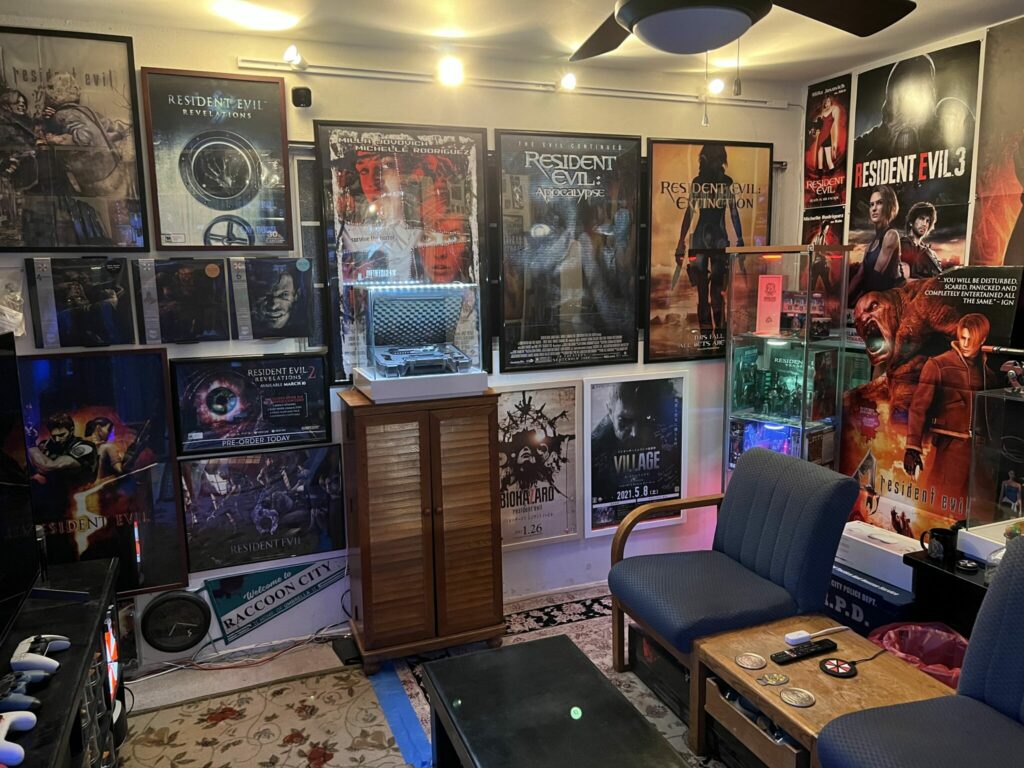 How many Displates do you have in your collection?
At the moment – only one… BUT I am getting a LOT more. I first heard of Displate from a coworker just before the pandemic. That was before my entertainment room was specifically Resident Evil themed so I had a handful that I really wanted to get. But once I shifted my room to a specific theme – my focus became more on just RE-themed items.
I had only ever heard good things (which I can now confirm firsthand) from my co-worker when she ordered some, so when I saw the "Resident Evil Village" ones go up – I ordered my first one immediately. I started with a Lady Dimitrescu one that I felt would look great behind her statue. Due to the size of her display case, I had to go with the smallest Displate available (I really wanted Large but knew it wouldn't fit) and it was meant as an experiment since it would be the first Displate I ever had actually seen first hand. And I loved it! It arrived so much faster than I expected and the quality is amazing.
So, I will be getting the complete Village collection… and the annoying thing about that is I'm sure I will also be getting multiple duplicates at various sizes. The way I see it – I could have some of the additional Dimitrescu featured artwork as backgrounds I can swap out from behind the statue but I also want to get the larger versions AND probably a few XL versions for when I do the next major redesign of my collection as I think I could soon have an entire section dedicated to either "Village" or Dimitrescu specifically and those Displates will really help with that!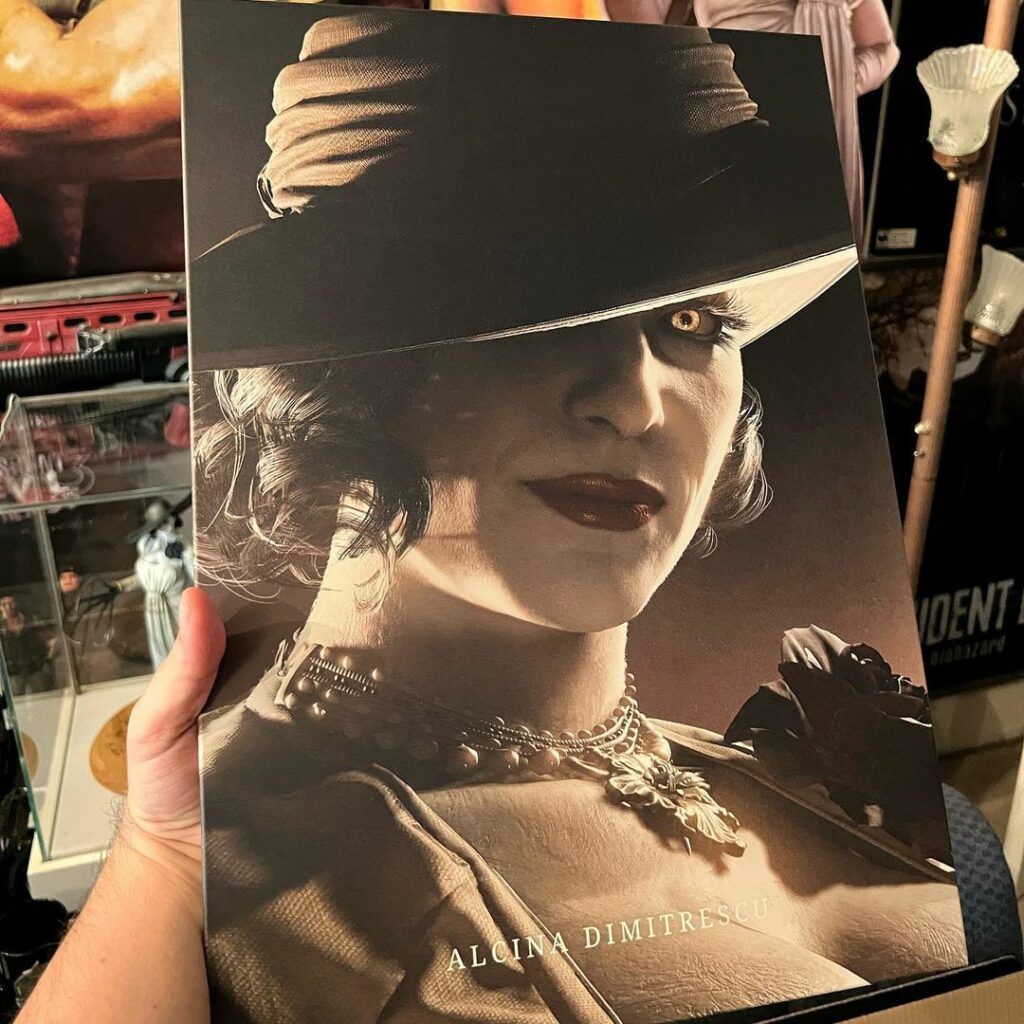 What do you like most about Displates?
The quality is amazing but also the ease of how they get put up. I didn't realize how that worked originally so when I got this first one I knew I would be able to easily set up an entire wall of them that I could rearrange or replace at any point far easier than a normal framed poster… seriously, the number of times I have had to re-organize an entire section because I made one alteration and all the different sizes threw off everything else around it… I'm glad with Displates that is really not a problem I see myself having to worry about.
Anything else you would like to share?
I would just like to thank Displate for giving me this opportunity to share and hope for more Resident Evil themed Displates in the future 👀
All photos used in this post are © Jeremy Pryer, used with permission.