Imagine getting some much-needed shut-eye in your very own anime oasis. We're not just talking painted walls and a few neon accents; we're thinking of something more immersive. Imagine a bedroom so kawaii that it makes you feel supernatural. There are two possibilities; you're either interested in finding anime bedroom ideas for you or a loved one. Regardless of the reason, it'd be great to start with some of these Gift Ideas for Anime Lovers while you're at it.
When curating your own space, it's essential to consider your favorite anime and how it could influence your space. Decor is a form of personal expression that shouldn't be limited to the ideas presented in this article. So go ahead and imagine your own spin on these concepts. And for more anime-themed interiors to love, enjoy these 40 Awesome Anime Room Decor Ideas. Without further ado, let's jump into the anime bedroom ideas!
Night Sky Room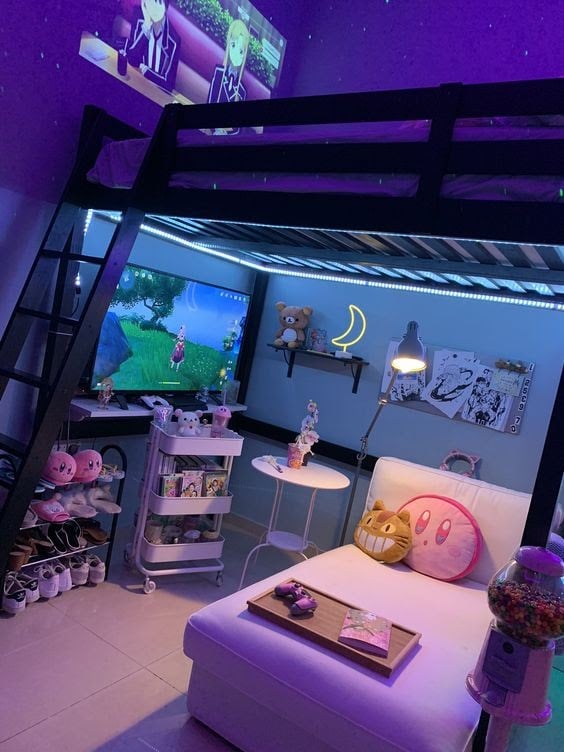 As you'll see on this list, soft subtle colours are a regular feature in Anime bedroom decor. We love the imaginative elements in this bedroom, from the gumball machine to the inspired pillows.
Kawaii Bedroom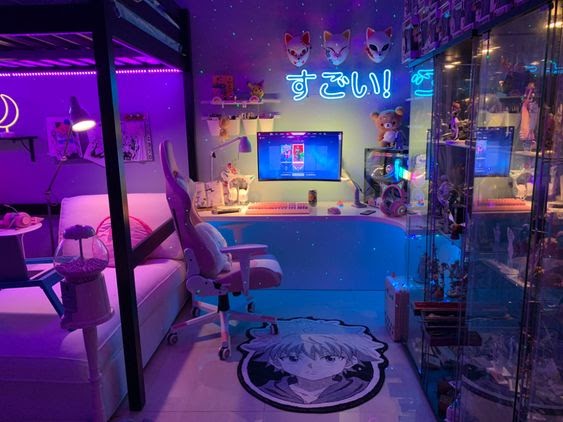 Here's a neon Anime style bedroom/desk space. We love the display cases with Anime memorabilia and the eye-catching floor mat. It almost feels like your favorite anime characters could chill in this room at any moment.
Minimal Inspired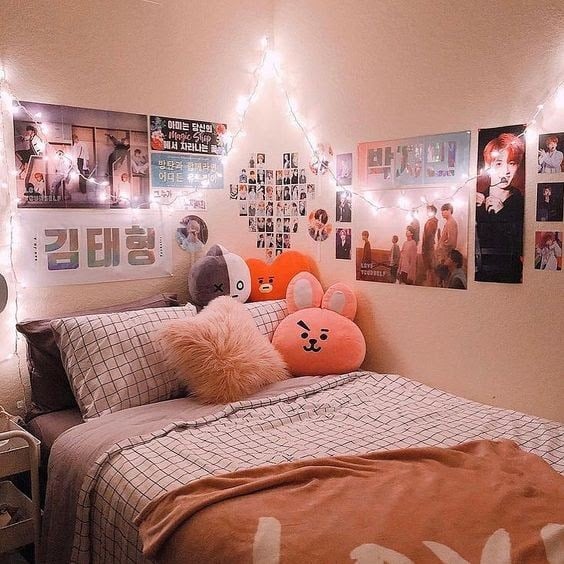 Here's an Anime style bedroom idea with some inspired Japanese wall posters. The walls in a bedroom make for a great decor canvas. Feel free to take inspiration from this room and plaster your walls with your favourite Anime characters and visuals. One of the many Anime & Manga posters on the Displate store should suffice.
Anime Bedroom Workspace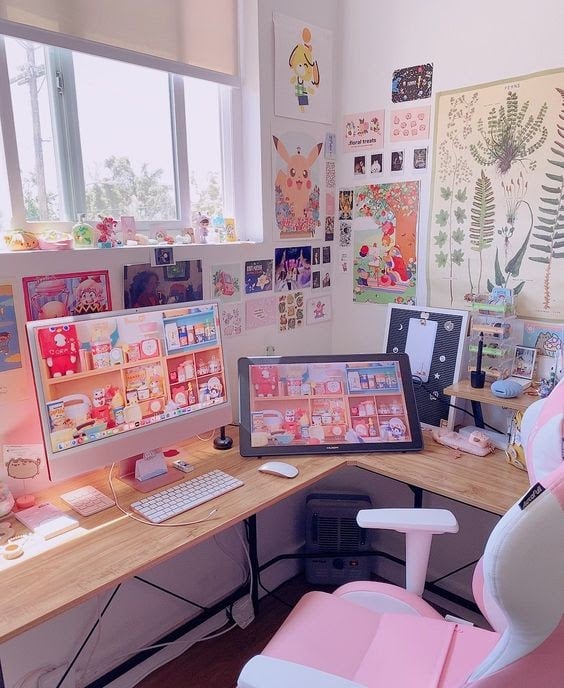 What's a bedroom in 2021 without a dedicated desk and workspace. Most bedrooms now double as a sleeping/office space. While that's not always functional, we think this desk is pretty sick. From the anime-inspired posters to the pink furnishings and technology to complete the theme. Very awesome space.
Immersed In Posters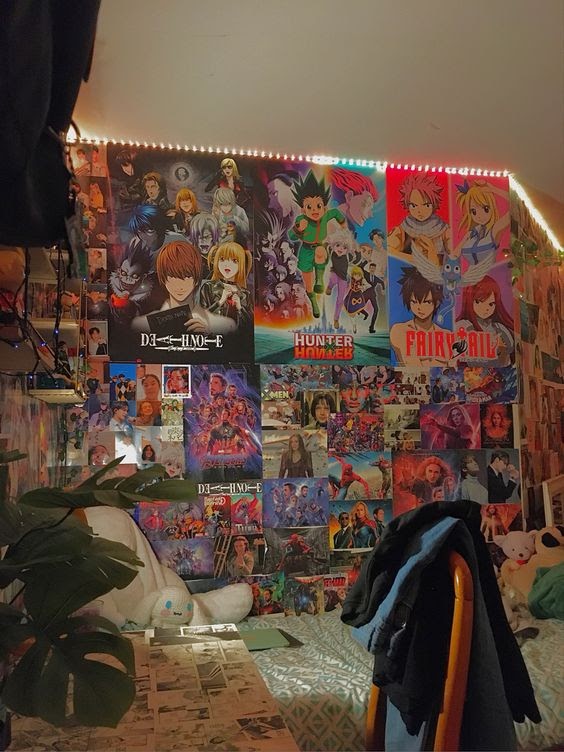 If you haven't guessed it, yes, we're obsessed with posters. Anime is great because there is so much heartwarming inspiration for cool wall art. It's a brilliant idea to create your own mural with a selection of epic anime posters.
Pink Bedroom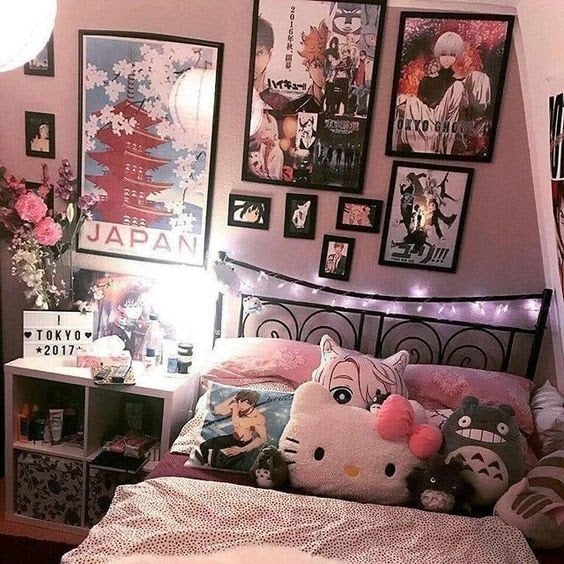 Neon lights, anime pillows and most importantly, anime-related art; This bedroom has it all. As you've seen so far, there's a lot of variation regarding what you can choose to feature in your bedroom and once again, here's an example of How walls can make for a great decor canvas.
Anime Room Collectables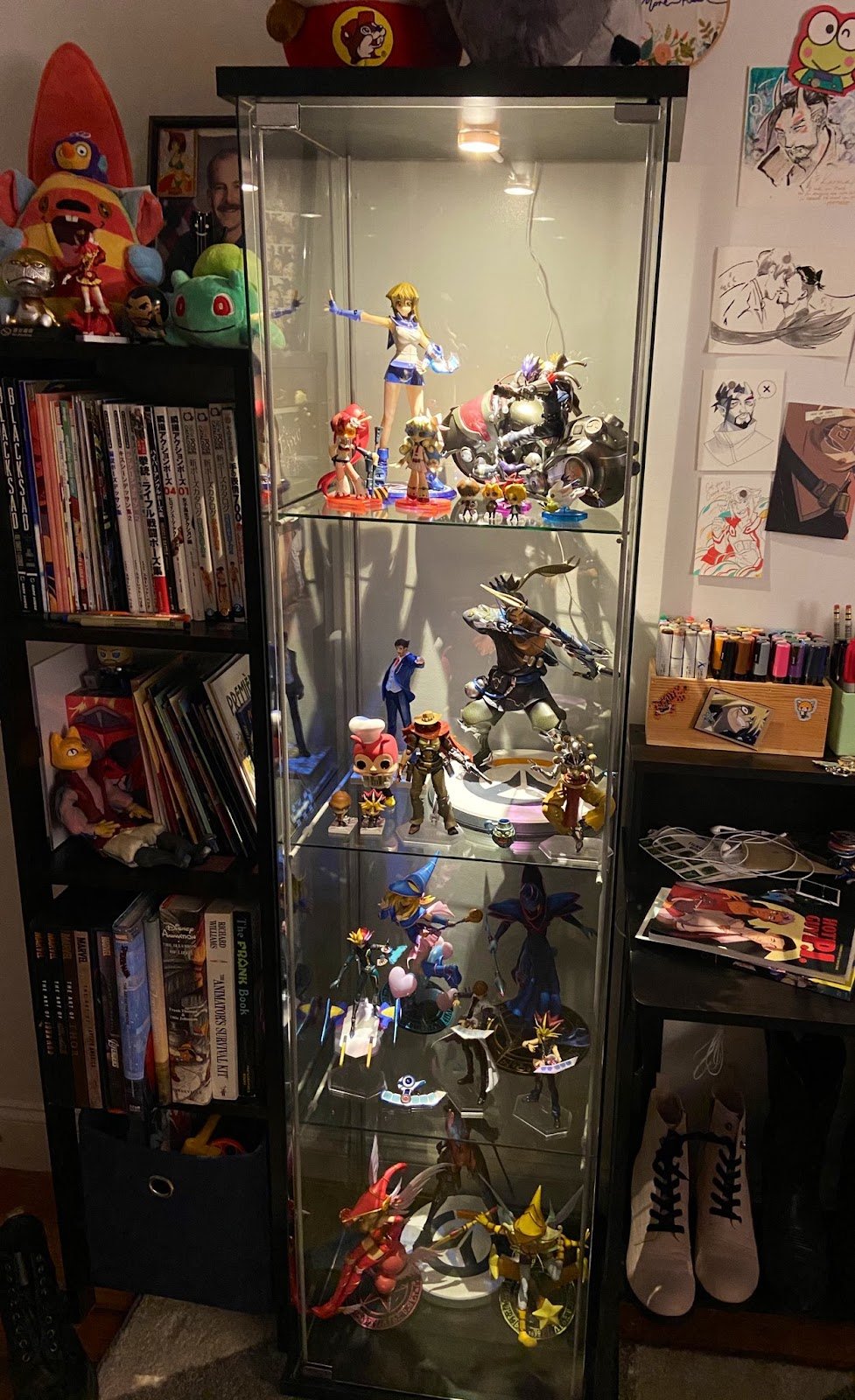 What's an Anime bedroom without some cool figurines. The anime world is full of merch and sculptures to purchase from popular franchises like dragon ball Z to more little known niche shows. This bedroom has a great shelf of action figures on display—a unique decorative touch.
Anime Figurines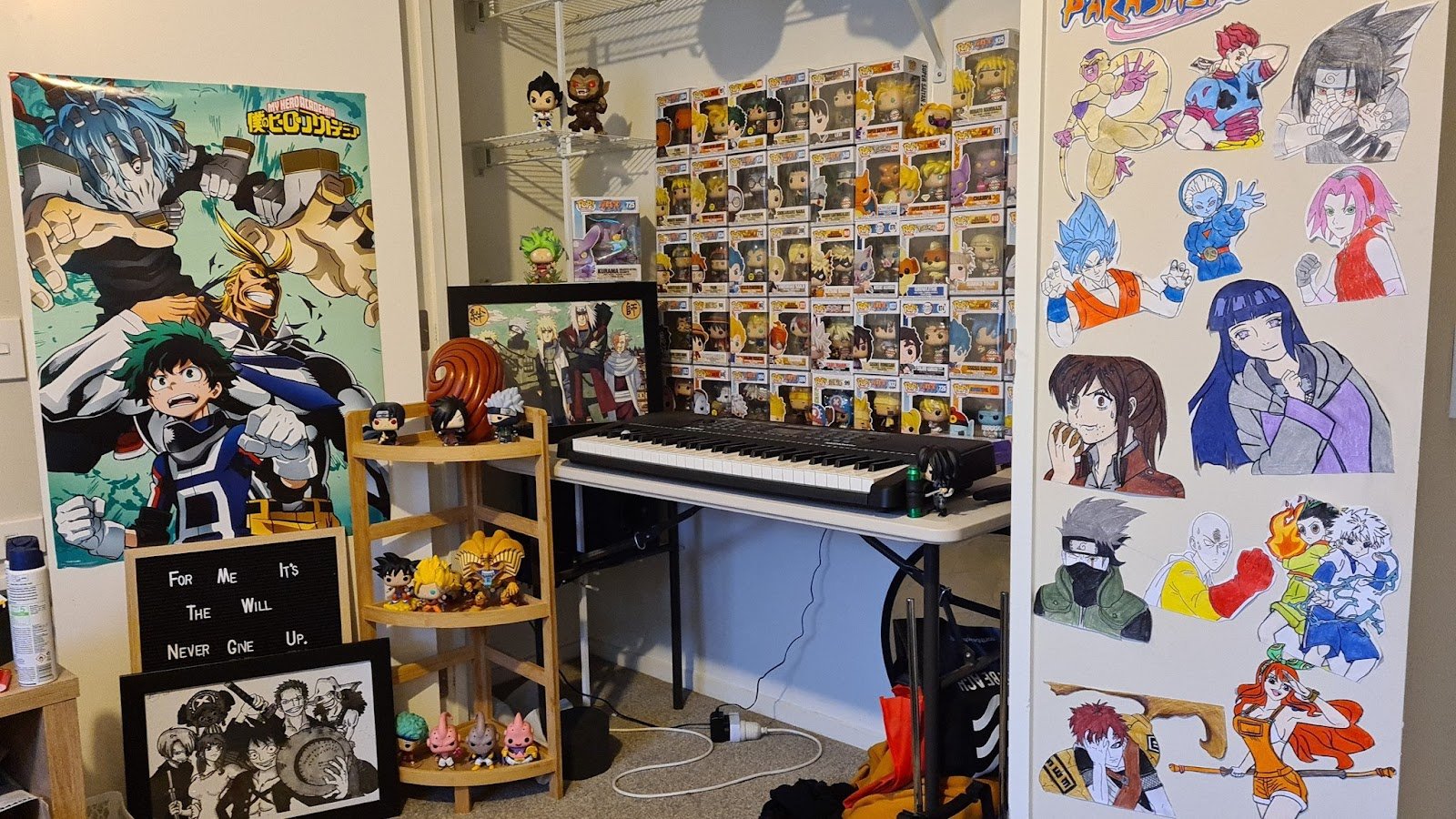 The anime world is full of so many collectables and gift ideas. Here's another example of some cool Anime figurines on display in this bedroom. As you can see, the owner of this room has a massive collection of them. Be sure to check out our list of epic Anime gift ideas too.
Cosy Bedroom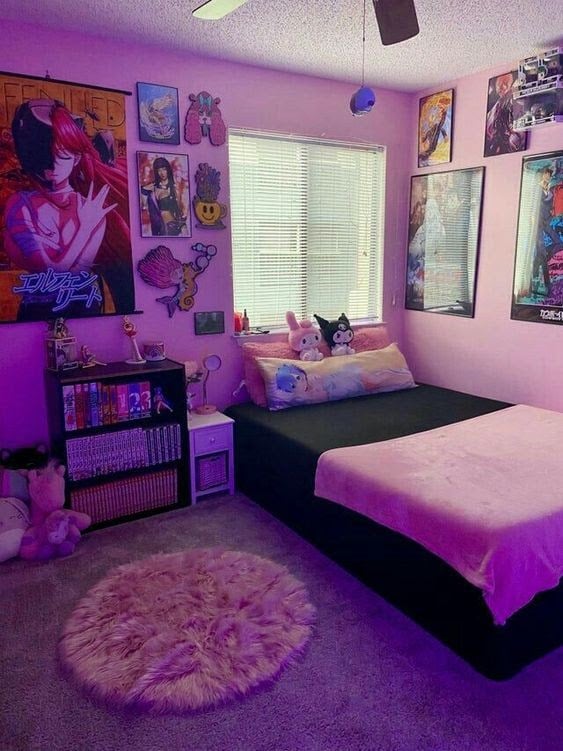 We love this cosy pink-themed Anime room. Everything works well together, from the posters to the little shelf space with DVDs and books.
Hive Lights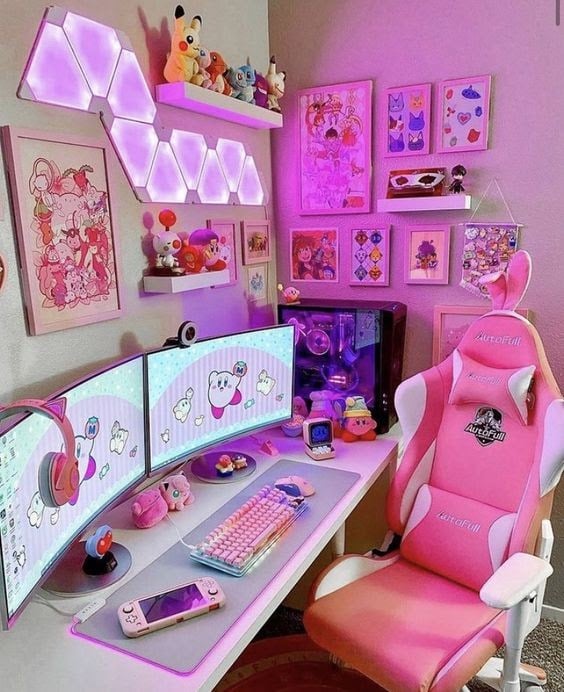 More Anime bedroom office inspiration right here. An excellent decor touch is the hive lights mounted on the walls for a futuristic effect. It's also a perfect idea to mount shelves on the walls to showcase stuffed animals and figurines uniquely.
Top To Bottom Inspiration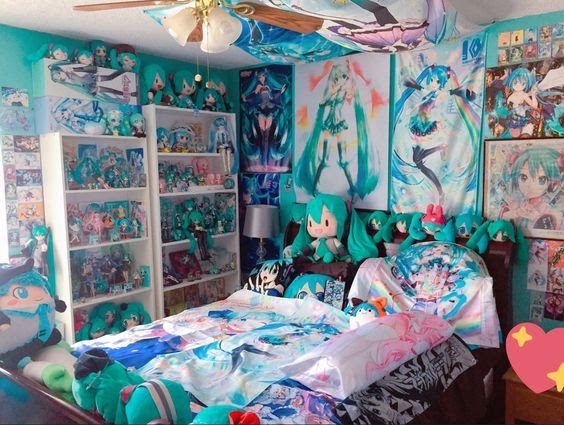 Okay, speaking of immersive ideas, this is undeniably the most Awesome Anime obsessed blue color room decor we've seen, and we love it!. If your budget is on the higher end to create an anime-themed Bedroom, Why not take a page from this room's idea book and go for a complete room transformation. Painted walls, posters and unique anime-themed bedding.
Functional Bedroom Workspace?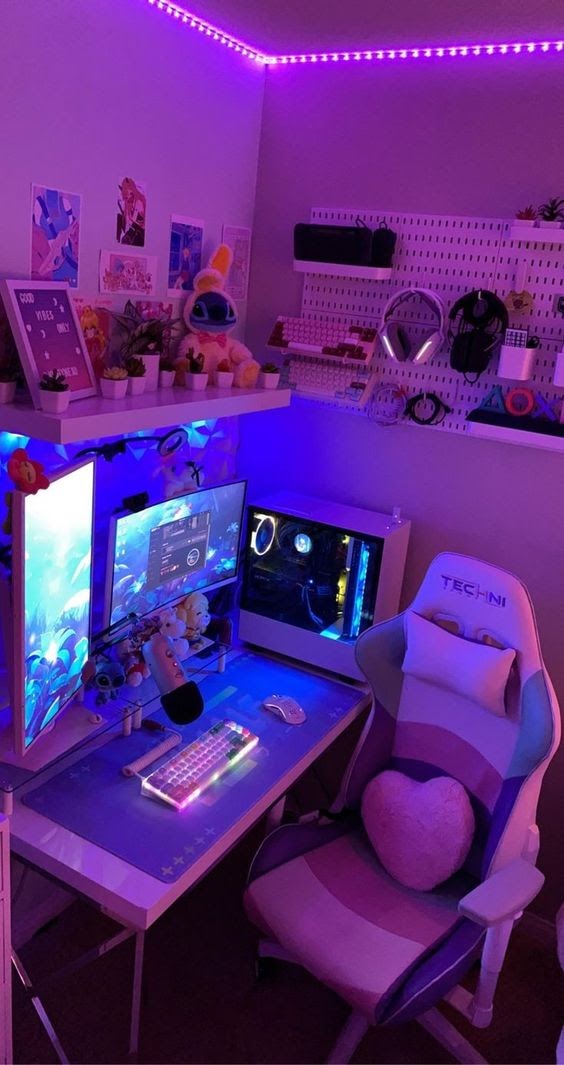 More anime bedroom workspace ideas? Keep it simple and functional like this workspace. Remember that while the decor is essential to keep the Anime theme running, it's also necessary for your bedroom to have all of the necessary elements working functionally. There's no need to have too many sculptures on a desk, making it impossible to get work done.
DIY Shelves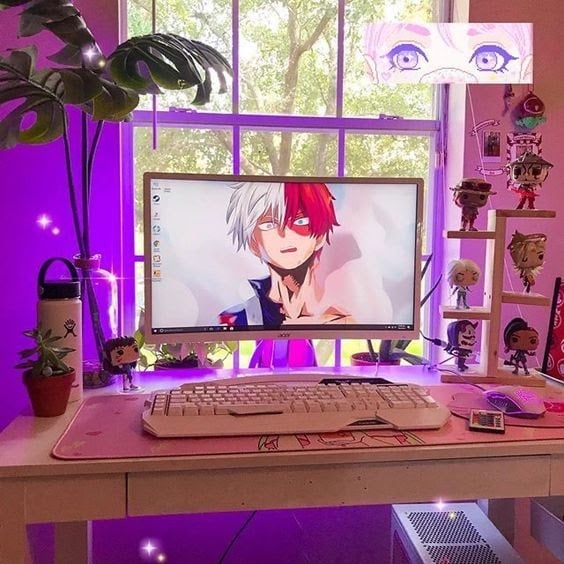 We like this DIY figure shelving on the desk, a very unique touch for mini sculpture lovers. Go for some blue or pink LED lights to add more depth to the space.
Anime Bedroom Background Mural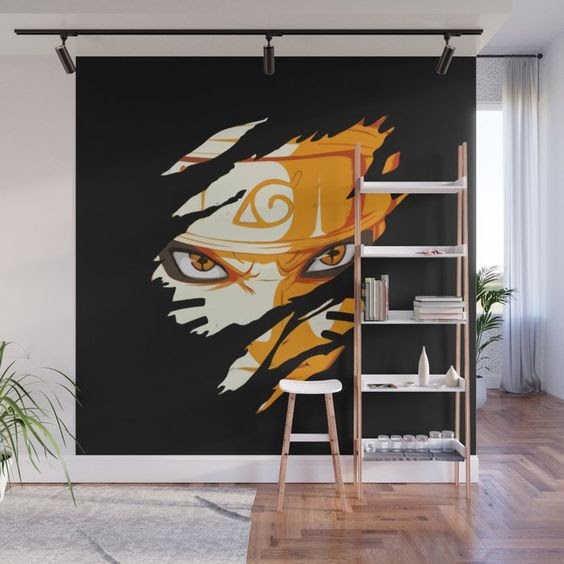 If you're looking for something unique to make your anime bedroom stand out, your go-to idea should be to paint or mount a complete mural.
Dragon Ball Z?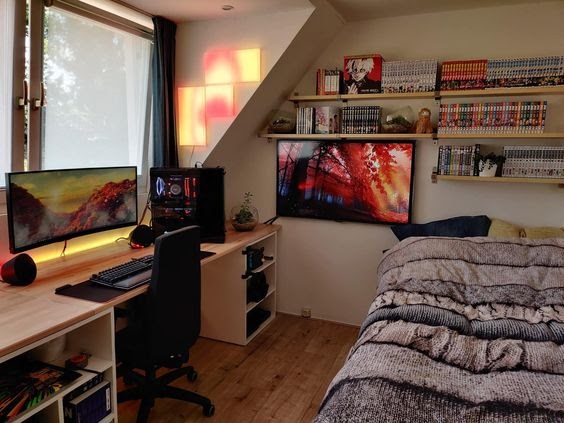 We love the simplicity of this anime bedroom. Yes, there's a lot of Manga & DVDs on the shelves, but you can't deny the minimal charm of it. Not every Anime room should be over the top; this is an excellent example of something subtle.
Collection Glass Cases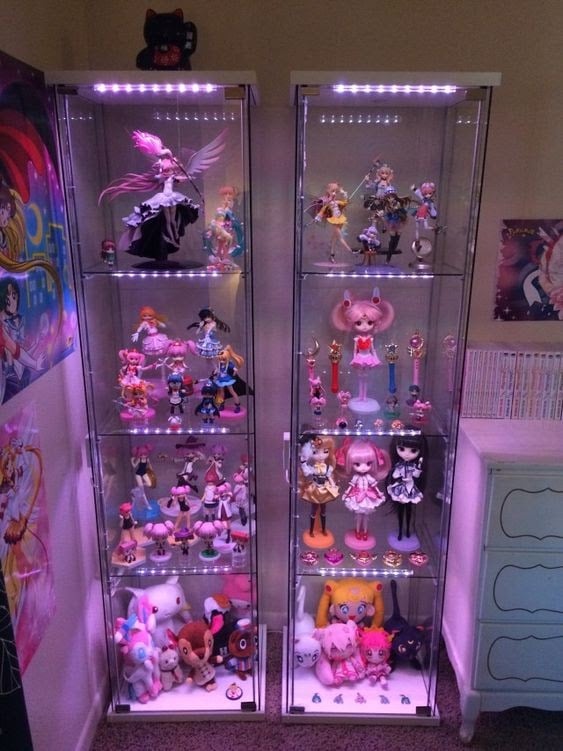 Anime Themed bedrooms can be "general" or "focused". Focused is a bedroom with decor elements and posters from one specific anime, and General is a bedroom with decor inspired by multiple anime. For really dedicated Anime fans, having a set of collectable dolls is all the rage. Some of these dolls can require a high-end budget to purchase. Regardless of price, collectors know they make for some awesome decor pieces and have great resale value in the right crowd.
Doll Collectors Paradise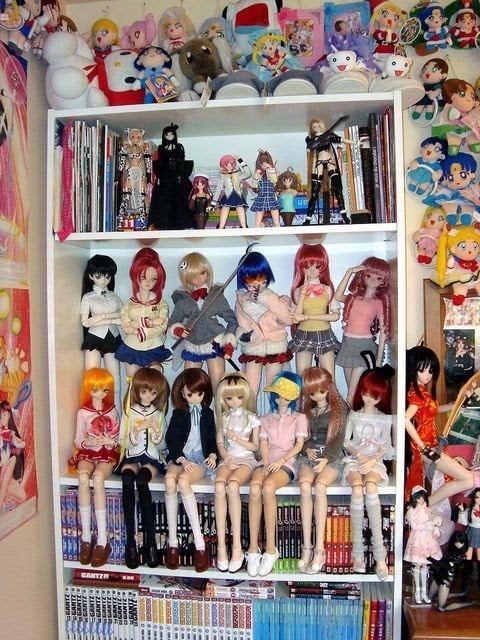 We love this epic collection of Anime themed dolls and action figures. For die-hard collectors and Anime fans, having your own collection could be a great way to make your bedroom unique. There's also a pretty cool book and DVD collection in the shelf space too.
Desk Aesthetic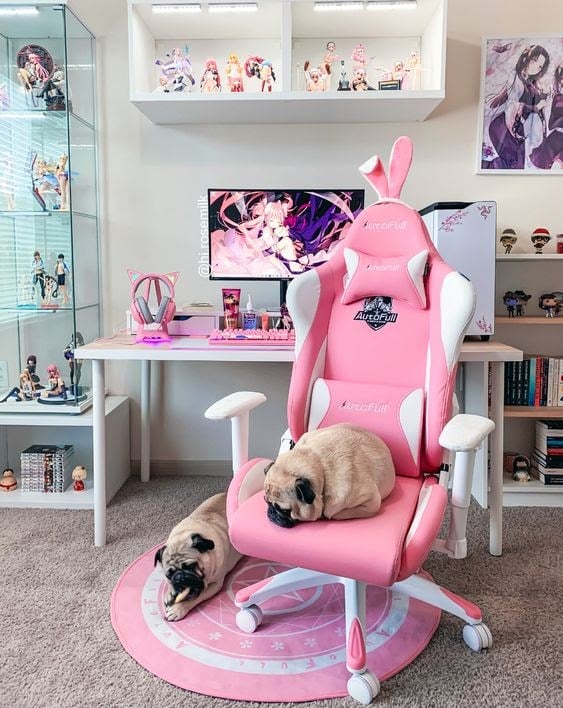 We had to include this cool Anime bedroom desk space, not because of the two cute doggos chilling here haha, but because of how awesome the design aesthetic is here. This is a great example of how you can make use of shelf space to showcase your Anime DVD and figurine collection.
The Villain Bedroom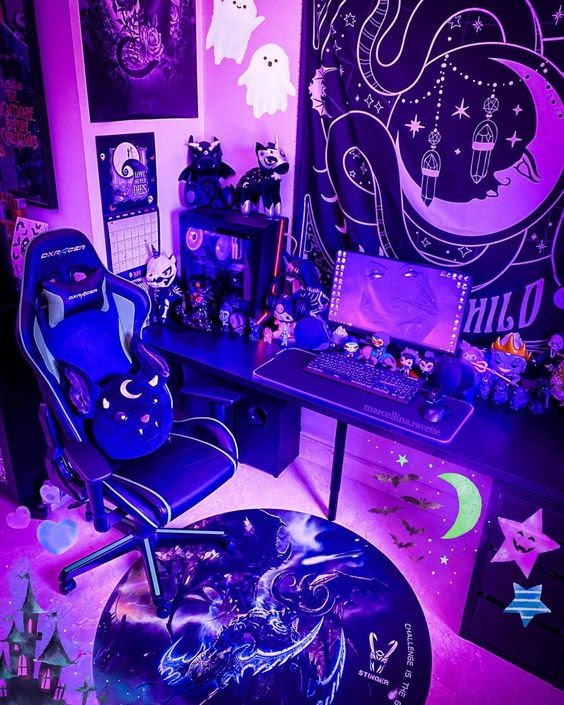 What happens when you have wallpaper, toys to display, and a creative mind? Well, you'll obviously get a bedroom as awesome as this one above decorated with some wonderful Anime and Manga material. If you decided to collect a few decorations of your own over a couple of months, you could easily end up with a hyper themed Anime bedroom like this one. All it takes is time.
Neon Light Piece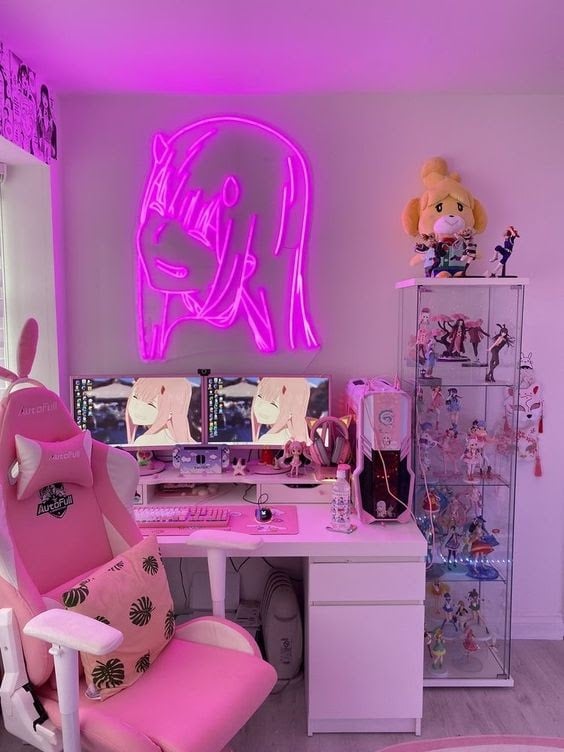 What's an epic Anime bedroom without a sculptured neon wall image. These neon lights, often in the shape of a character look really nice in anime-themed bedrooms.
Burst Of Pink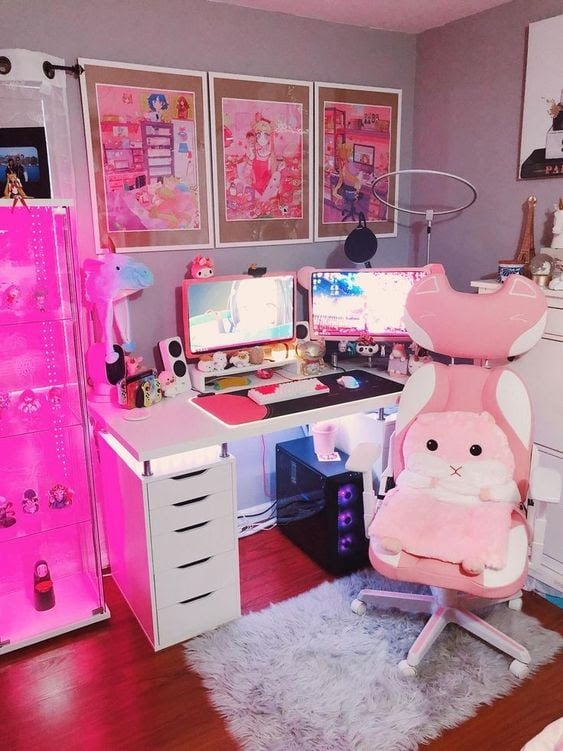 Conclusion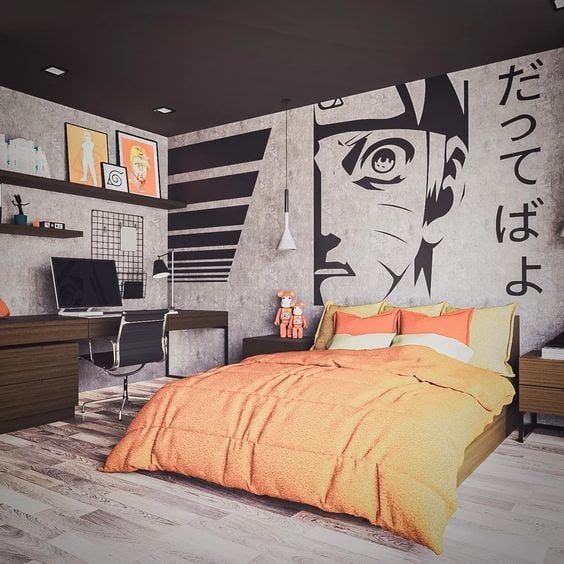 Now that you've seen some awesome Anime bedroom ideas, It's time to start collecting stuff to showcase in your own space. Sky's the limit, recreate one of these cool concepts or come up with one of your own. The most important thing is that you should love your space. Happy creating and curating!