If you have an anime lover among your friends or family but happen to know nothing about this computer animation wonder that derives from Japan, we are here to help! Whether their birthday is coming up, or you are just looking to surprise them, our list of 37 gifts for anime lovers is the perfect resource to thoughtful, creative and unique presents for that anime fanatic in your life.
So, buckle up, and let the journey through the Japanese animation begin!
Anime-Inspired Wall Art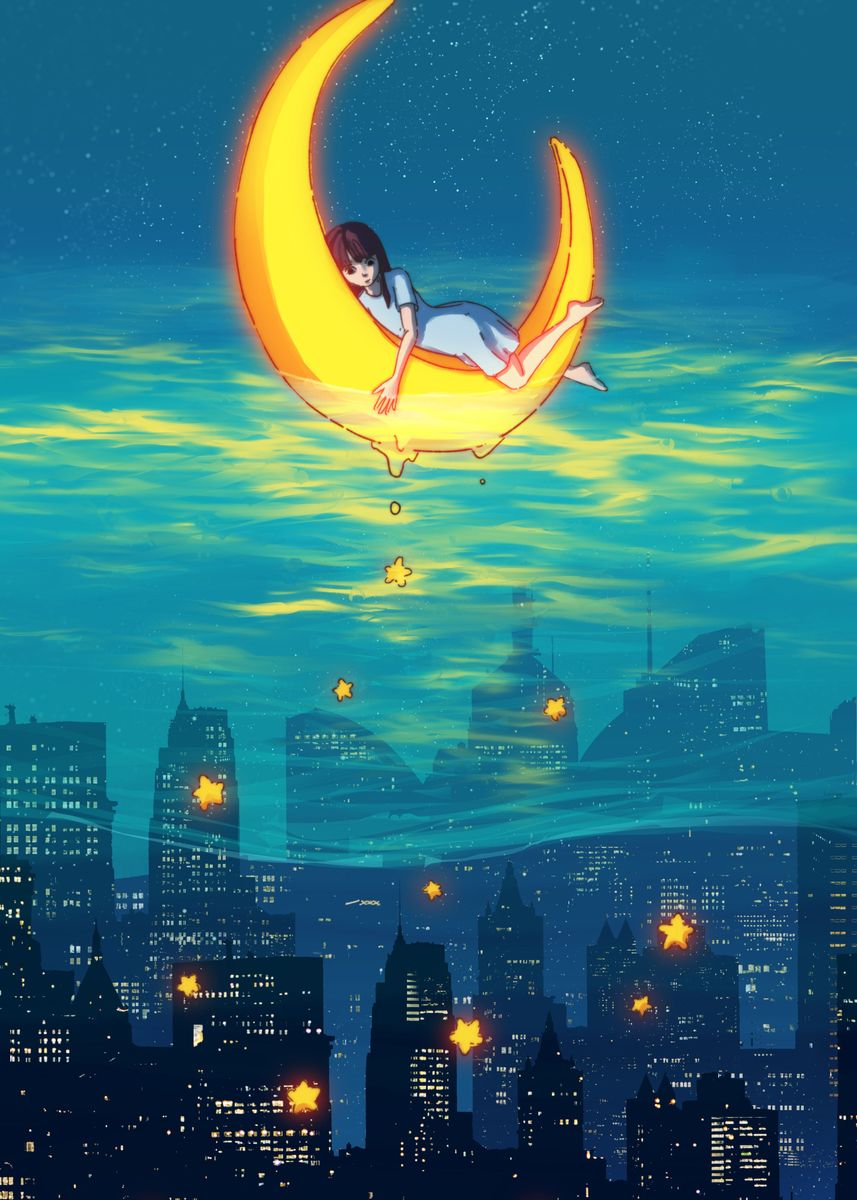 Girl On The Moon Poster
Is your anime loving friend in need of some wall decor? Get them an awesome anime-inspired poster that will make a great addition to any interior. Displate has an amazing selection of anime posters printed on metal, so feel free to check them all out!
Monopoly Naruto Board Game
Monopoly Naruto board game would make a great gift for an anime lover of any age. If you know someone who has watched all the 700 episodes of Naruto, then this game is made for them! The classic Monopoly lets you build a real estate kingdom, but the Naruto version will make you build an ultimate Shinobi empire! How cool is that?
Goku Figure
This 7-inch-tall figurine is definitely on the list of anime gifts for him. The entire set includes interchangeable hands, hair, eyes and heads! This Goku action figure is something every anime lover would like to have in their collection. It comes with a stand, so you may showcase your figure, and all the interchangeable parts will help you create a perfect pose. And no – it is not for kids only! Every anime enthusiast, despite the age, can have a lot of fun with this awesome figurine!
Sailor Moon Figure
Usagi Tsukino seems like a typical teenager who likes fashion and hanging out with her dear friends. But she can also transform into a super hero with lunar powers. This particular figurine makes a perfect addition to all of the anime gifts for her. The statue has interchangeable faces and hands, which makes it possible to create different poses. Accessories,- including Luna and her Moon Stick, come with the set. If your friend or a family member is an avid Sailor Moon fan, then you can also look for different Sailor Moon characters to create an impressive collection of the Sailor Guardians!
Naruto Crew Socks
These Naruto Crew Socks feature a knit-in graphics that portray the Masashi Kishimoto character. The socks are made out of a cotton, nylon and spandex blend, which makes them very comfy and stretchy. An affordable gift for an anime lover whose feet are always cold. It can also make a great Secret Santa or Father's Day gift.
Sailor Uranus Transformation Lip Rod
You can find many anime gifts for her that are available online, but this one is a total hit when it comes to girls! The light shows and transformation sound effects are amazing. The Transformation Lip Rod and its magical powers will definitely make any Sailor Moon fan happy and ready to play! Sailor Uranus needs her Lip Rod in order to transform into her Sailor Scout form, so as you can see – this particular gift is quite important!
Dragon Ball Z Motion Lamp
If you are looking for some different gifts for anime lovers, we would like to recommend this Dragon Ball Z motion lamp. Soothing and slow-moving bubbles will make everyone feel relaxed. A nice addition to every Dragon Ball Z fan's collection, it will definitely give a cool anime vibe to the room.
'Super Deluxe Essential Handbook (Pokémon): The Need-to-Know Stats and Facts on Over 800 Characters'
With this new edition of the bestselling Deluxe Essential Handbook that has 496 color pages and info on over 800 Pokémon, you will be able to catch'em all! This easy-to-read handbook will make a perfect gift for a true Pokémon fan of all ages. Check out Amazon for more details!
Sailor Moon Salt and Pepper Shakers
If someone you know is a huge Sailor Moon fan, and you happen to be in need for a gift for that person – then you are in luck! The internet is full of amazing gifts for anime lovers, and Sailor Moon is a definite Queen among them! These small but cute Luna and Artemis salt and pepper shakers will make a great addition to every kitchen and every dining table. Make sure to check them out!
Anime Croc Shoe Charms
You have definitely heard of Crocks, right? There are many people who love these shoes! The truth is that they are extremely comfy, and the company released a bunch of different Croc shoe charms, that can decorate your Crocs. You can make them look funky and unique. If your friend or child happens to own a pair of Crocks, and is an avid anime lover, then this gift is a perfect find! They can mix and match the charms whichever way they like!
My Hero Academia Drawstring Backpack
This drawstring backpack is perfect for travel, gym, yoga, camping and so much more. It is foldable, so it will not take up too much space. This drawstring backpack is also quite big, so it will easily fit all the items an anime lover would need! If you are looking for a perfect birthday gift for your friend, who is an anime lover, this string backpack should definitely appear on your list! Backpacks come in different graphics, so you have a wide variety of options to choose from.
My Hero Academia Wallet
Have you ever heard of Izuku Midoriya? Izuku (also known as Deku) is the main character from My Hero Academia anime and manga series. If you want to give your friend aka huge anime lover a nice and practical gift, this wallet might be the perfect thing! It was designed after Deku. With several compartments and a snap closure, this money holder will make a great birthday gift for anyone who loves anime and manga! IDs, money, some business cards – this wallet will fit everything that you need!
Binder for Pokémon Cards with Sleeves
Does anyone you know owns a collection of Pokémon cards? Now you can present them with this awesome binder that can hold up to 400 cards! It has multiple protection features, which prevents the cards from falling. This colorful binder will satisfy every person with a card collecting hobby! Even though it represents a Pokémon theme, the binder is compatible with standard cards as well. If you are still looking for cool anime gifts, then this particular item might catch your attention!
Anime and Manga Style Drawing Course
Now this sounds pretty exciting, right? We believe that there are many anime lovers who would like to learn how to draw those anime characters. If you know someone with the desire to draw, then you should definitely take a closer look at this drawing course by Udemy. Reaching a professional level of anime character drawing is closer than you think! This amazing drawing experience would make a great gift for any anime enthusiast!
Hypland's Streetwear Naruto Collection
Their apparel is wonderfully vibrant and made from high-quality fabrics. If you know someone whose favorite anime character is Naruto, then you will have a wide range of different apparel options to choose from. Pick that perfect birthday or Christmas gift for your friend or family member who happens to be a huge anime fan.
Anime Snack Box
This particular gift is dedicated for those who like to munch on something. It is a mystery box that comes with an assortment of different snacks, stickers and a drink with the anime theme of your choice. An affordable gift idea for an anime lover, who has a sweet tooth! Yummy!
Mystery Anime Box
Now, if you know a huge anime fan but you have no knowledge of anime shows and characters, you can always get them this cool and affordable Mystery Anime Box. Each box comes with 3 Polaroids, 2 prints, 5 stickers and a bunch of cute little freebies. You may choose a specific theme or simply pick a random one and see what comes in a box! A cool idea for a nice gift for your child who is into anime and manga!
One Punch Man Lunch Bag
Lunch bag doesn't have to be boring! Our next pick is this cool One Punch Man lunch bag which features an image of One Punch Man. This particular gift idea is suitable for every anime lover – despite the age! We think lunch will taste way much better now!
Kame House Cookie Jar
Master Roshi's students have to leave the Kame House every day to climb high mountains to deliver milk. They have to face different obstacles! That is why this cute looking cookie jar would make a perfect place to stash those yummy cookies! A great addition to every kitchen of a Dragon Ball Z fan!
Naruto Soup Bowl with Chopsticks
Japanese culture all the way! Dumplings, ramen, fried rice? This cool looking bowl will make every dish taste better! A perfect housewarming gift idea for every Naruto fan out there! Would you like one for yourself too?
Anime Hoodie
A nice and comfy hoodie would be a top pick among those cool anime gifts for her! This funny piece of clothing is made from a high-quality fabric using the latest garment printing technology. What an awesome gift idea for a teenage anime lover!
Anime Cosmetic Bag
This cool cosmetic bag turns out to be a perfect find for every anime lover out there! If your teenage sister or your daughter loves to watch anime, then this item should appear on your gift list! Made from a high-quality cotton canva, it can even do as a pencil case or a clutch.
Attack On Titan School Bag
If you happen to have a child who loves anime this backpack might be a perfect gift! Its large capacity will also make it a great travel bag! Do you have a grandson who is a fan of anime? Or a friend who wants anime prints on pretty much everything they own? Don't wait. Get it before the school starts!
Sailor Moon Umbrella
A heavy rain will not be a problem with this cool looking umbrella. It will help to face those stormy days! If you know an avid anime lover, then you might want to get them this awesome umbrella as a present. An affordable gift that happens to be a necessary gadget in everyone's house!
POP! Animation: Super Saiyan Goku
This vinyl figure is almost 5 inches tall. Make sure you check it out! A fun and affordable gift that is perfect for any occasion. If you have a friend who is a true anime fan, then you might also look for other POP! Animation statues from different anime series!
Funimation Gift Card
This gift is a bit different from the other gifts for anime lovers we mentioned. It gives your anime fanatic a freedom of choice! Just go to the website provided below, fill out the necessary information and pick the amount you wish. A great gift idea for your beloved friend who is an anime fan!
Cowboy Bebop: The Complete Series on Blu-Ray
One of the most popular anime titles of all time by Shinichiro Watanabe with 244 minutes of special features! Your friend (the one who loves anime) probably knows the story of the Bebop crew but you might want to get them this awesome gift, so they can watch it anytime they want! 4 discs of some seriously awesome content. Let your loved ones enjoy their favorite anime adventures in front of their TVs!
Sailor Moon Neon Sign
If you have an ultimate Sailor Moon fan among your friends, then this gift idea might get your attention! Well, technically it is a Custom Anime Home Decor Sign for Bedroom, so you can customize it anyway you want it. It can be a text or a logo – you are the designer here! Indoor/outdoor – just make your pick! An awesome birthday or a housewarming party gift idea for a true anime lover!
Anime Scented Candle
Get your friend or girlfriend this insanely fragrant candle! This affordable gift will make a perfect addition to any room! This premium candle is made of vegan natural organic soy wax only. The candle has mostly five-start reviews, so we think it would be a great gift for an anime lover!
Anime Mug
Perhaps your dad is an anime lover? Or your boyfriend? Well, you do not need any occasion to get them this funny anime mug which says "Introverted but Willing to Discuss Anime". We believe that any beverage would taste better in this mug! There are two capacities available, so make sure you know how much coffee your dad drinks! This high-quality mug will definitely be cherished by a true anime fan!
Master Roshi's Beard Conditioner
Might sound questionable, but Master Roshi's Beard Conditioner is what every bearded guy should have! Do not forget about its amazing smell! Made from natural ingredients, it will make the beard look healthy and shiny! So, if you happen to have a bearded friend or boyfriend who loves anime – get them one of those affordable Master Roshi's beard balms!
Inuyasha Kirara Cat Plush Toy
Kirara is Sango's faithful companion and her furry method of transportation. If you know someone who knows the story, then you might want to give them this cuddly plush toy! Trust us – even the older "kids" might love it! You are never too old to get a plush toy, right?
Sailor Moon Throw Blanket
Yes, Sailor Moon has been an unquestionable phenomenon for quite some time. There are many gifts that are related to Sailor Moon series. This time, we would like you to take a closer look at this cool blanket that can be a great gift for a Sailor Moon fan. This polyester microfiber fleece blanket will be a perfect accessory for a sleep over party! Or simply to wrap yourself into a burrito and watch the whole Sailor Moon series on a cold winter night!
Hello Kitty & My Hero Academia Water Bottle
Stay hydrated! This cool looking water bottle would make an ideal gift for any anime lover out there. Doesn't matter how young or old one they are, everyone needs a sip of water; therefore, this Sanrio water bottle should find its place in everybody's backpacks!
Dragon Ball Z Christmas Advent Calendar
Kids are always super excited about chocolate advent calendars but this time we are presenting you something completely different. This specific calendar contains 24 pocket POP! figures, and we dare to say that it would make every anime lover happy!
Goku Spirit Bomb Plasma Light
Let us stay with Dragon Ball Z for a moment here. If you are looking for a bit more expensive gift for your beloved friend or family member who simply adores anime, then this plasma light might make a great birthday or Christmas gift. It can be a funky addition to any room of a Dragon Ball Z fan.
Pokémon Carry Case Playset
This awesome playset features different locations and a 2-inch Pikachu figurine. A perfect gift for a young anime lover who adores the Pokémon series. The entire playset folds into a convenient carry case, so every child can easily travel with it! Going on a plane with your kids? Get them this amazing playset, and make their travel time more interesting! A treetop trap door, hidden cave, battle area, spinning whirlpool, and more! All that in one backpack!
Over to You!
There are thousands of different anime merchandise available online. We hope our list of anime gifts gave you a few ideas of what can be given to an anime enthusiast. As you can see, there are many different options and various prices, so we are pretty sure everyone can find something in their price range. Ready for your shopping adventure? Sometimes you do not need a reason to buy a gift for your loved ones. Even a tiny surprise might be enough to make your friend smile!
Are there any other gifts for anime lovers you think we should include on our list? Let us know in the comments!