They are at it again, those feisty wolves – always chasing the Sun and Moon.
And Scandy Girl (a.k.a. Jonna Hyttinen) is here to do that chase justice. Already responsible for some of the most memorable and fascinating artworks in our Limited Edition series, Scandy Girl is no stranger to the Displate community; drawing mythological creatures and our undivided attention are kind of her specialties.
We mostly focused on the former when we discussed with her about the creation of Sun and Moon, our second Ultra Limited Edition.
Taming mythological beasts, one brush stroke at a time
Tackling a world-ending design like Sun and Moon was not an easy undertaking, even for a seasoned veteran in Norse mythology art. But saying no to Ultra Limited Edition was even harder:
I was contacted by Displate in early summer about this new project they were working on, Ultra Limited Edition. Out of Displate's several suggestions, I was more drawn into the idea of the two wolves: one black, one white, with something mythological added to the mix. This instantly reminded me of Norse mythology where there are two pairs of famous wolves: Geri and Freki, who accompanied Odin, and then Sköll and Hati, who are part of the myth where one chases the Sun and the other the Moon in hopes of devouring them. At Ragnarök they finally catch up to their prey as the sky and the earth darken and collapse. I was excited to create Sköll and Hati, and I had a super old painting of two wolves that I never finished. Displate liked the idea of keeping their positions the same as in that sketch, so I started working my way from there. First, I created the two wolves on a separate piece of paper. Once I was done with them, I started planning out the background. Originally, the big circle in the background was supposed to be red, with runes, etc. But since we wanted to implement both the Moon and the Sun into that background, we decided to change the circle into the Moon. And I really like that change, it was a joy to create it even though it took me some time! After we put the two separate images together, I was very happy with the result and also excited about what Displate would do with it, considering that their ULE comes with extra details and a bigger size!
That's what I like the most about working with Displate: having my own copies of Limited (now also Ultra Limited!) Edition designs! I love having them around and thinking about what other things I can turn my art into 🙂
So is Scandy Girl done with mythological beasts? Not a chance!
For quite some time I avoided doing mythological creatures (especially dragons) because I thought I'm not skilled enough to do them justice. But once I took the first step, my skills kept improving! I was always interested in folklore and mythological things – my favorite books were always fantasy/mythology related and I loved imagining these worlds in my head. Never thought my art would take such a drastic turn towards that realm, but it has. I still love learning about all kinds of creatures around the world and I always enjoy telling these stories to my followers whenever I'm posting a new creature I drew! 😊
How our Design Studio shone a light to Sun and Moon
There is a quote that goes: "even perfection has room for improvement". That is exactly what our Design Studio set out to do here:
When we saw the design made by Jonna, we were amazed by how detailed it was. Not just the shapes and other elements, but the textures too.

We got the wolves and the background separately, so our first job was to put them together and figure out a balanced composition. We tested two color variations, one with a monochromatic background and one with pink, to see which one fits better. We decided to use the monochromatic one, so the color wouldn't distract from the wolves.

Next step was to test the textures. There are plenty of them there, but our priority was to keep the wolves as the main subject, so we figured the rest shouldn't be engraved too much. If you look closely at the wolves, you can notice how detailed their fur is. We had to redraw every single hair to create this amazing wavy fur. It was very time consuming, but the effect was so worth it!

Finally, for that extra, premium finish, we decided to use "champagne" glitter. This color was mixed by our Masters of Production, created especially for this design. We really hope that you'll enjoy the details of the Sun and Moon design just as much as we did putting it together!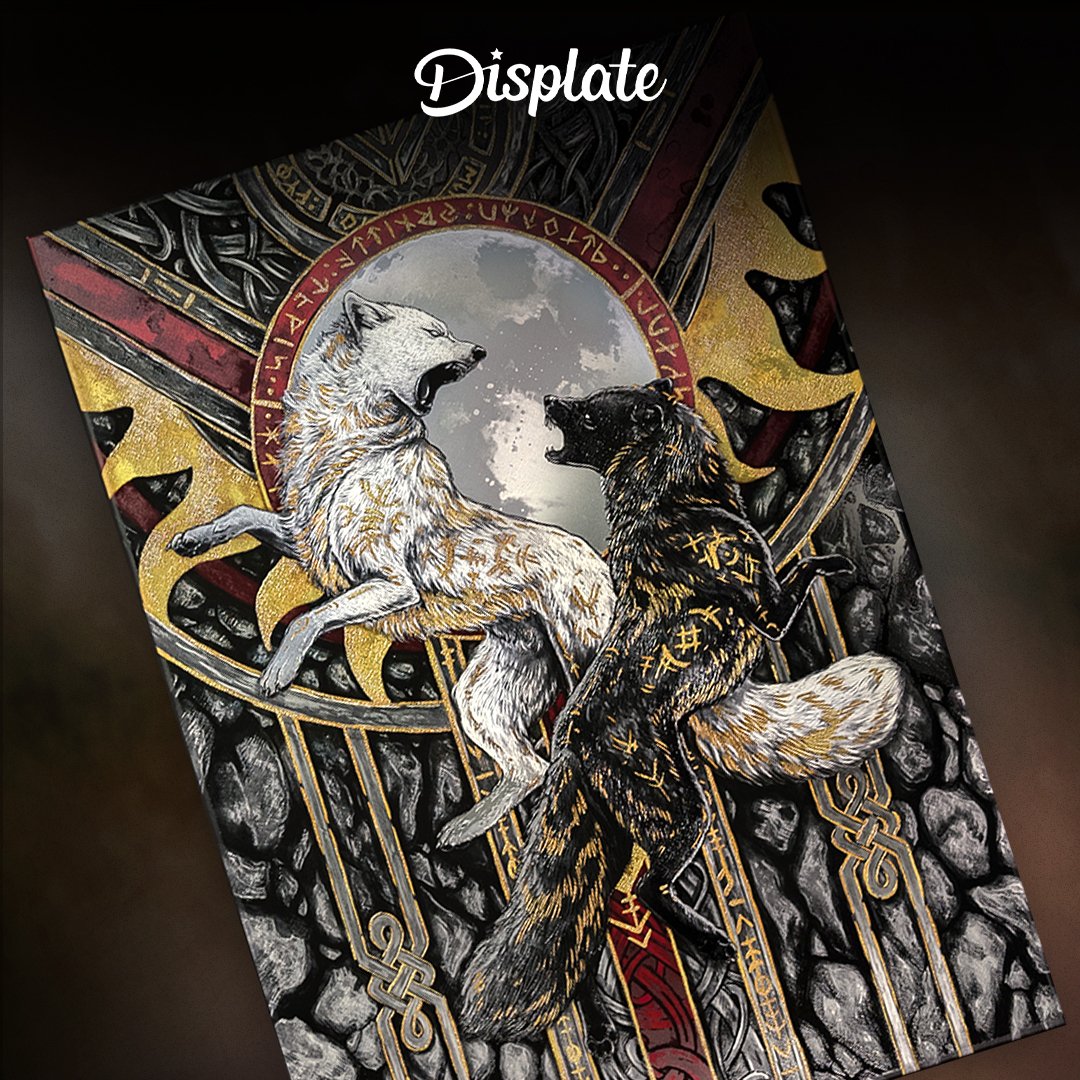 Turns out that creating an L-sized Ultra Limited poster from a design shrouded in myth can make for a fascinating tale itself!
And that's what our Ultra Limited Edition series is all about: an Ultra Team of distinguished artists, having their work enhanced to the highest standards.
Watch out for our next pieces and remember that a new Ultra Limited Editions will drop once a month in only a few hundred copies each.
Stay tuned – your Ultra collection is only getting started!
---