Your very own Displate shop will come true by the end of this post!
You're a creative soul with a desire to sell your designs, but apparently, don't know where to start? Good. We're here to save you from the feeling of insecurity and disorientation. Learn from our tips and, before you know it, you'll be the owner of a ready to promote Displate shop, tempting your clients to buy tons of your art prints on metal.
But before you start…
Choose how you wanna work on Displate. There are plenty of great reasons to join Displate community of artists, but here is the top 3 that we find the most important.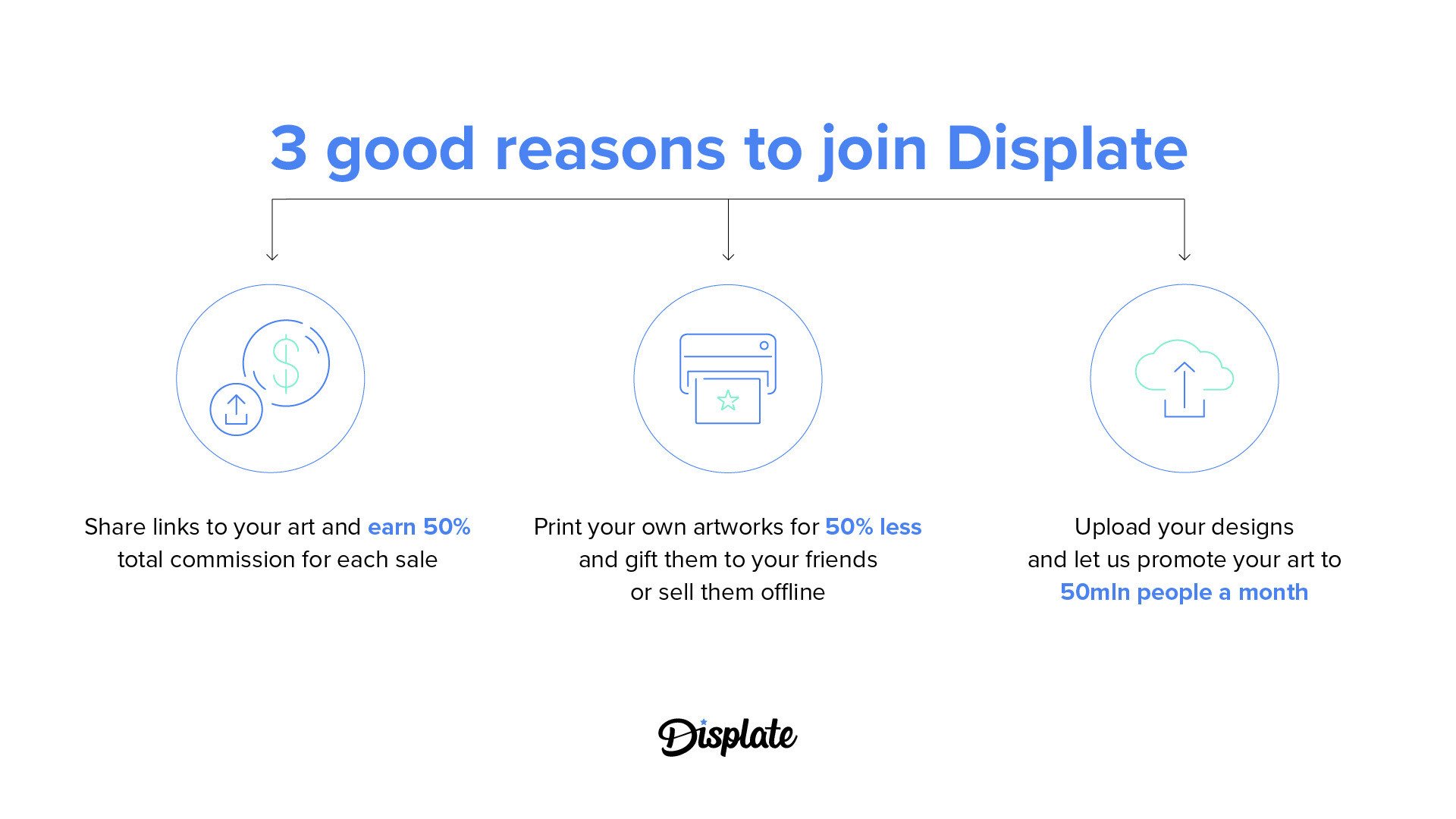 Ready? So now…
1. Create Your Displate Shop
We welcome all kinds of artists! We're an open platform and the registration is 100% free and easy as pie. If you want to start earning on your art, you're in the right spot!

2. Complete Your Displate Shop
Fine feathers make fine birds, so make sure to show yourself in the best way possible. A good bio is key to success. Let your potential customers get to know you by writing who you are, what you do and what excites you the most.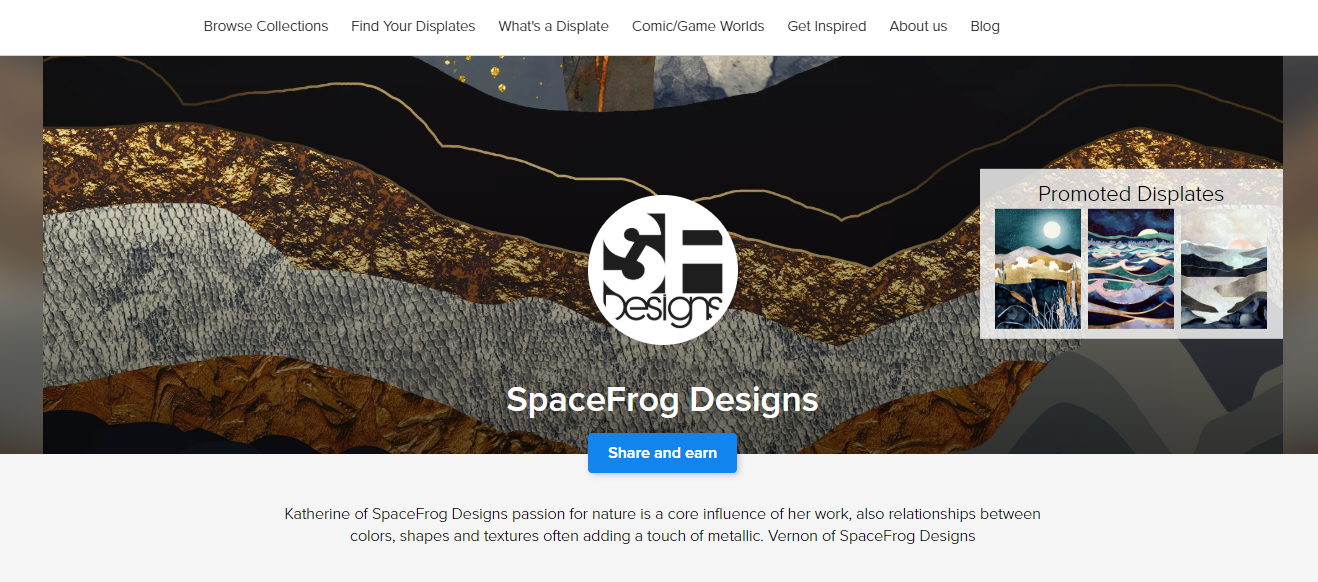 3. Prepare Your Artworks For Upload
We are crazy about the highest quality of the product and that's why we need our artists to make sure they meet our file specifications.
Now watch the video to learn the process step by step:
4. Upload Your Artworks
Use our Multiuploader to immediately create collections of multiple artworks. After uploading the design, you will be 20% there! Just complete the next steps and you're ready to go!

5. Create Collections Of At Least 8 Artworks
Average customer purchases series of 3 works to ease the decor hassle. For you, it means higher chances of becoming a successful seller on Displate. Adding 5 vertical artworks to a collection displays an additional banner at the top of the page with dynamically changing designs. It improves a collection view, which leads to better sales results.
6. Pick Perfect Names And Tags
Remember to make this step right, as you won't be able to edit the tags after completing the upload process. Adding the proper tags will help you boost your sales by becoming more visible on our website and search engine.
7. Describe Your Artworks
You worked hard on creating the artwork, so why not write something about it? Share a short story with your customers, they will appreciate it.
We do everything we can to make our product look perfect after printing. That's why we use a complicated algorithm, verifying each and every submitted artwork for their print quality only. After the verification, the best print-quality artworks are published by our system.
10. Add Your PayPal Account
It's the easiest and the fastest way to get your commission right away.
11. Visit Your Dashboard To Check Your Sales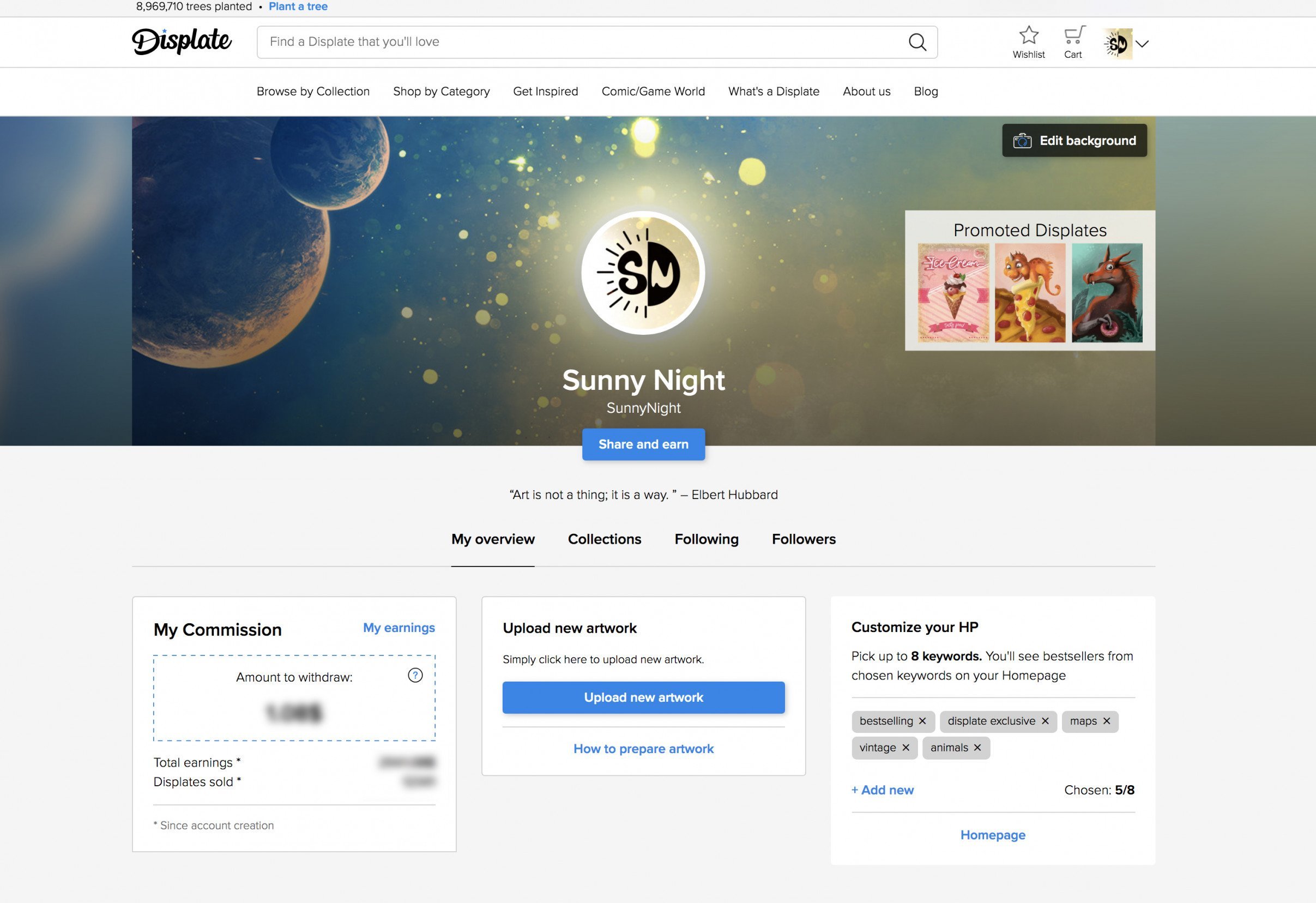 12. Use the Share and earn link and earn 50%
Click the button in your profile or artwork page, copy your unique Share and earn link and paste it on your blog, www, Facebook, Instagram, Twitter, or wherever you see fit. You will earn an additional commission every time someone buys your art through that link!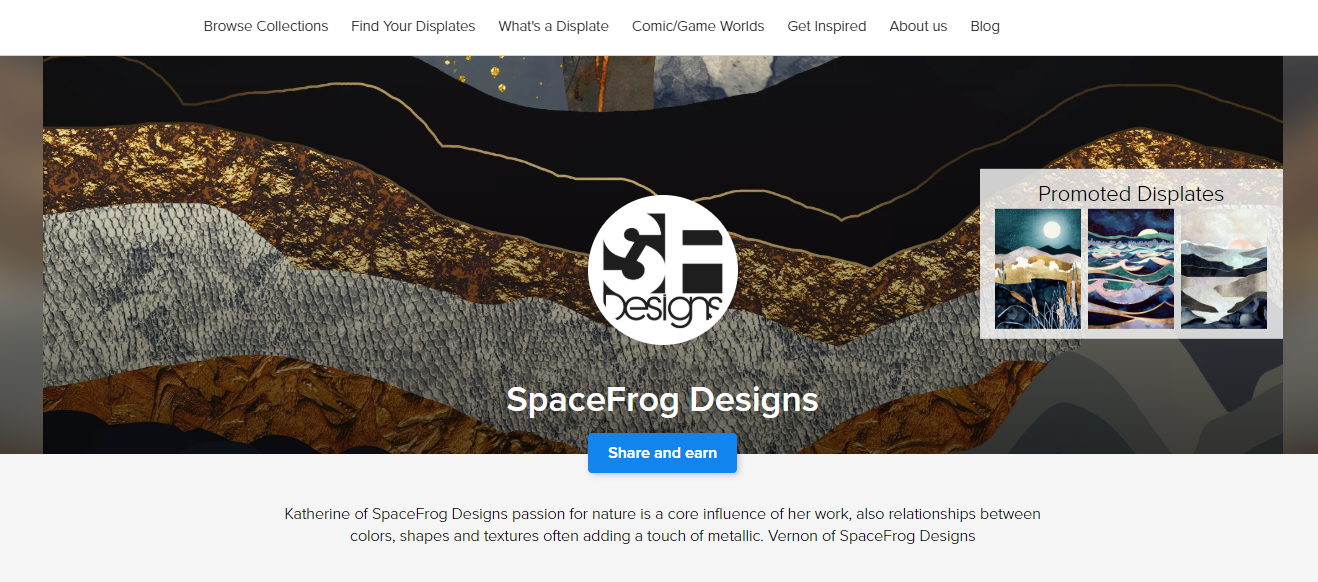 13. Buy Your Own Artworks
You can buy your own designs printed on metal with a big cut and fill your shop or your friends' hands with our unique product. The final price is fixed for every artist and design and changes only with the size of a Displate.
14. Visit Displate Blog For More Tips
To support and develop your artistic actions we run the Art Tips section on our blog. Whether you're a beginner or a professional designer, explore our articles and boost your creativity and sales skills.
16. Subscribe To Our Newsletter
We will be sending you a bunch of useful stuff, so don't wait and put your email in the empty box at the bottom of our main page!

16. Feel Free To Reach Out
We're here for you, whatever you need. Just drop us a line on Facebook, Instagram or at [email protected]
Ready to upload your artworks? Don't wait!

Need more info? Visit our FAQs