Paris is known for its fashion, art, and food. It's also famous for being the most romantic city in the world. If you're looking to create a themed bedroom for your little girl or add a touch of French flair to your own sleeping quarters, here are 12 Paris-themed bedroom ideas that will make you say "ooh la la".
From Paris-inspired wall art to cozy touches like throw pillows and light fixtures, these ideas will help you create a Parisian retreat in your home. So, get ready to jump into bed and fall in love with your bedroom all over again!
Themed Accessories
A few carefully chosen accessories can really help bring together any bedroom decor theme. From Paris throw pillows and Eiffel Tower figurines to themed wall art and picture frames, accessories can help you pull your Paris-themed bedroom together!
A bold Eiffel tower mural makes a great statement and allows for minimal styling throughout the room. We love how the puffy clouds and the wooden balloon give the mural an extra pop. Also, how cool is the 'Amour' throw pillow?!
Provence-Style Furniture
Provence-style furniture can also be used to get that French look in your bedroom. Many pieces of furniture with light colors and intricate carvings would work perfectly in a Paris-themed bedroom, from sofa beds to nightstands. You could even use a distressed white finish on some of your existing furniture for an instant update!
Paris-Inspired Wall Art
One of the easiest and most affordable ways to add Parisian flair to your bedroom is wall art. There are tons of great Paris-themed prints and posters available online, or you could even create your own with a few simple supplies.
Eiffel Tower Decor
If you're looking for a way to decorate your bedroom with Eiffel tower decor, there are tons of great options available. From wall decals and posters to framed prints and figurines, items inspired by the iconic landmark add an instant French vibe to any room.
Mural Wall Art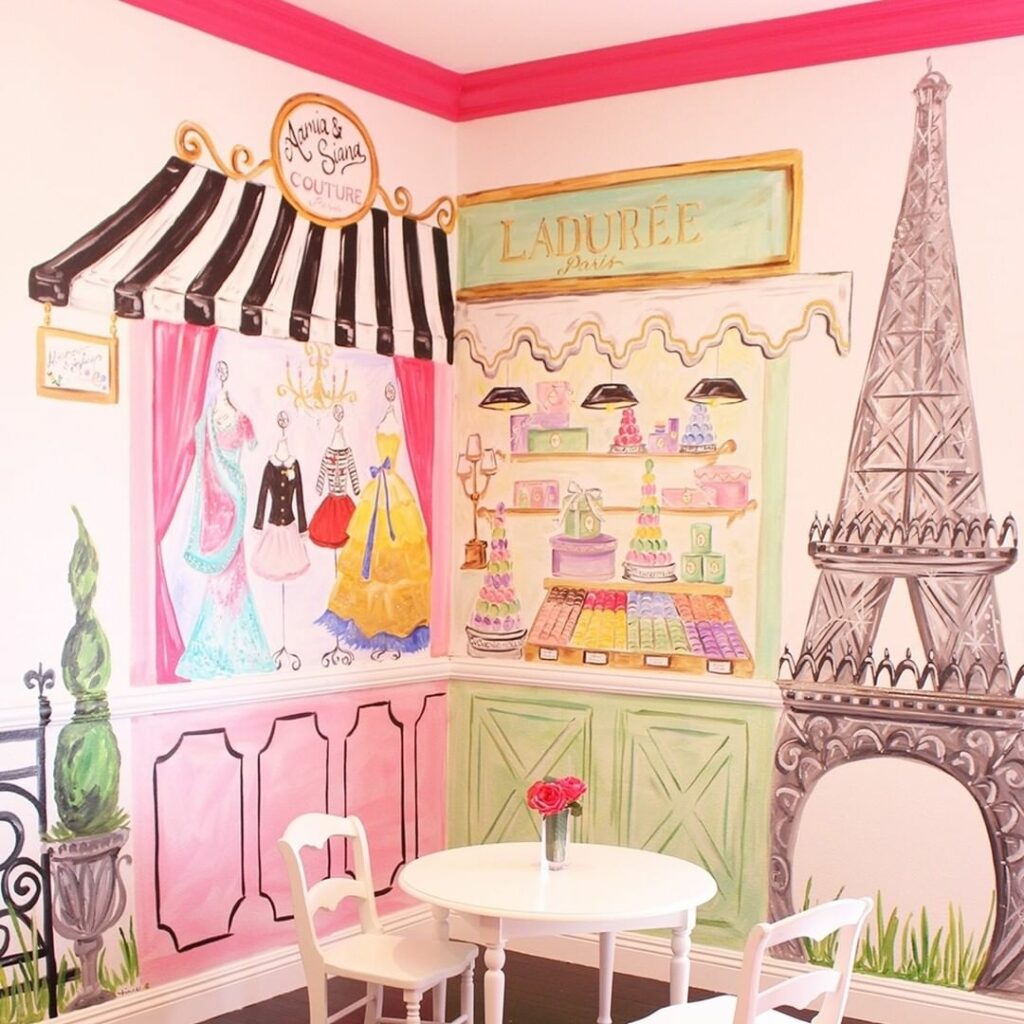 Add glamour and create a dramatic effect by painting a Paris-themed mural over the entire wall! With this stunning mural art by Instagrammer Timree, your little girl can chat over hot chocolate in Paris without stepping out of her bedroom!
Fancy Light Fixtures
Paris has many nicknames, but its most famous is "The City of Lights". From crystal chandeliers to table lamps to sconces casting a soft glow on the walls, adding Paris-themed lighting fixtures can help you add a touch of elegance to your bedroom.
Floral Wallpaper
Floral wallpaper and some vintage-style prints can add that subtle touch of Parisian charm to any room. There are tons of beautiful floral designs available, from traditional patterns like roses or daisies to more intricate ones featuring birds or butterflies.
Black and White Scheme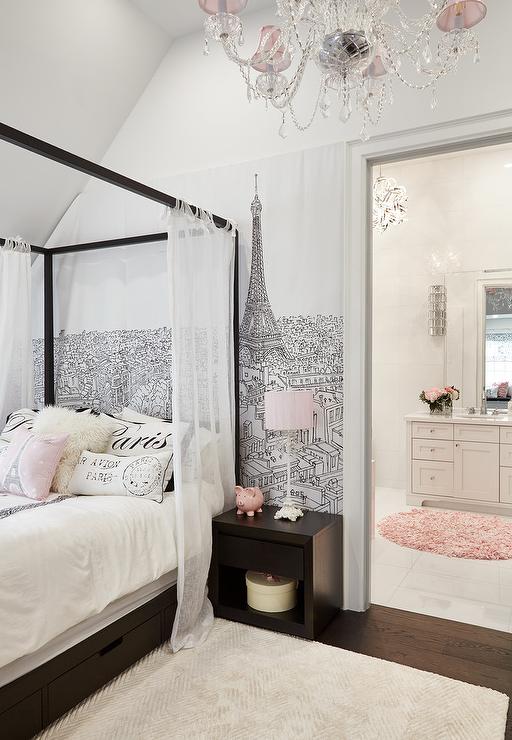 Here's a feminine Paris-themed bedroom, all decked out in black and white with just a hint of pink. An espresso canopy bed gives the decor an instant touch of romance, while layered Paris-themed pillows add texture and variety.
Canvas Wall Art
Say bonjour to this Paris-themed bedroom adorned with chic canvas prints. There's something about canvas wall art that brings elegance and style to any room. Also, check out the floral comforter! It has a perfect look for a bedroom staged with a romantic Paris theme.
Paris-Themed Bedding
Everything from plush pillows, comforters, and shams can help you create the perfect environment for sleep or lounging about in style. Try adding some Paris-themed cushions and an elegant bedspread for an extra touch of French flair.
France Flag Colors
If you want to inject a bit of French patriotism into your bedroom, consider using France flag colors as part of your decor. This can be done in a variety of ways, from painting one wall or the ceiling in the tricolor to adding some accessories like throw pillows or bedding in red, white, and blue.
Pink Galore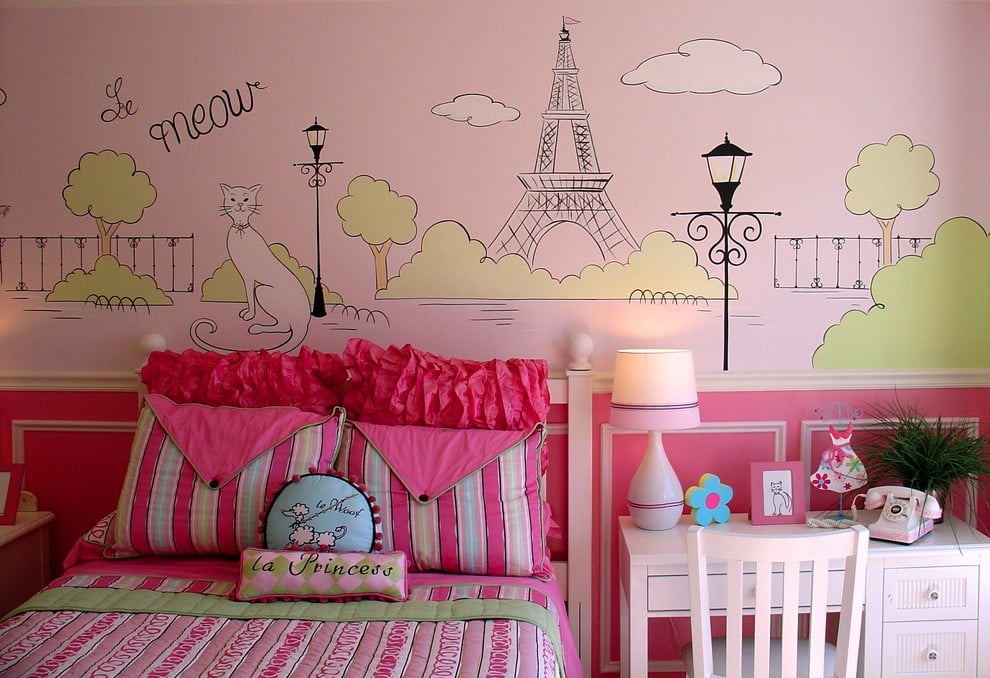 If you have a daughter whose fashion philosophy is pink on pink on pink, take your inspiration from this Paris-themed bedroom. With the cute mural art and pink bedding (complete with a comforter and lots of fluffy pillows), it speaks to the girlie girl in everyone!
Over to You!
Paris is always a good idea, they say. So, why not incorporate it into your bedroom decor? A Paris-themed bedroom doesn't have to be all about the Eiffel tower and traditional French flair. You can play with a variety of styles, from aesthetic decor for teenage girls to classic English-style bedrooms that feature pretty florals or elegant furnishings. The most important thing is to make the space your own!
Are there any Paris bedroom decor ideas we've missed? Let us know in the comments!