You can only imagine how excited we all were when we learned we'd get to collaborate with Michał Dziekan. With his distinctive, brisk and free-flowing style, this Polish illustrator and character designer has worked with some of the most recognizable brands on the planet. Now, he's brought over the whole Valentinos gang straight from Night City to create our second-ever Cyberpunk 2077 Limited Edition Displate, officially licensed by CD PROJEKT RED. 
And since it's not often we get a chance to talk to such a high-profile artist, we used this opportunity to ask Michał for some tips for fellow freelance creators. So if you're on the lookout for new projects to speed up your career, be sure to read on – you're in for a treat!
What is the story behind the Night City gangs series and your cooperation with CD PROJEKT RED?
It all started with the Witcher 3 poster I was asked to create for CD PROJEKT GEAR. It was this huge artwork with all kinds of monsters from the game and it came out pretty nice, so I pitched an idea to create a series of posters for Cyberpunk 2077 portraying all the gangs from Night City. It was well received.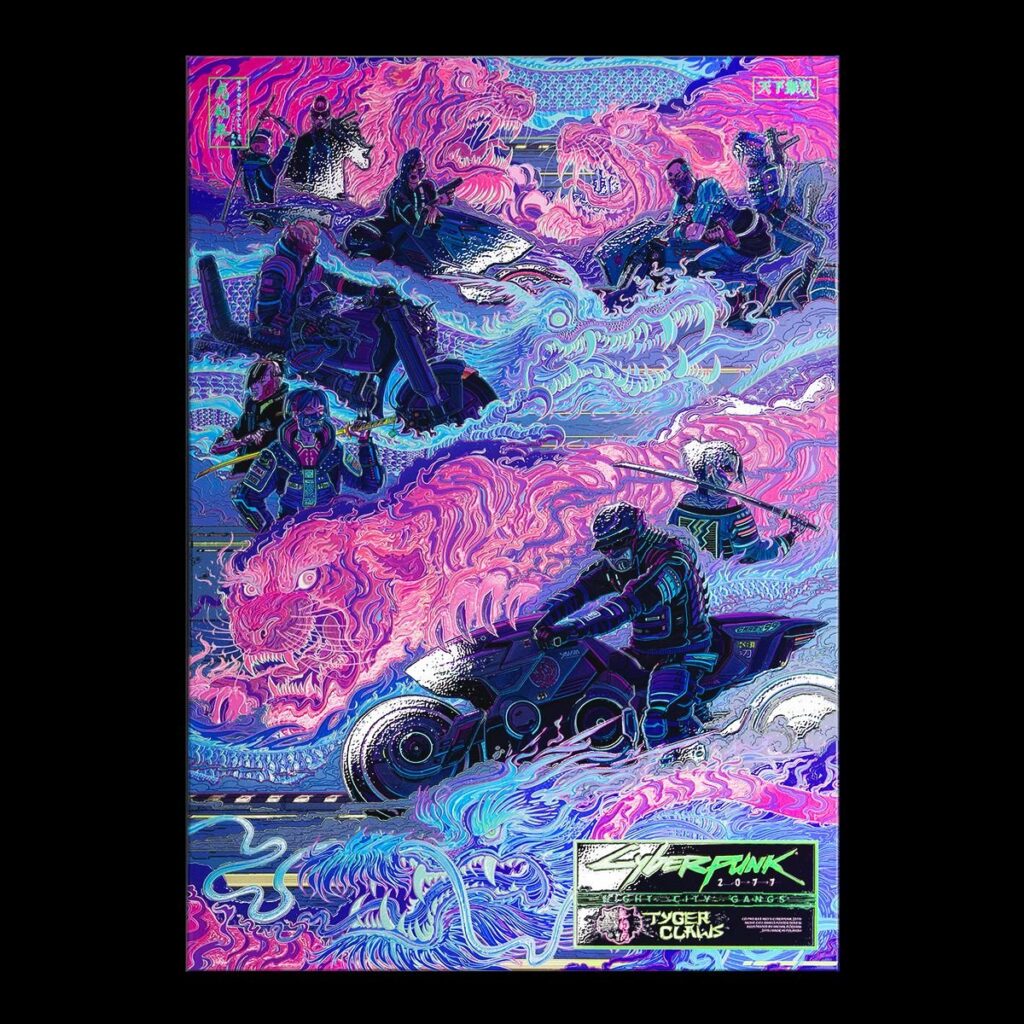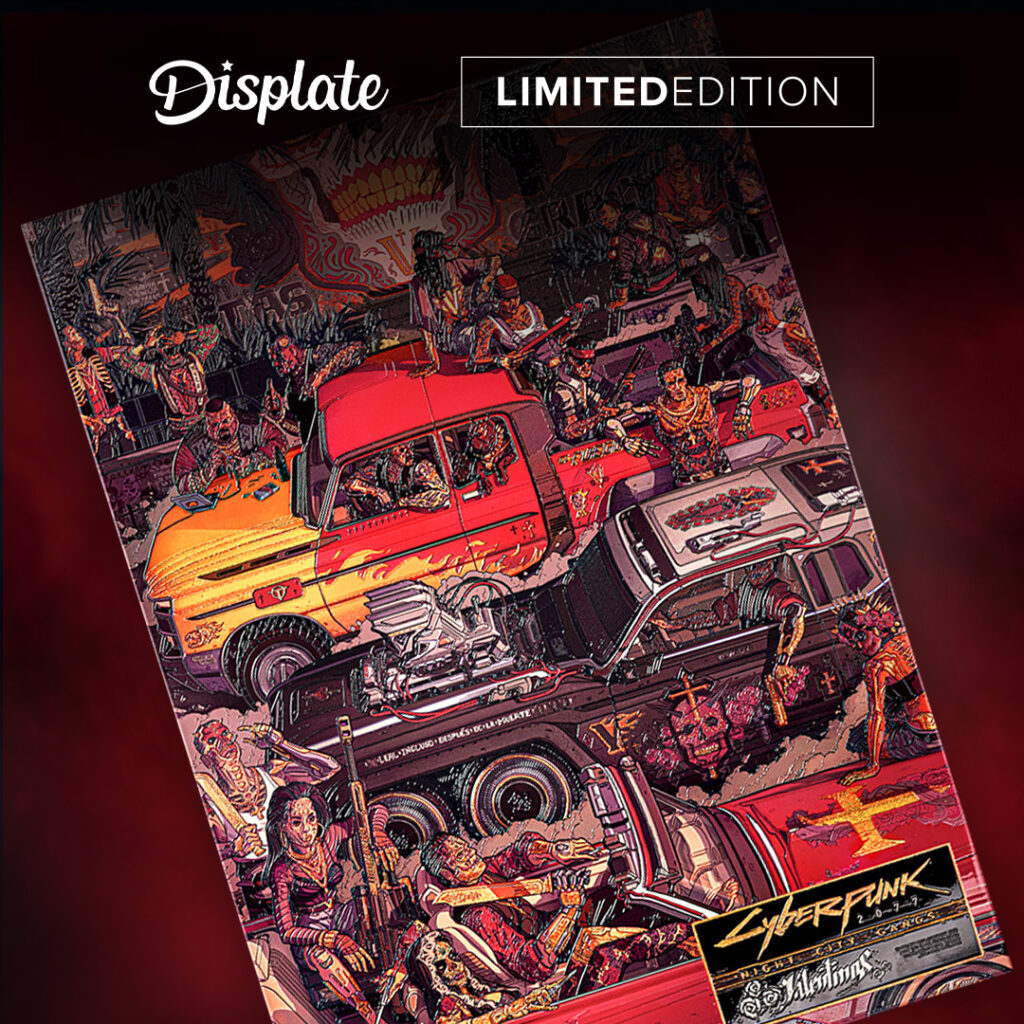 Are you a gamer? Is there any particular title you keep coming back to?
I wouldn't call myself a gamer but from time to time a game comes out that gets me really hooked. This year, it was Elden Ring – I have even finished it two times in a row! Earlier, it was The Last of Us 2, Hades, Hollow Knight, or Witcher 3.
Besides that, I like short, story-driven games like Inside or Firewatch, or some fast shooters to chill after work – something like Metal: Hellsinger and Prodeus, to mention recent titles from this genre.
Which artists are your biggest influences?
A lot of artistic inspiration in my early days came from the work of Alphonse Mucha, James Jean, and… Banksy. Later, when I dived deeper into the world of illustration, I found a lot of new fantastic, inspiring artists.
It all started with art by Tomer and Asaf Hanuka, Peter Diamond, and Yuko Shimizu – they had a huge impact on me when I took my first steps in this field. Since my artworks are heavily character-driven, I have always been inspired by good character design, especially in animation. I'm talking about the impressive works by the likes of Carter Goodrich, Peter deSeve, or Nico Marlet.
I love art in general and I try to look at as many artworks as I can on a daily basis, so I probably unconsciously draw my inspiration from a ton of other artists too.
From your perspective, what are the main differences between working on commissions and personal projects?
I would say themes and artistic freedom, especially the level of boldness your ideas can reach, are main differences. In my experience, working on commissions is a craft that needs to be performed within some set upfront borders – be it a theme and style of the game, as with the Cyberpunk posters, or contents of an article which I create editorial illustrations for, based on a brief from the client.
When I create my personal artwork, my ideas are not bound by anything and I'm free to draw from and comment on anything I want at a given moment. I can be bolder with my work, more expressive. I can experiment a lot, try out different styles, genres and approaches, make mistakes, and have fun doing it – which is extremely important in creating art.
What takes more time in your daily work: commercial or personal projects?
Recently, commercial projects take about 70% of my time. I miss creating personal illustrations though, so in the future this ratio may slightly change in favor of artistic work.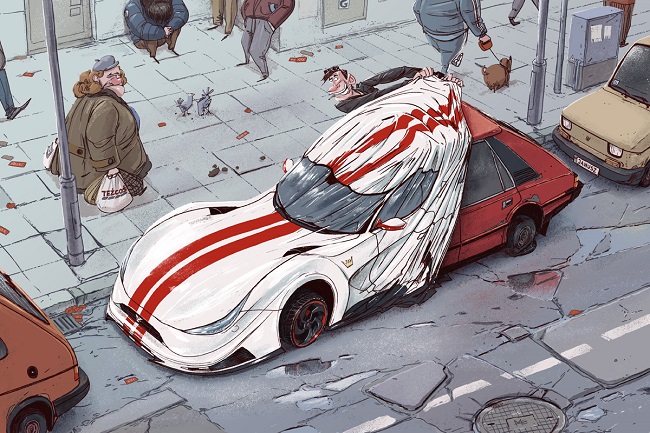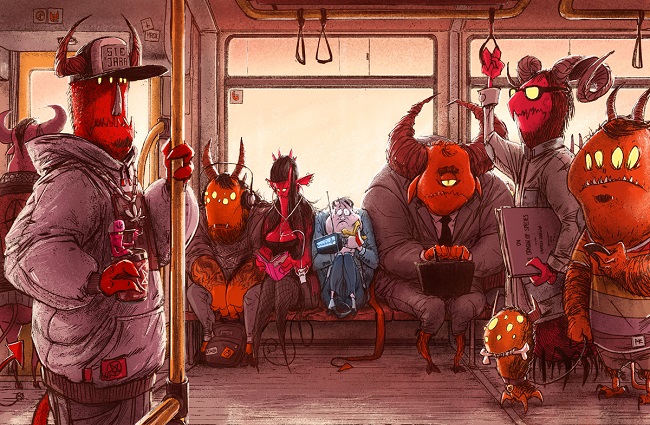 What's the most satisfying part of working as a freelance illustrator?
It's the freedom to organize your own time and life. Of course, it comes with a price, as you have to manage everything in your career. Creating artworks is just about 50% of it, the rest is promotion and scheduling projects. Sometimes there is a wave of many projects at once, other times nothing happens and you have to look for work. You need to contact clients, resolve any potential issues, take care of accounting, send invoices and overdue payments follow-ups, deal with taxes, and all that jazz – all by yourself.
Sounds hard and sometimes it is super hard, but at the end of the day, it's worth it. There's a lot of satisfaction in it. A lot of uncertainty, too.
How do you look for new clients?
I would say that right now, about 80% of my clients come to me either because we had collaborated previously and they already know me, or because someone else I've worked with has recommended me to them. There are also some who want to collaborate simply because they found my work on my website or through social media or Behance – but not too many.
When I have no work at all and have to reach out to people myself, I usually start with the people I collaborated with in the past. If that's not fruitful, I start a campaign and send out emails to clients that I think might be interested in working together. In most cases I don't get any response, but from time to time, someone writes back and a project kicks off, or they add me to their list of freelancers and come back with one in the future.
Which of the artworks you have created is your favorite?
When it comes to commercial projects, I would list all the works I created for Duży Format (ENG. Large Format), a Polish journalistic magazine that's rather low profile and small budget. They wrote about things I cared about and they gave me 100% freedom of expression. This made creating illustrations for this magazine feel like working on my personal artworks.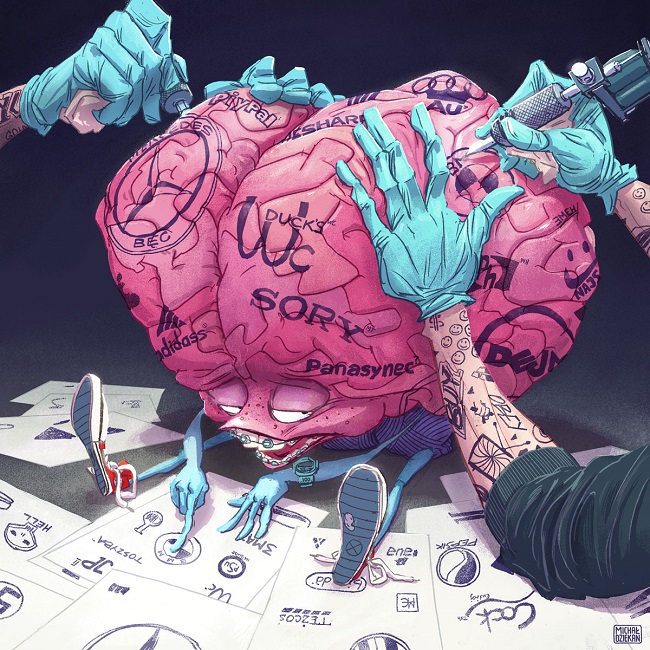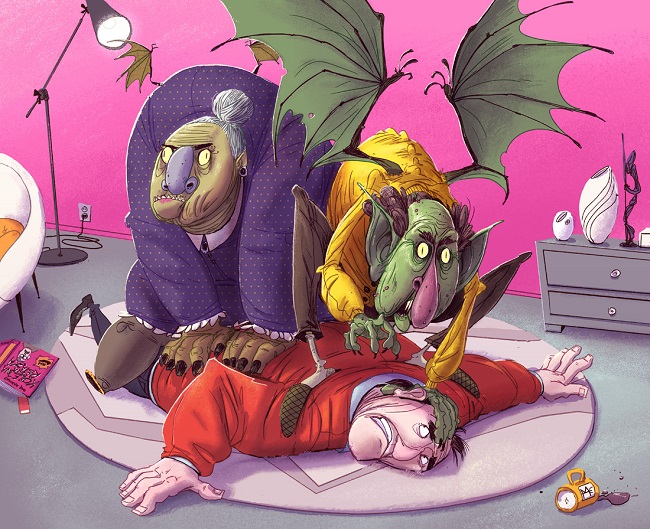 Another one is a visual development project I did for Trioscope and Juice studios for Netflix's The Liberator. Again, I was left with a lot of artistic freedom and trust from creators, and working on it felt really nice. Actually, there are a lot of projects I like and now that I think about them, it's really hard to pick the best one. But if a work is in my online portfolio, it probably means I liked working on it and the final outcome.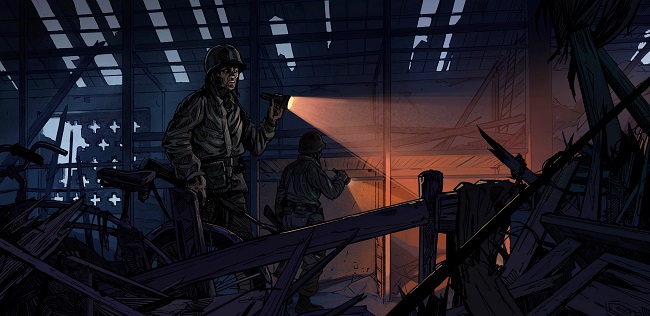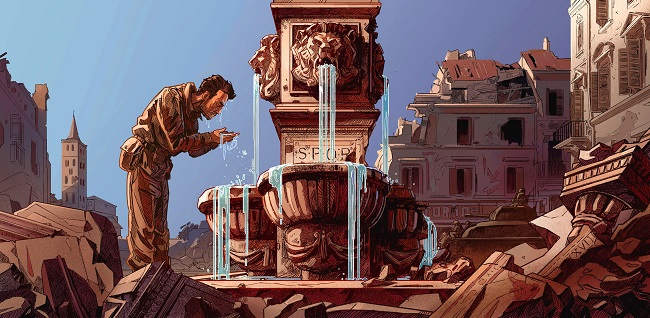 What would be your three tips for artists who want to begin their career as a freelancer?
I have this weird career where I was trying a lot of stuff like composition, motion design, illustration, character design, visual development, and recently art direction. It has always felt so chaotic. I've never found any solid rules I could follow 100% of the time, so I won't be as bold as to give anyone career advice myself. I'm pretty sure there are a lot of more business savvy freelancers out there that could cover it better.
I could maybe talk a bit about other things. I made a lot of mistakes and bad decisions in my career. I missed a lot of opportunities and welcomed a lot of chaos in my life but still, it got me to a place I am now – and it's a good place, art-wise. I don't regret anything and I'm generally happy, so maybe my first tip would be: don't be afraid of making mistakes. Everyone needs them to learn and grow. Sometimes it's also possible to learn from mistakes already made by other people, so listen to others and study their lives and careers.
Second tip would be to – at some point, when you have already learned the basics – try to make your work easier. Right now you most probably have nothing to prove, so when you need to, use every tool possible to help yourself and speed up your process. You have thousands of years of human history where people have built on each other's accomplishments – this is progress, don't try to reinvent the wheel. Remember that to grow you need to constantly push the borders of your comfort zone further and further.
Third one is the hardest one I think, at least it was for me: be nice to yourself and don't push yourself too hard. All the progress in this world is made slowly, step by step. It always takes time, so just enjoy the journey.
Could you shed some light on the projects you are currently working on?
At the moment I'm working as an art director and illustrator on a small visual development project for Dreamworks Animation. It's the kind of project that may never see the light of day but still is a lot of fun to be part of. Also, I'm continuing a collaboration with the Polish animation studio Televisor on a set of funny commercials with 3D animated animals, where I'm responsible for art direction and character design.
On a personal level – I'm trying to find the time to finalize a set of illustrations for my band's EP, and working on a simple lyric video for the whole album.
Do you have other passions, besides illustration?
Music! I always listen to something when I'm drawing. I also play drums and write music myself – I have this hardcore/metal, two person music project I started with my friend who's also a freelance artist. The band's called -R-A-N-A-, which is Polish for "wound". We finished recording an EP some time ago and now we are planning to self publish it online soon. Currently we are working on our full-length album. We want to record in the upcoming year.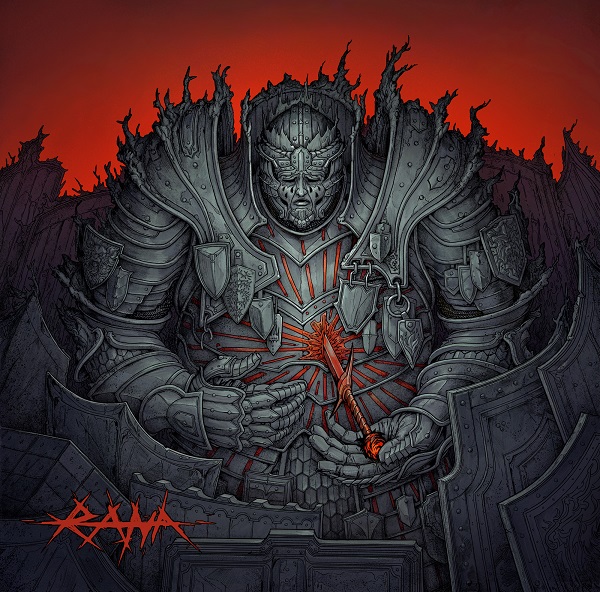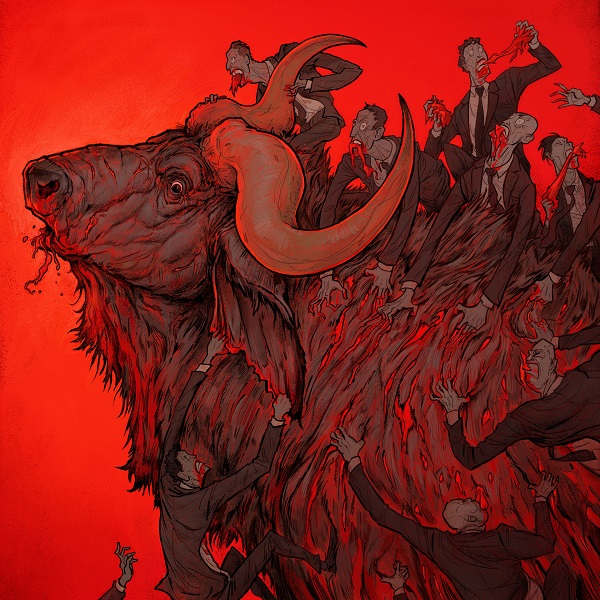 Instagram: @michal_dziekan