Care to join the Danse Macabre?
It's dark, ghastly, and yet strangely uplifting. Though she's locked in a Deadly Embrace, the girl doesn't seem at all afraid of her morbid companion. Looks like fear has long given way to hope, serenity, and soothing acceptance. 
Like it or not, this is Anato Finnstark's idea of a cheerful image. The dark fantasy art maestro returns to Limited Edition with what's probably his most ambiguous piece to date. Here's how he joined forces with our Design Studio to bring this incredible scene to life.
Anato Finnstark tames the Grim Reaper
Looks like Anato Finnstark found a way to cheat Death – or at least persuade Him to do a little posing. A spiritual sequel to Frail Beauty, Deadly Embrace is Finnstark's second Limited Edition design that captures the Grim Reaper himself.
What was the process behind creating this artwork?
First of all, I took a lot of time to find the ideal composition. I wanted the two characters to mix and complement each other visually, without it looking too cluttered. For this, I had to rethink the composition several times, trying to find the right position for each limb and each piece of fabric, so that nothing obscures important elements.
I always look for anatomical references to make the work a little easier. Here, I began with colors – right from the start, I wanted the image to vibrate and capture my vision in an organic way.
What's the story behind this artwork?
It's a spiritual sequel to Frail Beauty and a somewhat personal vision that's really hard to explain without sounding silly. But what I think is the most interesting about this piece is that it's the kind of symbolic work that changes its meaning depending on who's looking at it.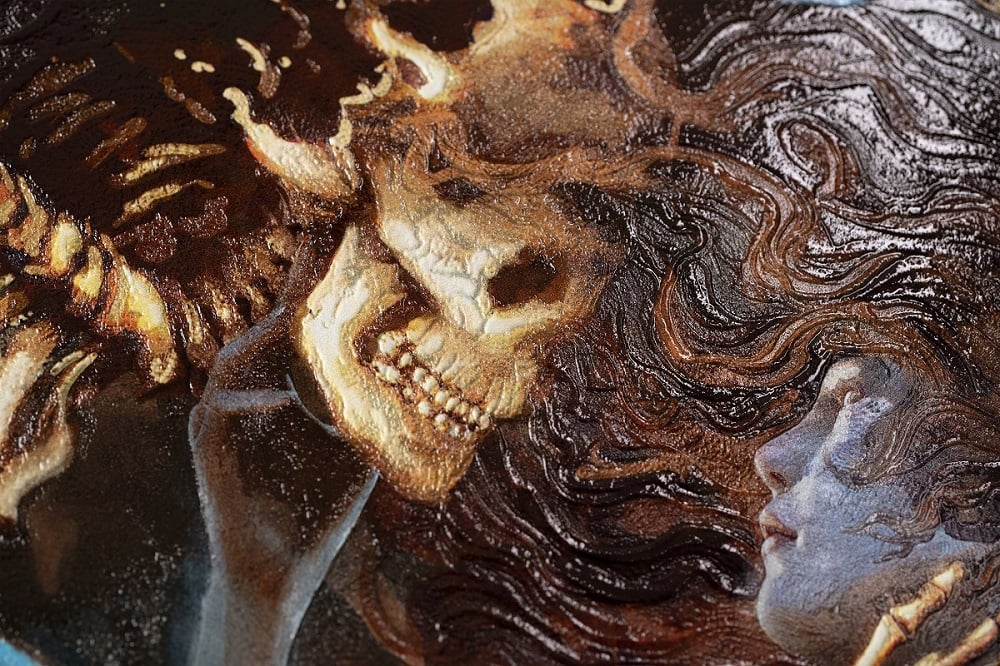 What's the connection between Deadly Embrace and Frail Beauty?
It's an alternative vision that tells more or less the same story, but this time with different protagonists. They're still animated by the same intentions and the same torments.
Actually, I'll be exploring this theme some more – another artwork in the series is on the way!
Is there anything special that inspires you while you create?
I listen to a lot of music when I paint. This particular illustration is the result of listening to Gangrene by a one-man-band called Mirrorthrone. It's an album I've been listening to since its release in 2008, and it's still a very powerful vector of emotion for me.
How our Design Studio made it look dead gorgeous
Anato Finnstark is famous for his realistic oil-painting style. Working on this artwork, our priority was to keep as much of this feeling as possible.
We really liked the way the lines made the composition so dynamic, so we decided to use these waves as a rule in creating the 3D textures. The varnishes we used here further intensify this effect.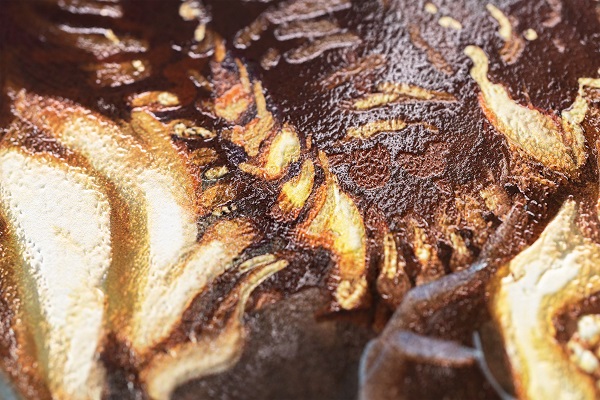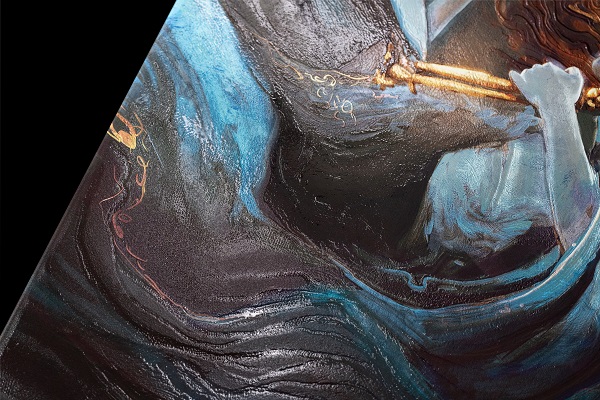 To give this artwork some extra noble touch, we decided to cover the plate with a silver overprint. The metallic finish emphasizes both the girl's pale skin and the blues of her cloak, which now resembles some precious fabric.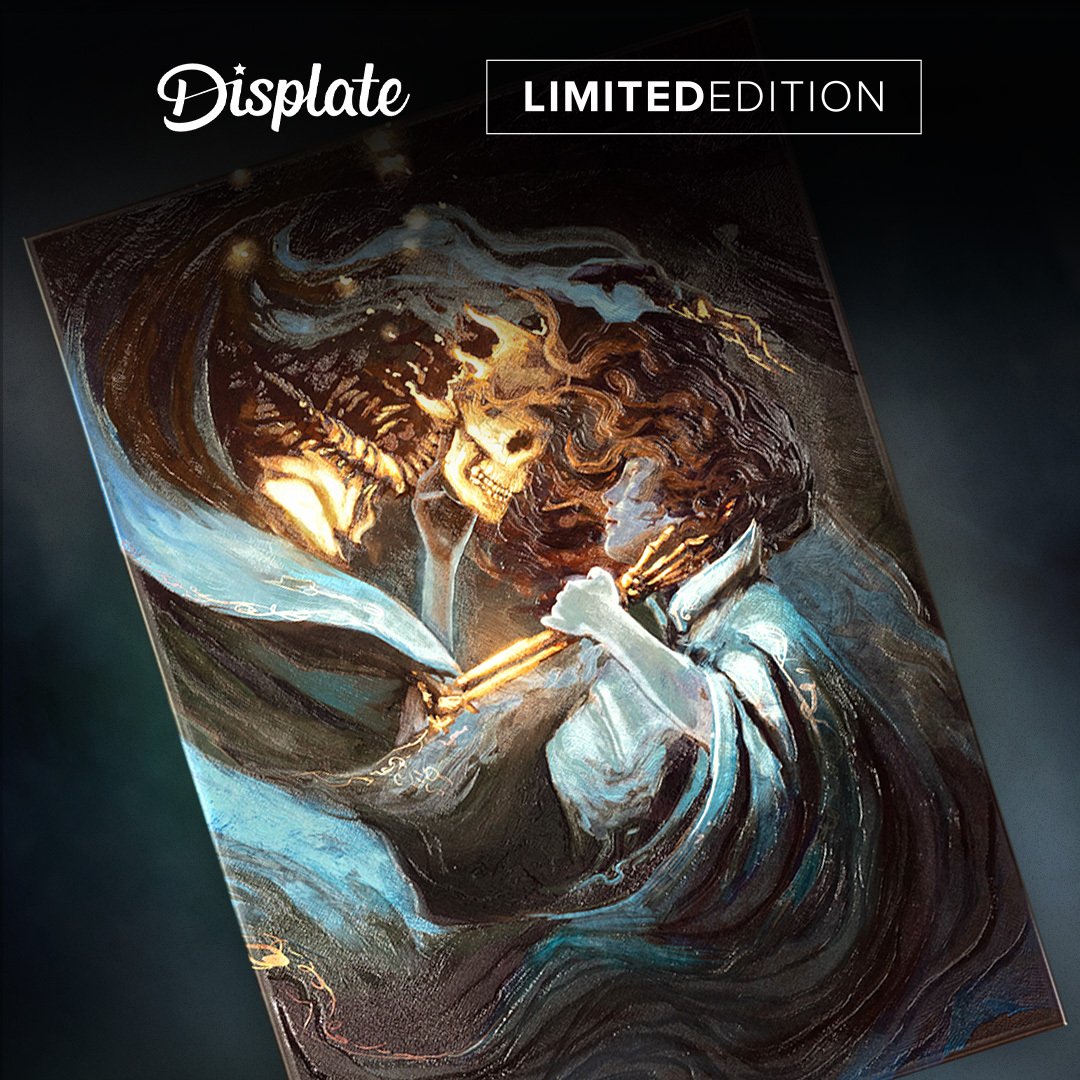 It's not all skin and bones
As much as it is the spooky season, October is also the month of reflection and meditation – and this week's Limited Edition is here to remind that. After all, there's no darkness without light.
That said, if you're dying to put your hands on Anato Finnstark's latest creation, you better not take too much time to think. Grab it before it's gone for good!
---