It's 2023 now, so let's take a quick moment to reflect on the awesome Limited Edition drops from last year. If you've already collected a Limited Edition Displate, props to you for getting one before it was too late!
Limited Edition Displates are so fire that collectors are waking up before dawn to get their hands on one! Some of these beautiful bad boys go fast at launch and get scalped on the resale market for more than their original price.
We can't apologise for only a few lucky collectors being able to get their hands on them, but we can sincerely hope that in 2023, more of you will be able to experience their unique beauty on your walls. You might want to join the Displate Club to get early access news about our LE drops!
---
Top Stats Of 2022 LE's
In 2022 we sold 52.5k plates which is 55% more than in 2021, in which sold only 34k plates. That's a good step up if we do say so ourselves. 2023 we're planning to keep up this momentum and go bigger to give the people what they need!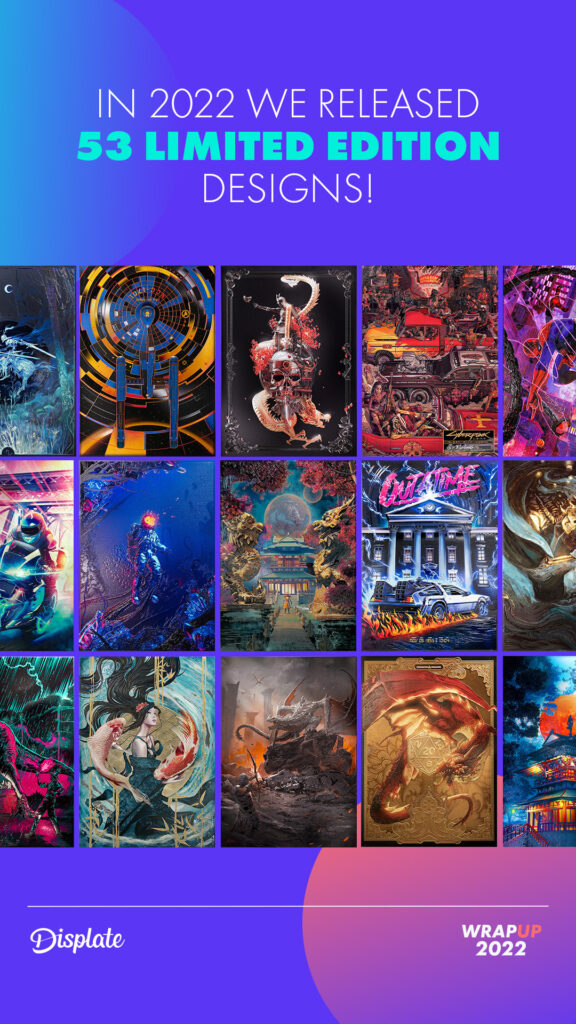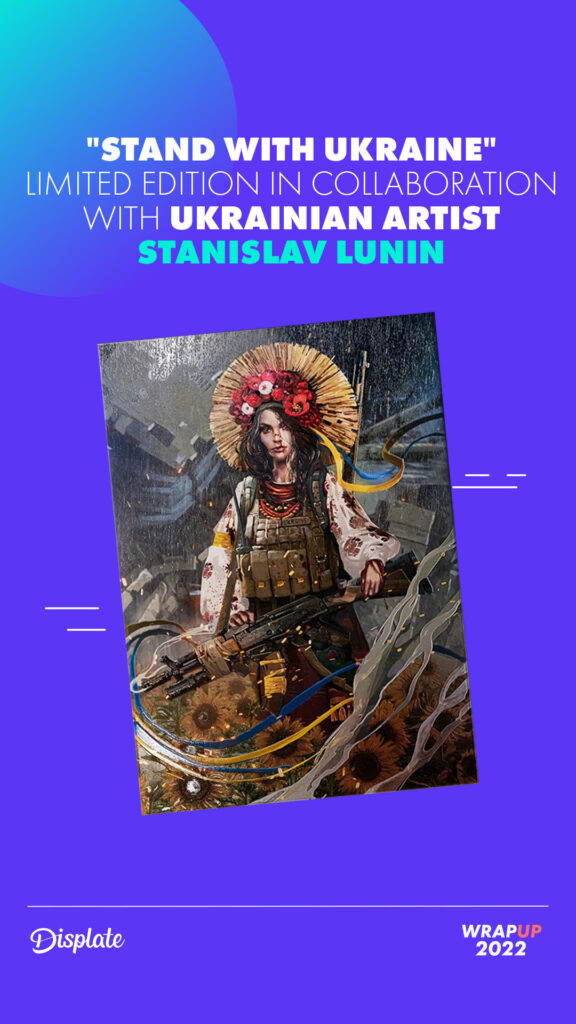 A lot of our drops stood out for producing awesome results, for example, The Book Of Boba Fett LE sold out in 10 Hours and if you thought that was awesome, another Star Wars LE, Revenge of the Sith™ was the quickest sale, selling out in a meagre 40 minutes! Yep, the hype is real! 2022 Limited Editions Sold to 25k individual customers.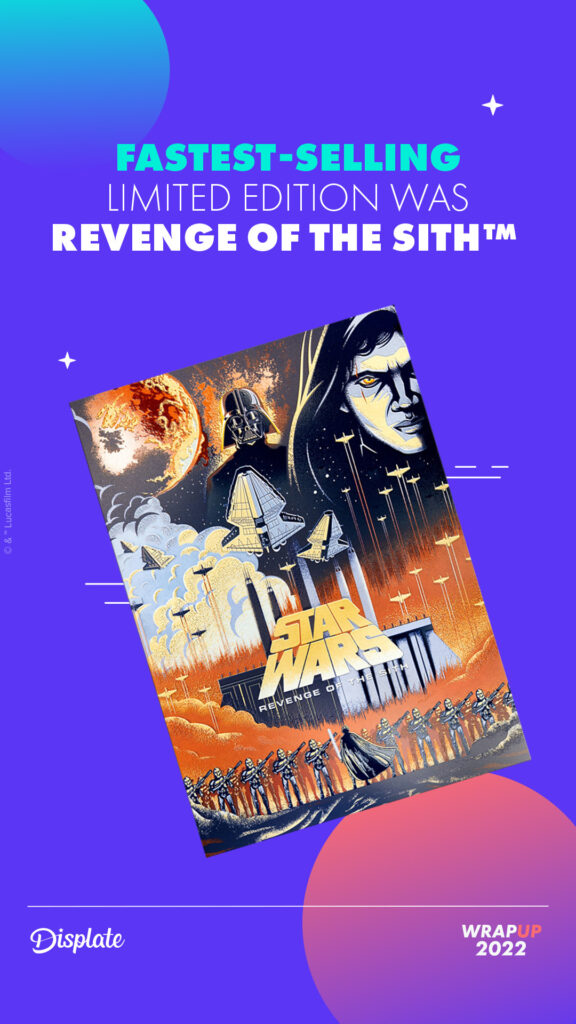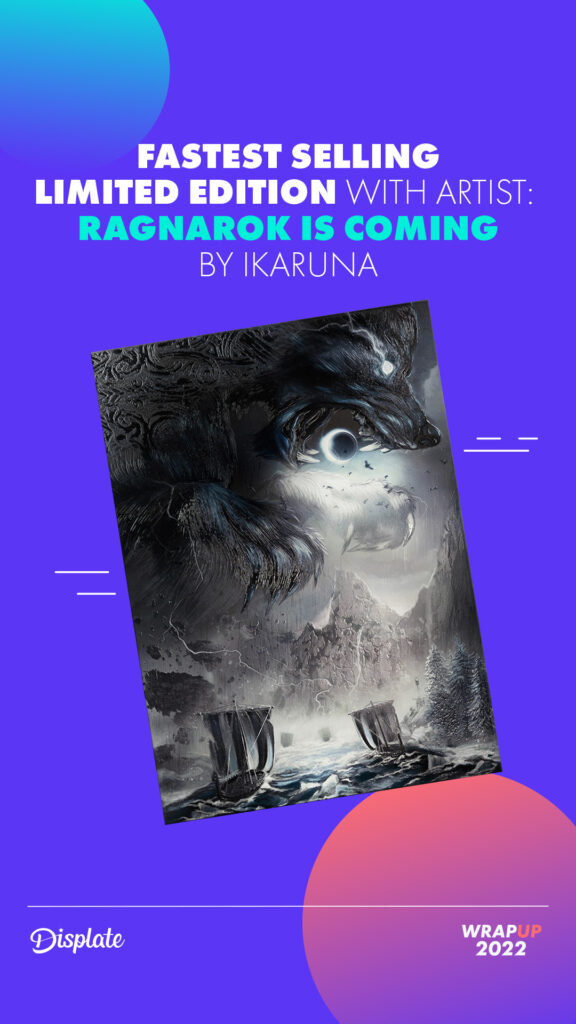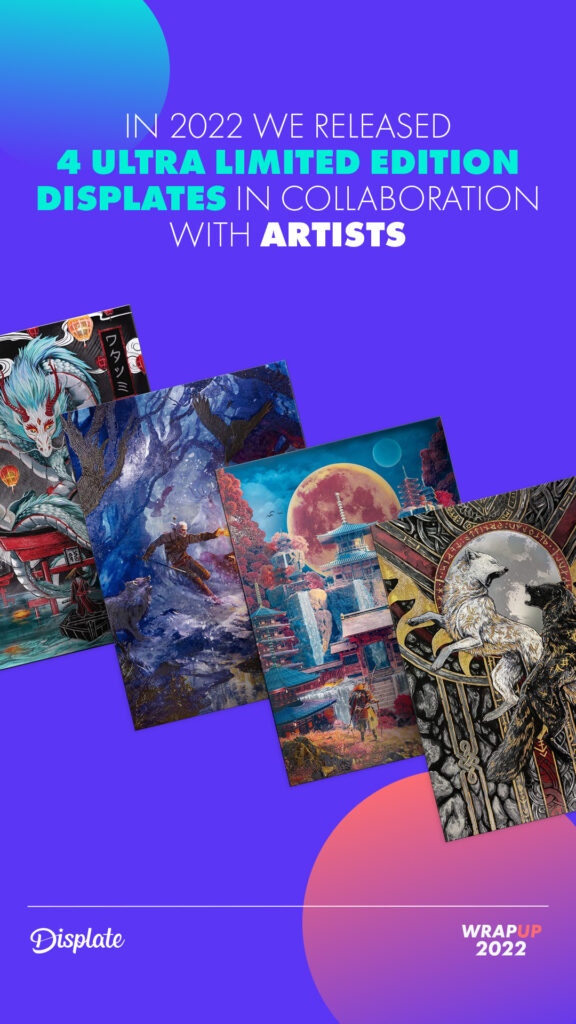 Ultra Limited Editions
In 2022 we proudly launched a new Limited Edition product titled, Ultra Limited Edition.
What's an Ultra Limited Edition? you might be asking. Well, in a nutshell, we pushed our printing technology to its limits to create the ultimate metal posters for Apex collectors. Ultra Limited Edition means ultra-sized, ultra-detailed, with ultra-limited runs and ultra-artist collaborations.
On every piece, we collaborated with cherry-picked artists who created exclusive designs for our Ultra Limited Edition series.
Our first ULE sold out in early access within 11 minutes
"We spent months working on Ultra Limited Edition, experimenting with different print techniques and enhancements and working hand-in-hand with select artists who agreed to kick off this special project."

Rafał Kocik, Head of Design Studio at Displate Via Media.Displate
---
---
The Collector Sentiment In 2022
In 2022 collectors came in droves for the Limited Edition Displates they wanted. A few seconds on Reddit and other social media platforms will show that when collectors like a specific design, It'll fly off the digital shelves.
The growing demand for LE's prompted a lot of scalping in the resale market in 2022. Which led to us placing measures to give collector's a fair shake at getting LE Displates first hand. For example, there is now a 3 item per person limit on buying select Ultra Limited Editions which improved overall collector's sentiment and made it easier for more people to have access to them.
Limited Editions are now proudly displayed in homes across the globe, adding an epic touch to any room! It will take a lot of work to beat the hype around these posters. Word on the street is they're a must-have item!
Iconic Brands & Unmatched Talent
It wouldn't be a 2022 Limited Edition Wrap Up without a quick nod to the brands and artists who collaborated with us on this incredible art! We absolutely adore you all.
It's always awesome to see the Brands and the artists who inspire and design LE's just as excited as we always are. Above and beyond continually delivering on the awesome foundation we laid out in previous years, 2022 was an awesome year of collaboration with Iconic brands like Star Wars, and Marvel and well-known Displate artists like Anato Finnstark.
2022 Limited Edition Wrap Up Conclusion
As the 2023 season begins, wer'e looking forward to creating more awesome products and delivering an even more superior LE experience that offers more awesome designs in the months to come.
Limited edition Displates are truly a must-have for any wall art connoisseur. With stunning artwork from different artists from around the world and an unbeatable durability that ensures that your favorite artwork will be with you for years to come.
Join the Displate club to get early access insights into every Limited Edition drop. It's time to level up your collecting!
---
Be sure to also check out our 2022 Wrap-Up: The Year In Displate Art