The Days of Limited Edition Displates Being Constantly Available are gone!
We're not here to brag, but we're here to tell you that our Limited Edition Displates are so remarkable that Displaters are waking up at early hours of the morning to get them before they sell out. And boy, these things sell out fast! We can't say we're sorry that only a few people can get their hands on these awe-inspiring Limited Edition designs, but we can genuinely say from the bottom of our hearts that we hope in 2022 you can get your hands on one of them. And if you're a current owner of one of our incredible Limited Edition Displates, good job for snatching them on time!
In 2021 we designed, packaged, and added thousands of Limited Edition Displates to our marketplace for all dedicated collectors, and here's what happened.
Collectors came in the hundreds and thousands on every drop.
Limited Edition Displates sold extremely fast, In some cases disappearing from the shelves within one minute after premier like the popular Miles Morales drop
It's safe to say that these posters have claimed a prized spot on the walls of those lucky collectors who currently own them.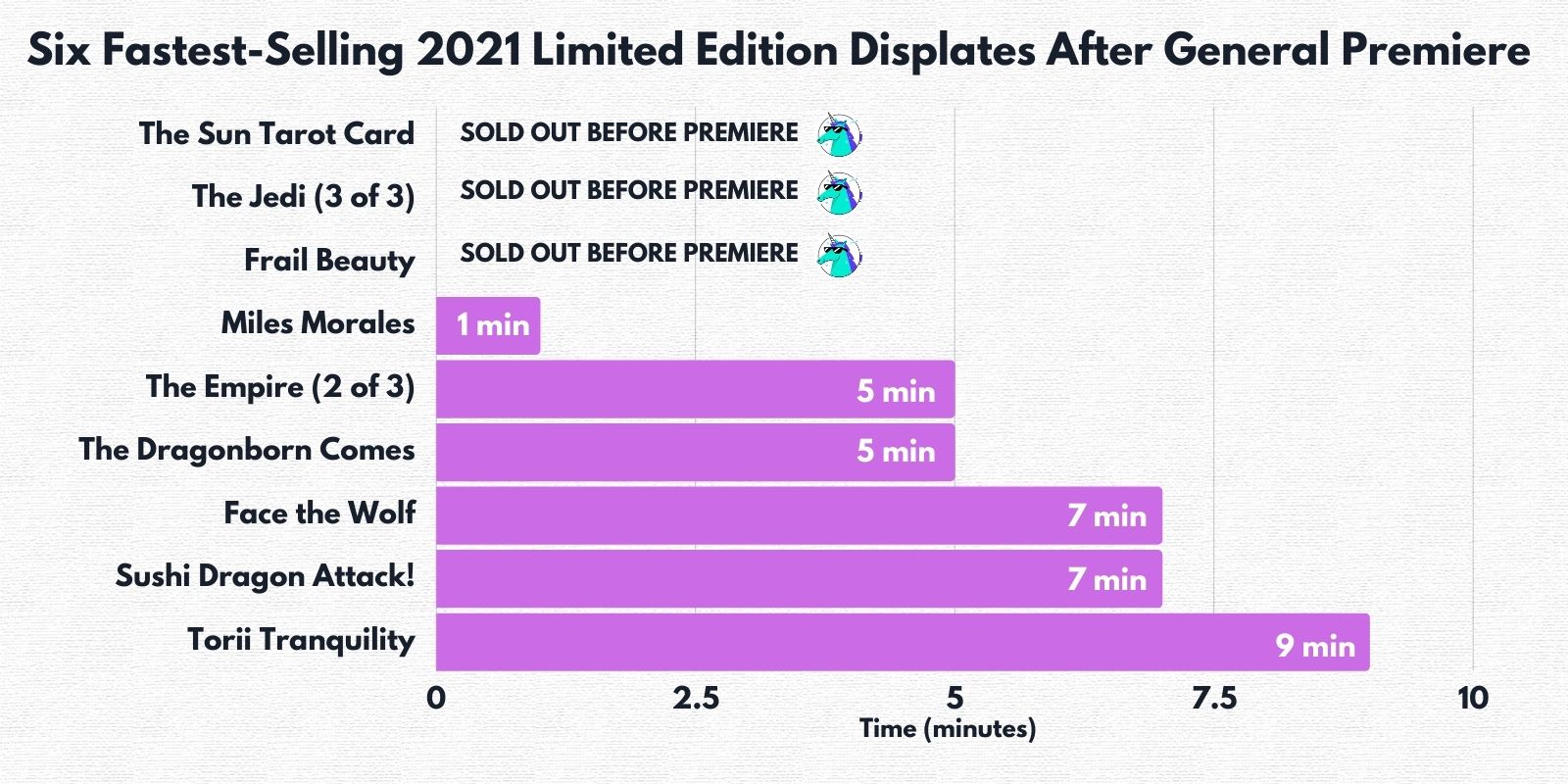 The Displate collector's family has everyone, from nerdy, abstract poster lovers to geeky Star Wars™ fanatics. Every Displate collector means the world to us. We're not just grateful for you; we're also looking forward to making more collectibles for the entire community in the upcoming years. What makes Limited Editions so special is what they represent, out of this world art for the most incredible community of Geeky collectors on the planet! Well, at least those who can catch the drops on time.
Limited Edition Displates Are A Hit
Limited editions take inspiration from many of our epic brand stores, as well as some of our most revered independent artists. In 2021 we released a mini-series of Displates, and, oh boy, oh boy, did they get your attention. Our Star Wars™ Trilogy series sold out entirely during Early Access before its official public release! If that doesn't tell you that Displates are a hot collector's item, I don't know what can.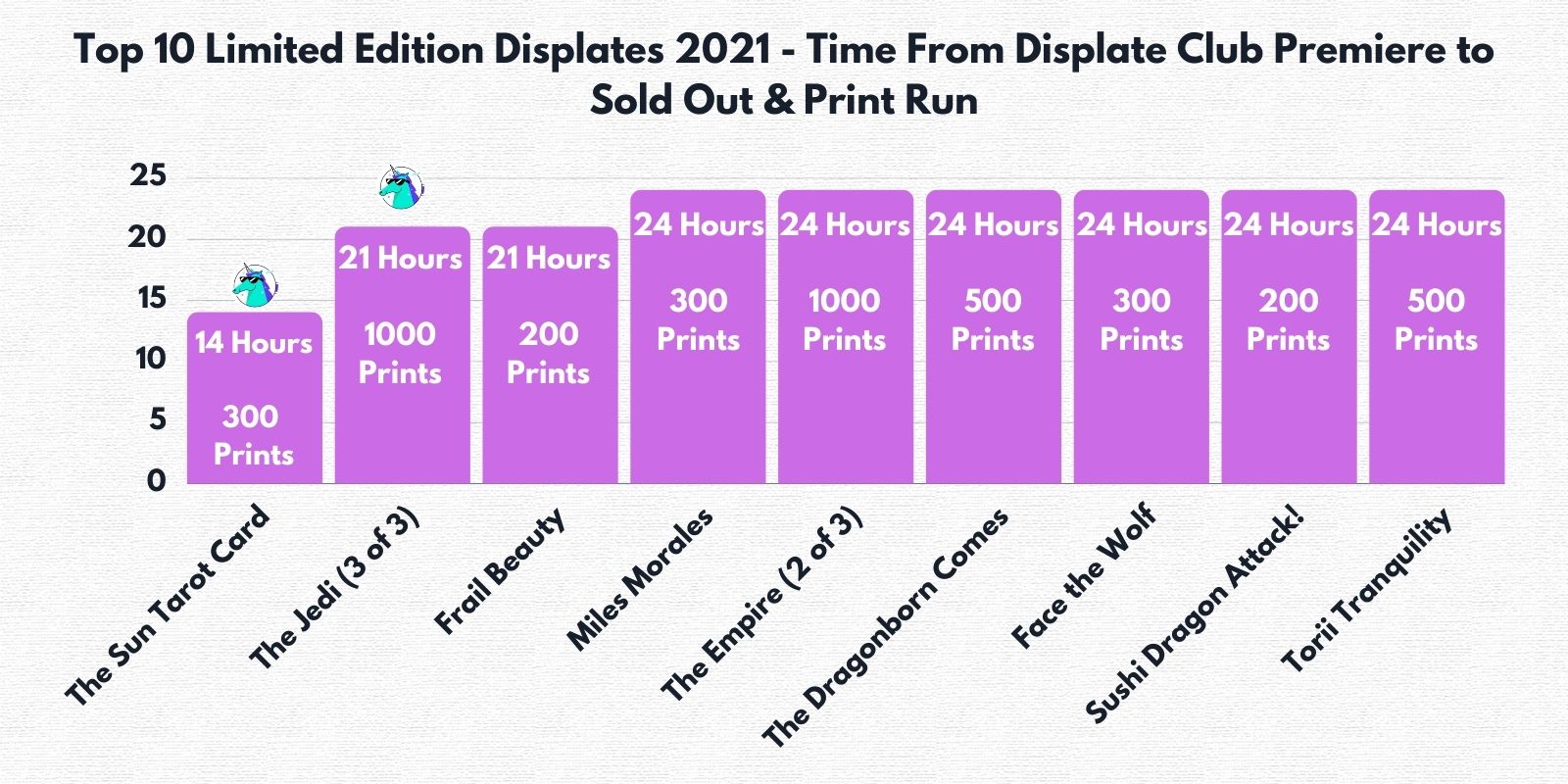 2021 Social Media Response To Limited Edition Displates
The Displate community had a lot to say about the 2021 Limited Edition drops on social media. It's safe to say that when you have something extraordinary that everyone wants, but not everyone can get, you'll have a polarising response. Apart from the occasional rage about not getting a Limited Edition Displate on time, reactions have been extremely positive for all drops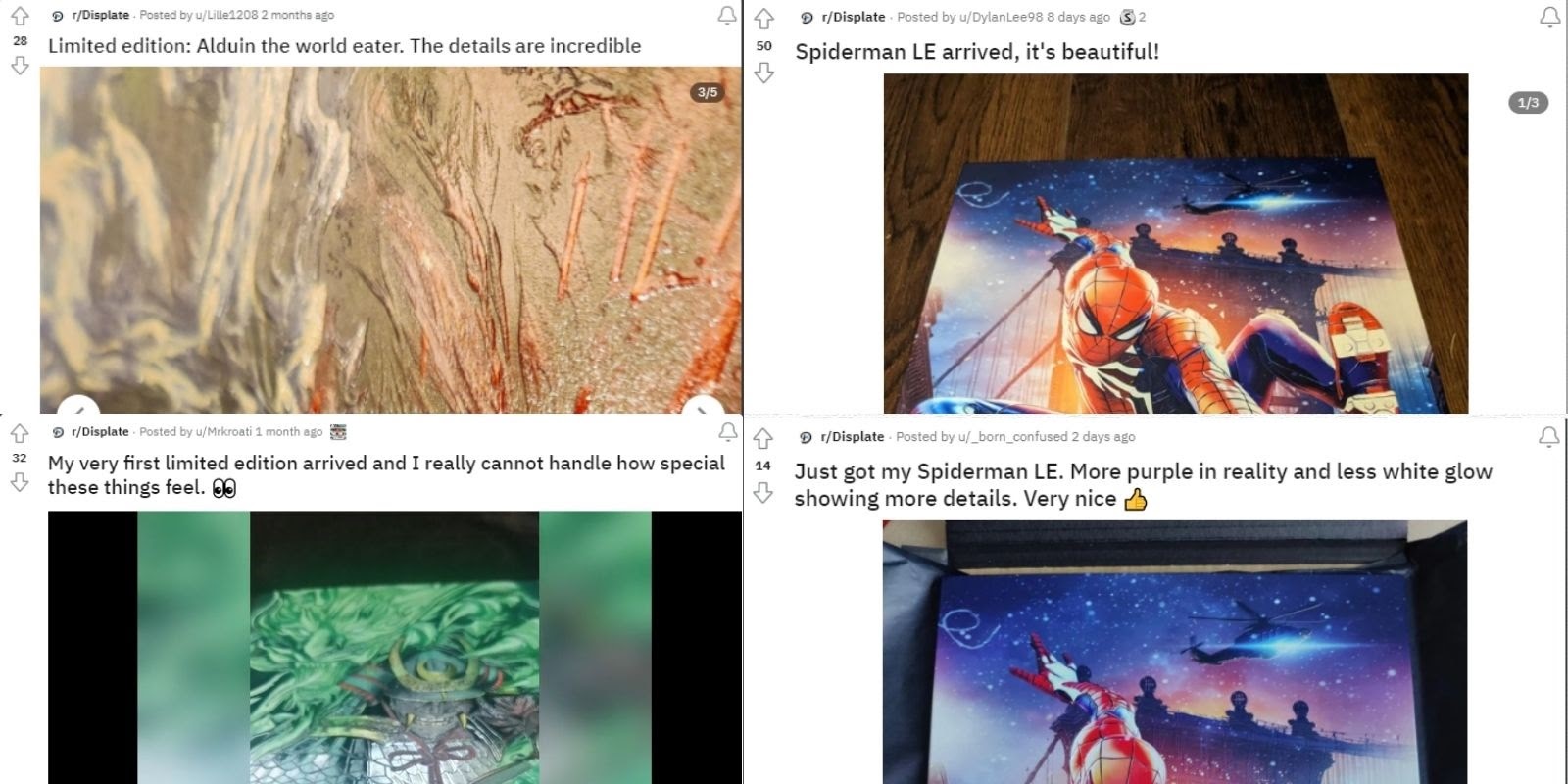 Displate Resellers Market
How badly do you truly want your Limited Edition Displate? Are you willing to pay $1,000 for one? Well, that happened in 2021, twice! The record for highest-selling Displate on the resellers market was broken in 2021 when Torii Tranquility & Chromatic Dragon sold for $1,000.
If you've kept your ears to the ground, you've probably discovered forums with people trading and re-selling their limited edition posters. Our Reddit community is budding with opportunities to acquire some of our drops from dedicated collectors who were first in line before anyone else. Expect to pay a pretty penny for Limited Edition resales.
It's incredible to see that not only are our limited edition posters admired by many, but they also make for some pretty valuable collector's items that many might trade for.
It seems like another popular place to get Limited Editions after they've sold out on the official website is eBay, but be warned; the markup is high. Good Lord! Some of these prices blew our minds too!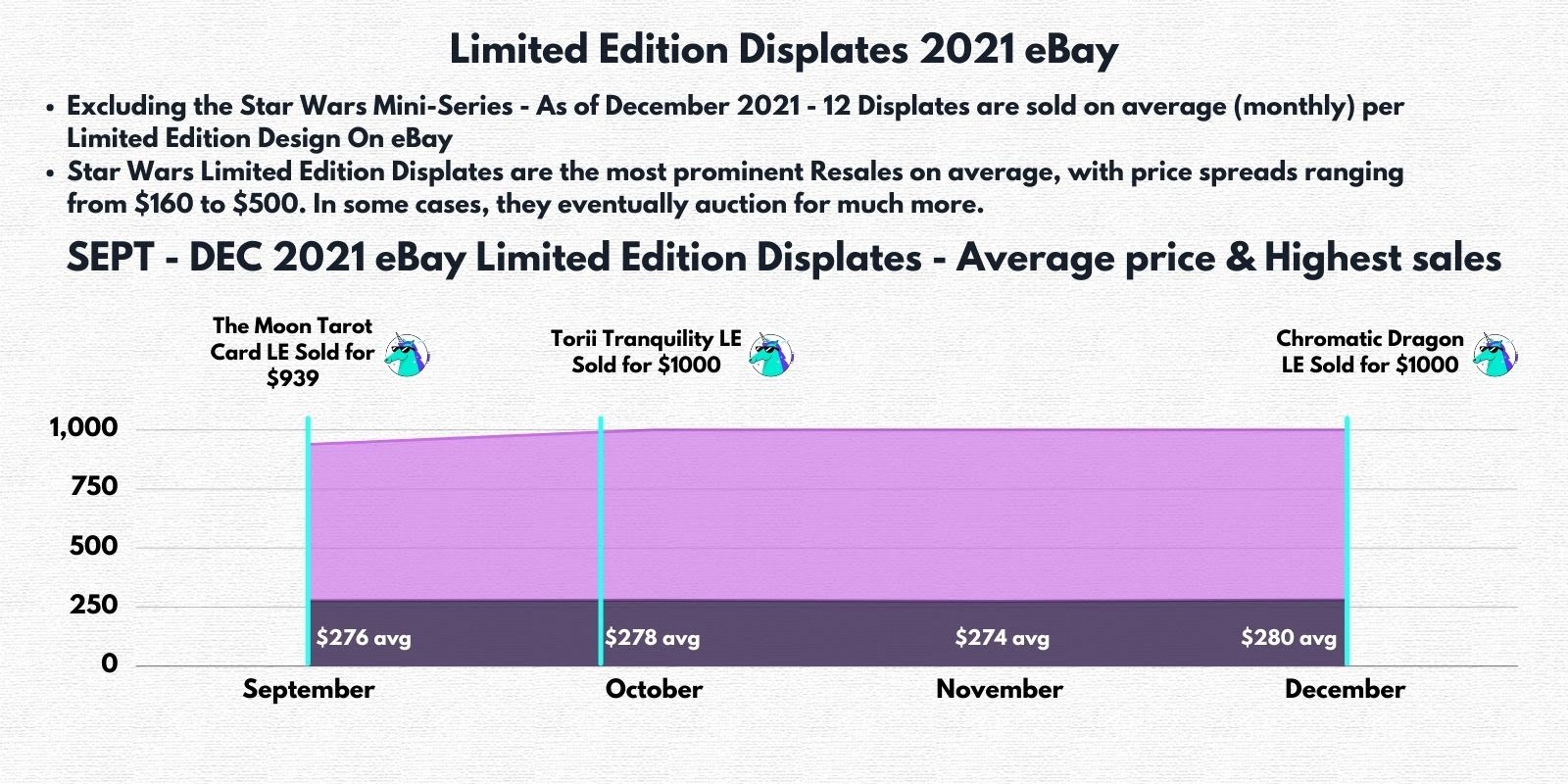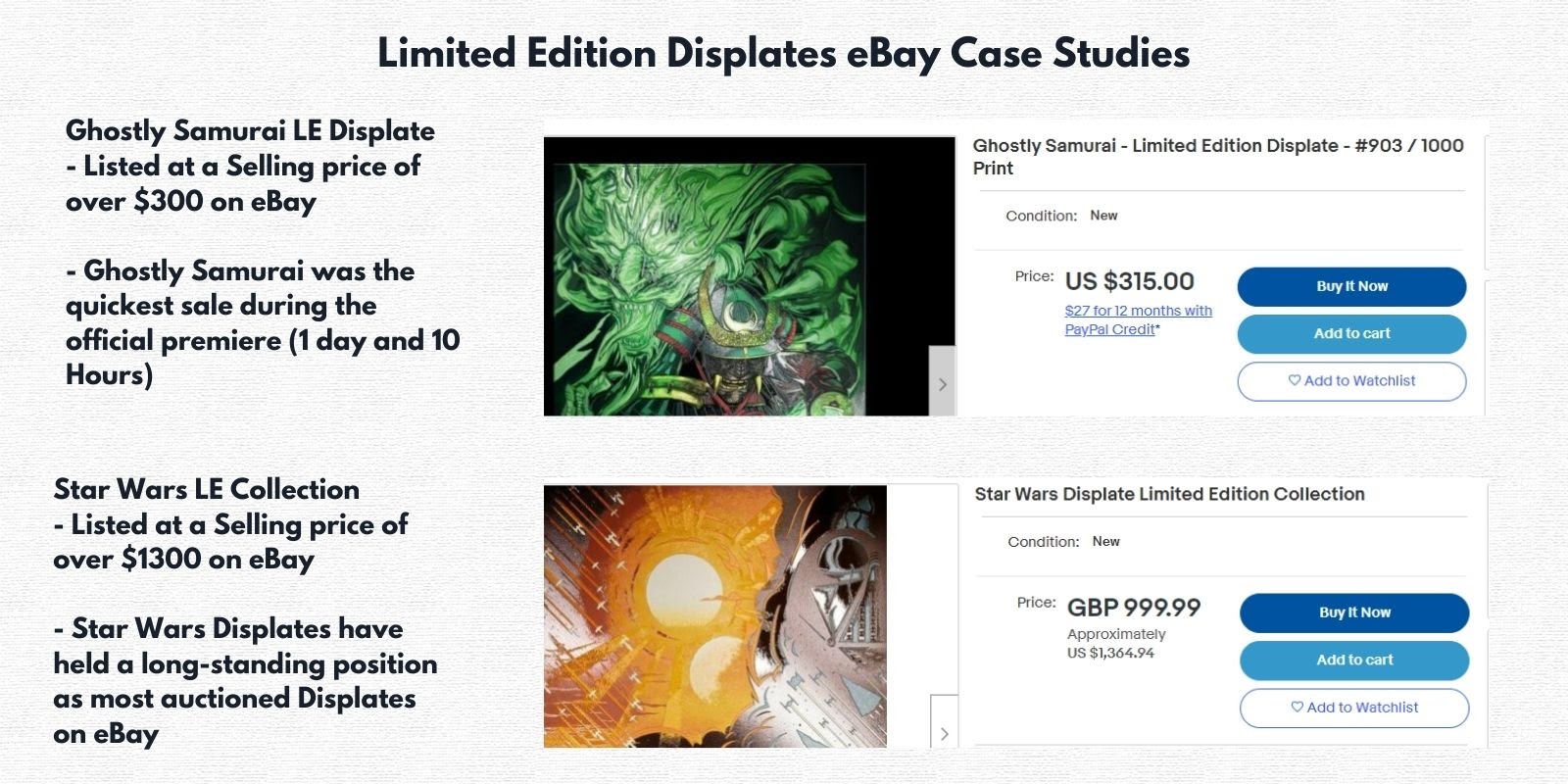 2022 and Beyond
Well, we're not jumping off the Limited Edition train anytime soon. We've got more heat coming this year and a whole host of designs from your favorite Displate artists and Brand shops. To see a day when people are queuing for unreleased Displates is incredibly fulfilling in many ways.
We are beyond grateful for our wonderful artist community and partners who worked tirelessly to provide us with breathtaking designs that had a touch of exclusive flair to stand out. The Limited Edition offers are not just about unique designs; they're also about experimenting with new design textures, extraordinary printing techniques, and photo-luminescence effects to win over both your and our hearts.
Stay tuned for more news about what's coming in the following months and if you're not a Displate club member yet!
You'll want to get onto that asap!