Aki and Frosty are true endzeit aficionados who got their start by drooling over AAA video games and iconic Sci-fi flicks. Now they're on a mission to bring the awesomeness of a post apocalyptic world alive with their totally handmade creations! Let the dark, magnificent beauty enthrall you.
We were stoked to have the opportunity to ask them a few questions and get a snapshot of the futuristic ideas behind their passion for apocalyptic aesthetics, fashion and memorabilia.
*Post-apocalyptic peace out*. Now let's dive in!
How long have you been into cosplay? When did you realize that you have established your own style, and how would you describe it?
Aki: I entered the cosplay scene way before I made my first costumes by first attending and after a while working for a local monthly convention. I always admired the costumes of the visitors, but it took me years before I made my first one. That was in 2014, I think. My current style basically evolved from my day-to-day style of goth and adding self-made elements to it, my first full Outfit in my – what I would call dystopian – the look was back in 2019.
I always try to combine dark, mysterious with futuristic and functional to get something that looks interesting, but also makes sense and is good to wear.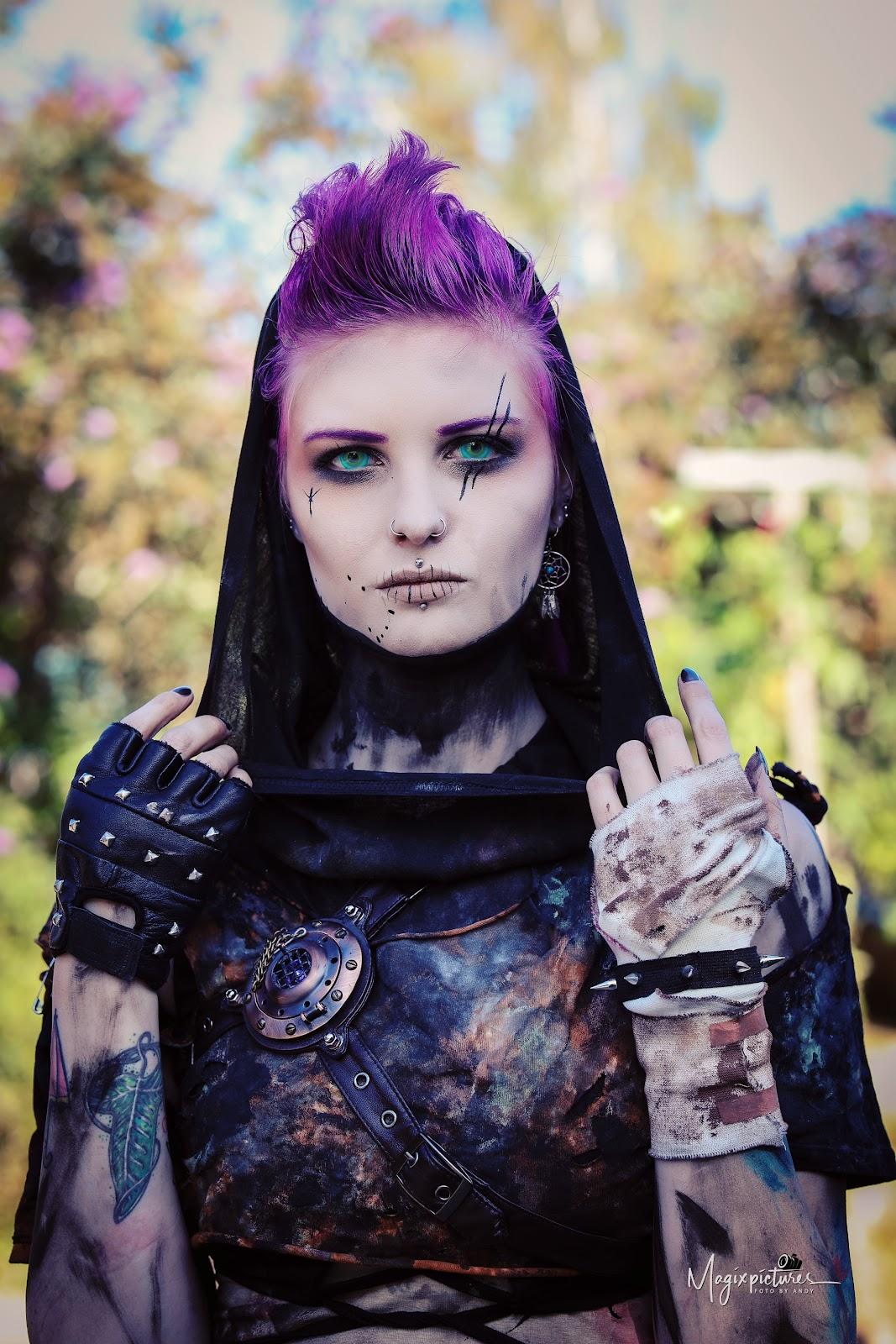 Frosty: I am fairly new in the cosplay world, even though I've been interested in it for a while I only recently started in 2020. I did however have my own style from the beginning. I'd describe it as dystopian as well, but I also like the german term "Endzeit" which translates to "end of time" basically.
What's your favorite look or creation, and which techniques, and materials did you use to build it?
Aki: I think my favorite creation at the moment is my utility belt. I love how practical and sturdy it is, all while being easy to put on and take off. I used a strong PVC-like material that is normally used for the interior of cars as a base and then added various fabrics, faux leather, chains, carabiners, clasps and bags to it. This way I can easily attach more things to it and have easy access to my belongings if needed. 
Frosty: My favorite piece so far is my upper body armor! I used a dirt bike suit as a base, screwed different metal parts and chains to it, added leather to all plastic parts and a lot of belts to secure it around the waist. It was a lot of hand-sewing work but totally worth it in the end.
Aki, what make-up do you use for your looks?
Aki: I try to incorporate all different kinds of products into my looks to get the best possible results. So I do use "beauty" makeup like foundation and contour powder, but also theater makeup and pigments for strong and long-lasting color.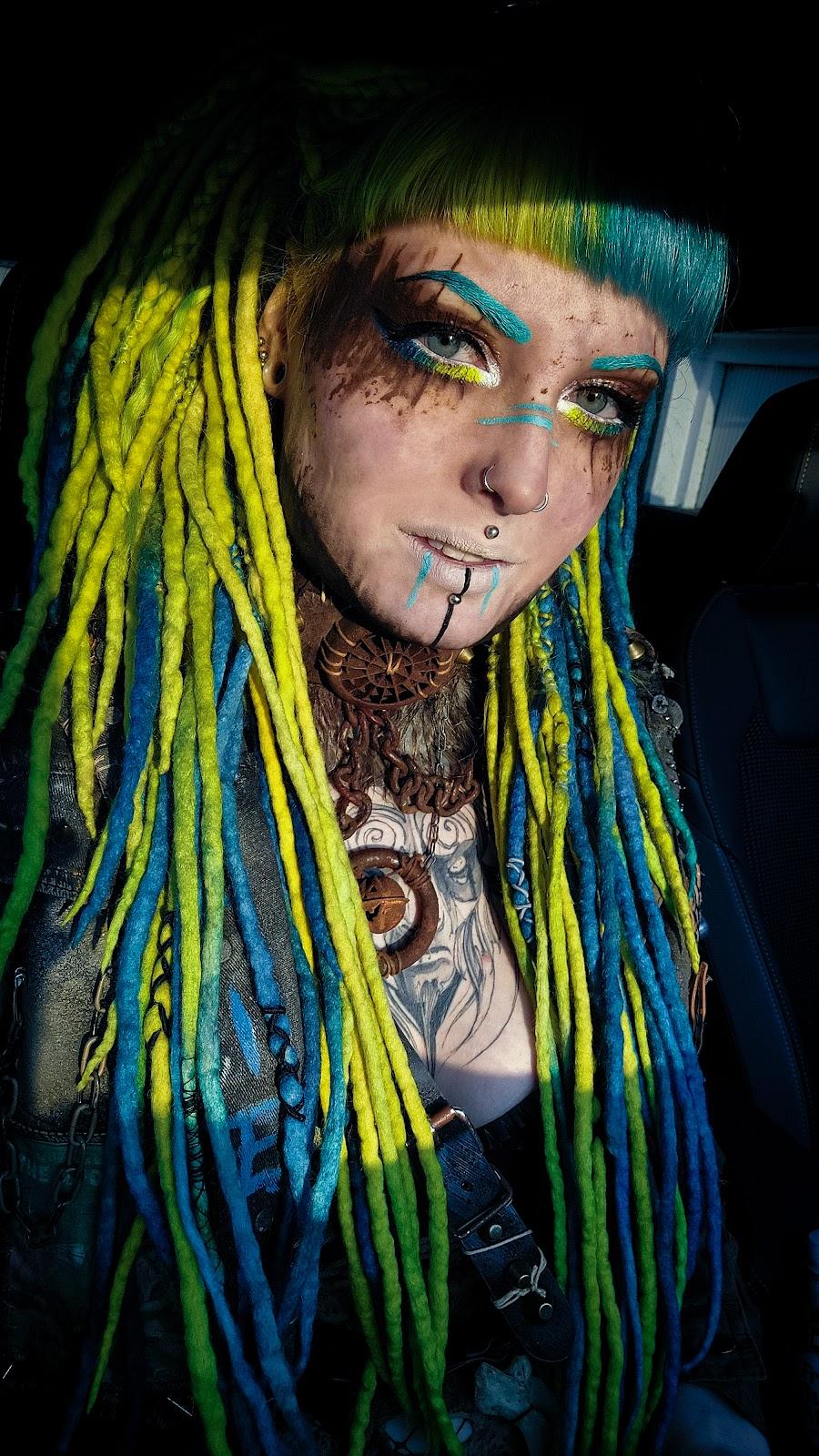 Frosty, I remember your costume from the Cosplay contest during Gamescom 2022. How did you create the weapon you were holding?
Frosty: The weapon I held there is called "Deathscape" from the game "Outriders". I saw it in a trailer for the new DLC back then and immediately knew I wanted to build it. It was the first time for me to work without metal and only rely on the "typical" cosplay materials like foam, foam clay and resin. I even installed LEDs in this for the first time. It was challenging as I wanted it to be as close to the original as possible, but I only had screenshots from the trailer and no actual 3D rendering. However – with some trial and error – I figured out how to add the materials onto each other to create the shape I wanted.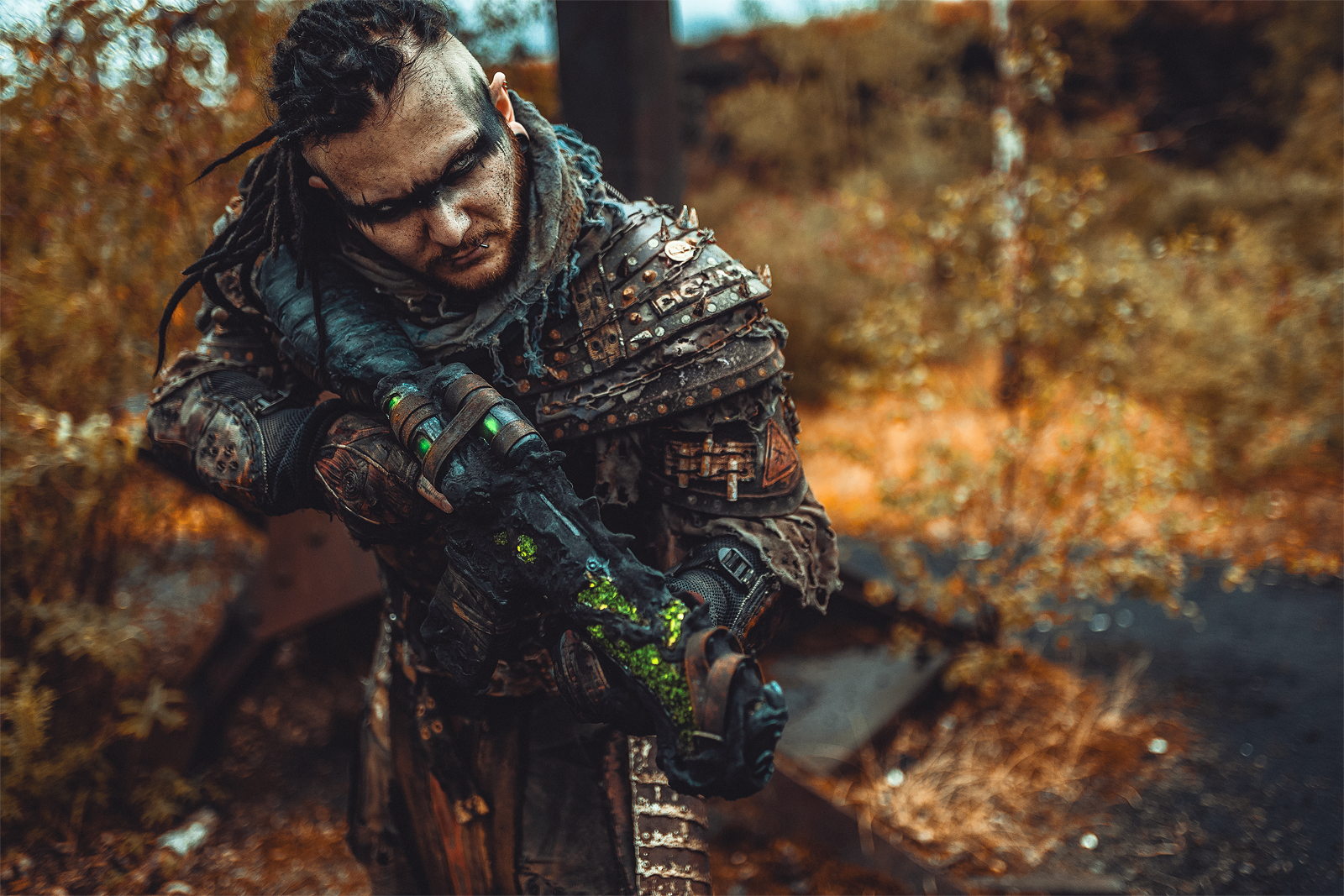 What are your sources of inspiration?
Aki: Movies, series and video games! I was interested in Postapocalyptic and desertpunk settings since I was a child, like in the series "The Tribe", "Riddick". Movies or games like "Project Nomads" and "Final Fantasy 7".
Frosty: For me, it's mostly video games – examples are Fallout, Bioshock, Dying Light, Metro or Outriders.
Do you visit a lot of cosplay events and take part in contests?
Aki: I personally don't take part in contests, but I do visit a lot of cosplay events with Frosty. It's always great to meet friends and new people and see what others have created!
Frosty: Oh yes! Starting in 2021, but especially in 2022, we have been to many different events like Gamescom, Gamevention and Comic Con. I also attended a few contests, and it's always interesting to see how people react to my kind of heavy armor.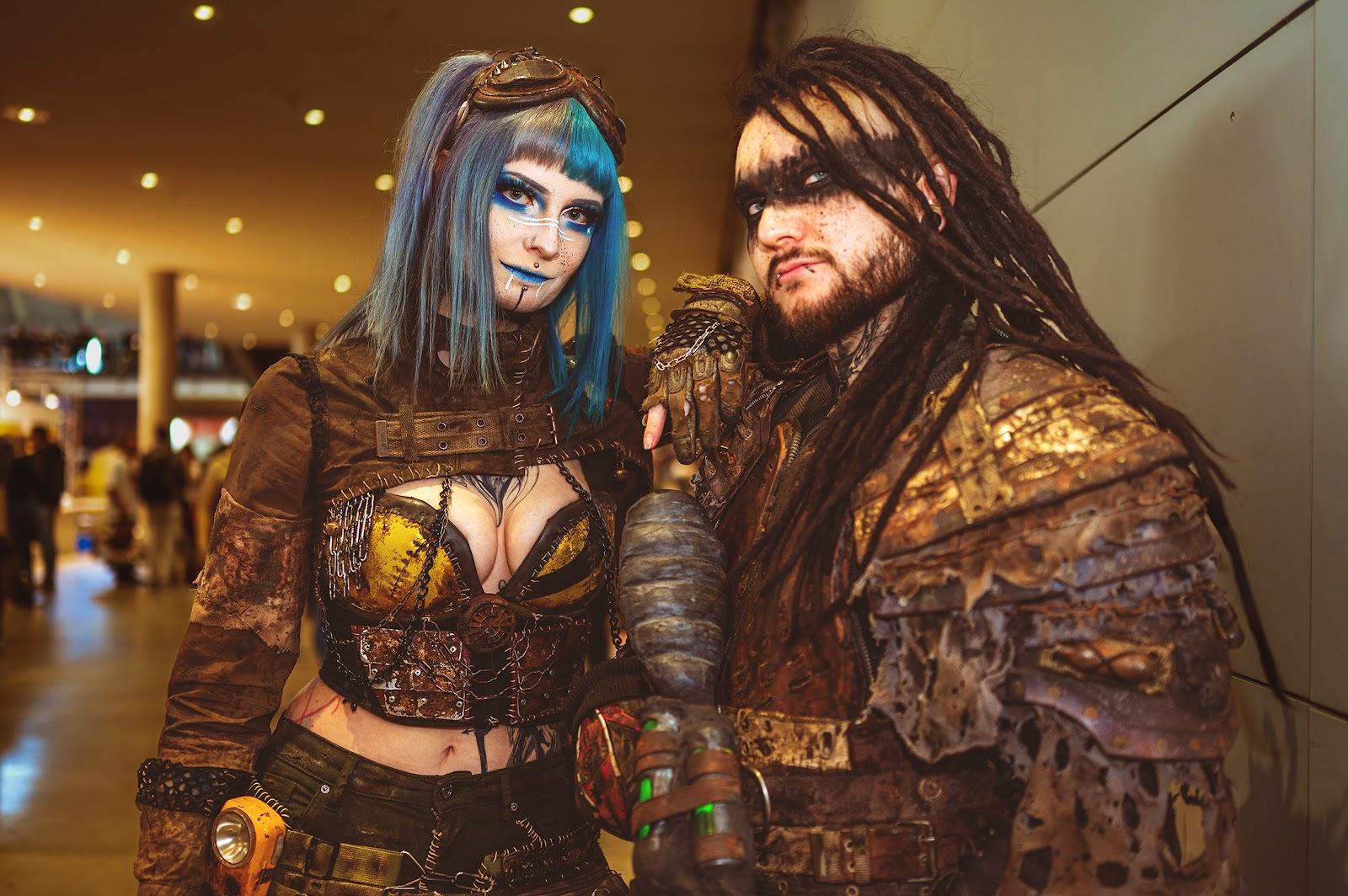 What's your favourite part about being a cosplayer?
Aki: Being able to express my creativity and push myself to always learn more!
Frosty: Bringing things out of video games into the real world and proving that everything you set your mind to is possible!
What are your plans for the future?
Aki: Since I am a trained hairdresser and makeup artist already, I would love to become a costume designer and make a living off of creative projects!
Frosty: I am always striving to create bigger and cooler projects! I hope to work with publishing studios in the future and also hope to live off of this would be amazing!
Which sources/profiles would you recommend to people who want to know more about cosplay?
Aki: I think it's always best to go step by step, so first gather inspiration for the Outfit you wanna go for. People I can recommend in the dystopian setting are especially: @justohl, @r31studios and @markcordorycreations on Instagram. 
Frosty: For cosplay in general Kamui Cosplay and Maul Cosplay have amazing videos on Youtube!
But I think what for example Zwillingsnadel on Instagram does is great, she often takes original designs and then redesigns them in her own style! Try to be unique and make the best out of it!
Follow Aki and Frosty on Instagram: @aki_alchemicae, @frosty_insanity
Wrap Up
Explore some of our Meet The Collector blog posts in the link below! We explore the worlds of many dedicated collectors who are immersed in their passions, from Star Wars memorabilia to Lord of The Rings limited edition merch.