We've been hearing it a lot lately—does Displate do custom prints? The answer is yes! For our Displate Club Members, we offer the unique ability to customize your metal poster with any image you'd like.
Sure, there are thousands of existing Displates to choose from—but what if you're dreaming of having your goofy dog immortalized on metal or your own art featured in a big way on your wall? We can make that happen! If you have a specific design in mind for your metal poster, upload the image to our page, and we will turn it into a custom Displate. Here's how it works.
How to Order a Custom Displate
First, you must be a Displate Club member to access the custom printing option. If you're not a club member, place an order for at least one medium-sized Displate and tick the box reading "Join Displate Club for mad perks" before checkout. Now you can take advantage of a host of other exclusive benefits, including all-year-round discounts on our products, early access to Limited Edition Displates, and free shipping worldwide. For more details on the Displate Club and how to join, visit displate.com/join-displate-club.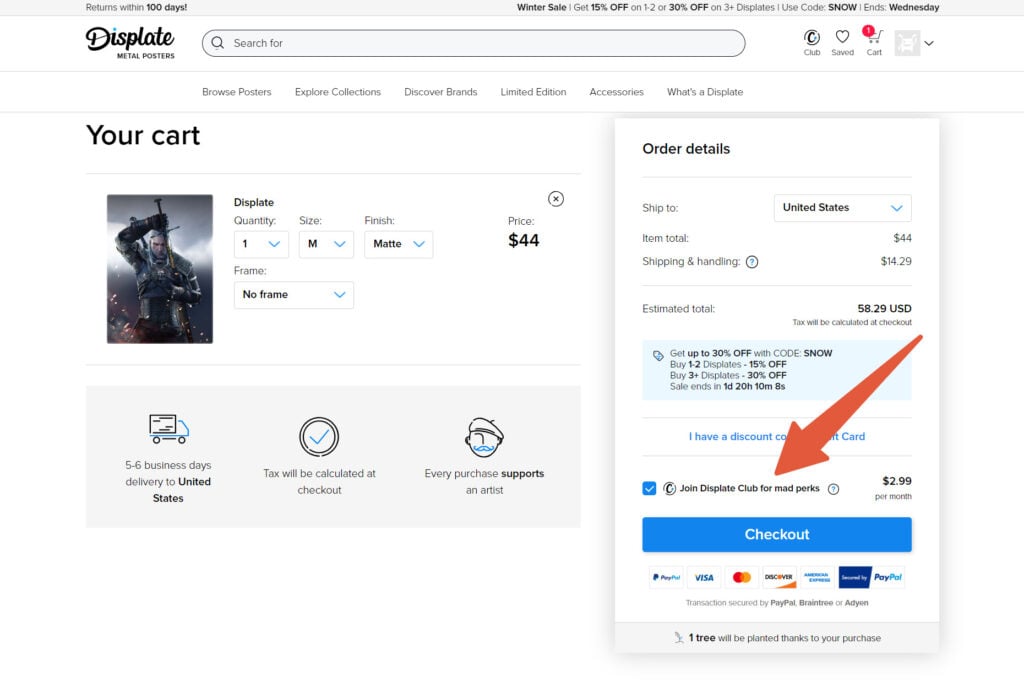 Once you become a club member, head to your profile tab and upload an image of your desired design onto the Displate website. It can be your own photography, or it can be sourced from other places like Adobe Stock or Shutterstock. For best printing results, the uploaded image should have an aspect ratio of 1.4:1 and a resolution of at least 300 dpi. Since our return policy doesn't apply to custom designs, it's best to keep these specs in mind when choosing the image to prevent a grainy or otherwise unsatisfactory result.
After uploading and cropping your image, you will be sent to the checkout page, where you can proceed with your purchase. Please note that all custom Displates available now are medium size, matte, and without frame-effect border. But don't worry! We are constantly working on new products and features—so you can expect more custom Displate options in the future.
Over to You!
That's all there is to ordering a custom Displate! With just a few clicks, you can create a metal art piece featuring your face, your brand logo, or your dog stuck in a cat door he really shouldn't have gone through. Whether purchased as a gift or a splurge for yourself, custom Displates offer a fantastic opportunity to own 100% personalized wall art that won't rip, fade, or deteriorate over time. So don't miss out—join the Displate Club and start printing your very own custom metal prints today!