You're an artist. You spend your days trying to stand out from the crowd. You create content and want it to be found and appreciated. You live to promote and sell what you make. You have a gallery on one of the marketplace platforms and you're active on social media. Yet, it still doesn't bring you as much benefit as you wish. So you look further, search for a perfect tool based on a visual factor, attractive to potential buyers.
Try to sell your art using Pinterest. It's growing quickly, having over 250 million active users a month. It's this amazing, visual-oriented platform, beating any channel in feeding the eyes. It's the bull's eye for you since your work is created to be looked at, right?
So why do exactly people scroll Pinterest? What do they look for? The main reason people visit the website is their need for home decor inspirations and ready products to put in their interiors. They're seekers, they're buyers, they're your target. Time to bring out your heavy weapons and get found by them.
Using Pinterest can be a time saver. Of course, you should still build your presence on Facebook and Instagram, but let's face it – Pins live longer than any other social posts. They exist and spread, and it's the main reason to dive into the platform.
What are the steps?
1. Set up a business page
It's a meaningful step for artists, who want not only to showcase their works but to sell art online. By building your professional page, you will have access to all the insights – your audience's demographics, interests, what they react to and what isn't their thing. But private pages are totally fine too. Don't think that going business is a must. You just need to note that you won't be able to check the analytics then. And if you prefer to leave it for later, you can convert your profile into business one anytime you want.

We read in Pinterest's terms: "We have two sets of terms—one for people and one for businesses. If you're using Pinterest for business purposes or as part of how you make a living, you should sign up for a business profile…"
Obvious? We think so.
2. Keywords, keywords, keywords
We know. You're a creative person. Naming your wildlife art 'animal portraits' sounds degrading, but you need to understand one thing. People like simple. And because of that, they use straight and direct words to find what they look for. They most certainly won't search for a 'puppy' typing 'small furry friend.' You need to think of the keywords defining your art in the most uncomplicated way.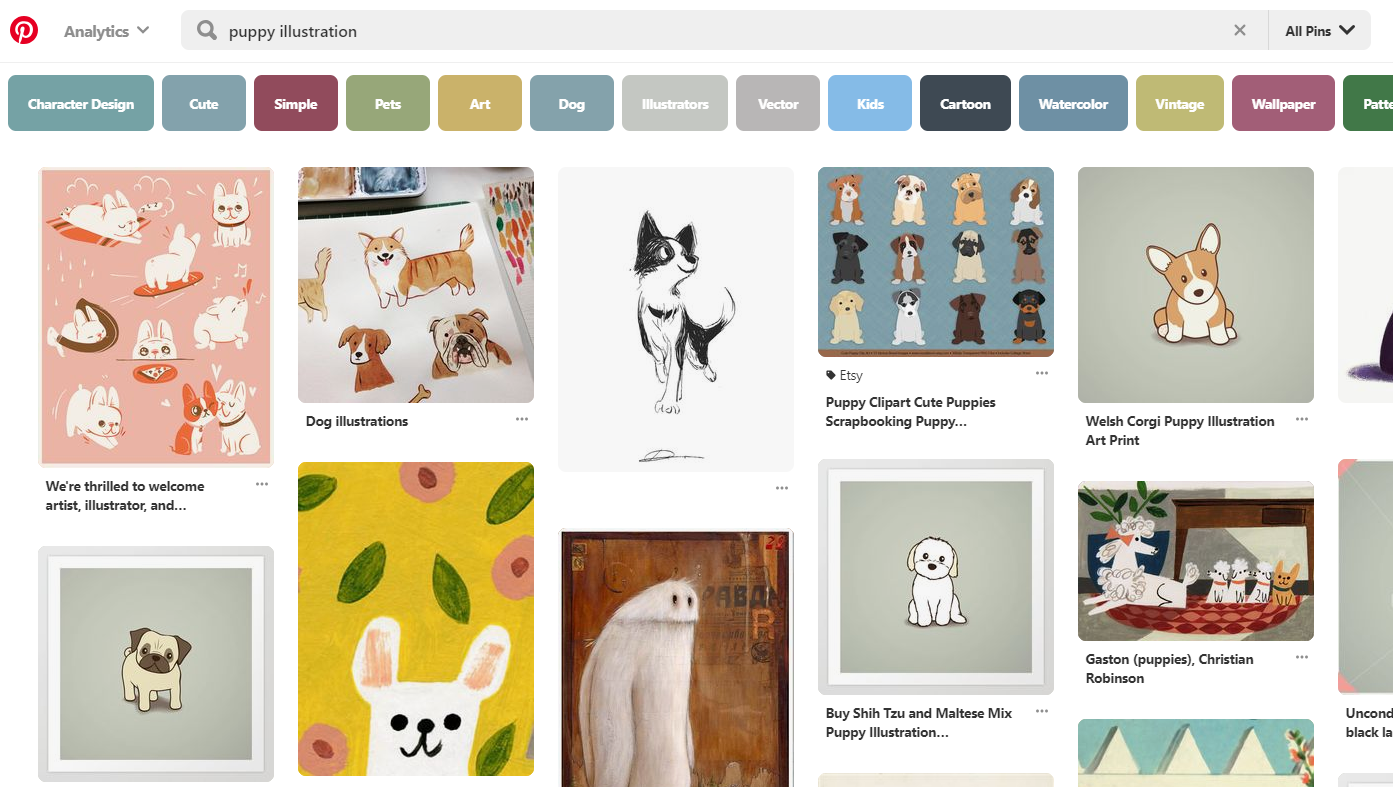 Don't exaggerate. Be as precise as possible.
Do the same with your bio. Being funny and cute is fine, you should totally go for it. However, try to weave the keywords in it. Be as straight as you can in writing about your art, you can even repeat yourself. Stick to the facts and wait for the customers to find you.
Keywords on Pinterest are as important as in trying to rank for a regular web search engine. Its algorithm is driven by saves, sends and comments. So how to find perfect keywords for your art?
Go to the search bar and tag the keyword you want to use. Let's take 'animal illustration' as an example.
You will see some autosuggestions of long tail keywords under the search bar. They are connected to your keyword.

Pinterest also shows you autocomplete suggestions. Make use of them – write them down and you're ready to create a content using also these keywords!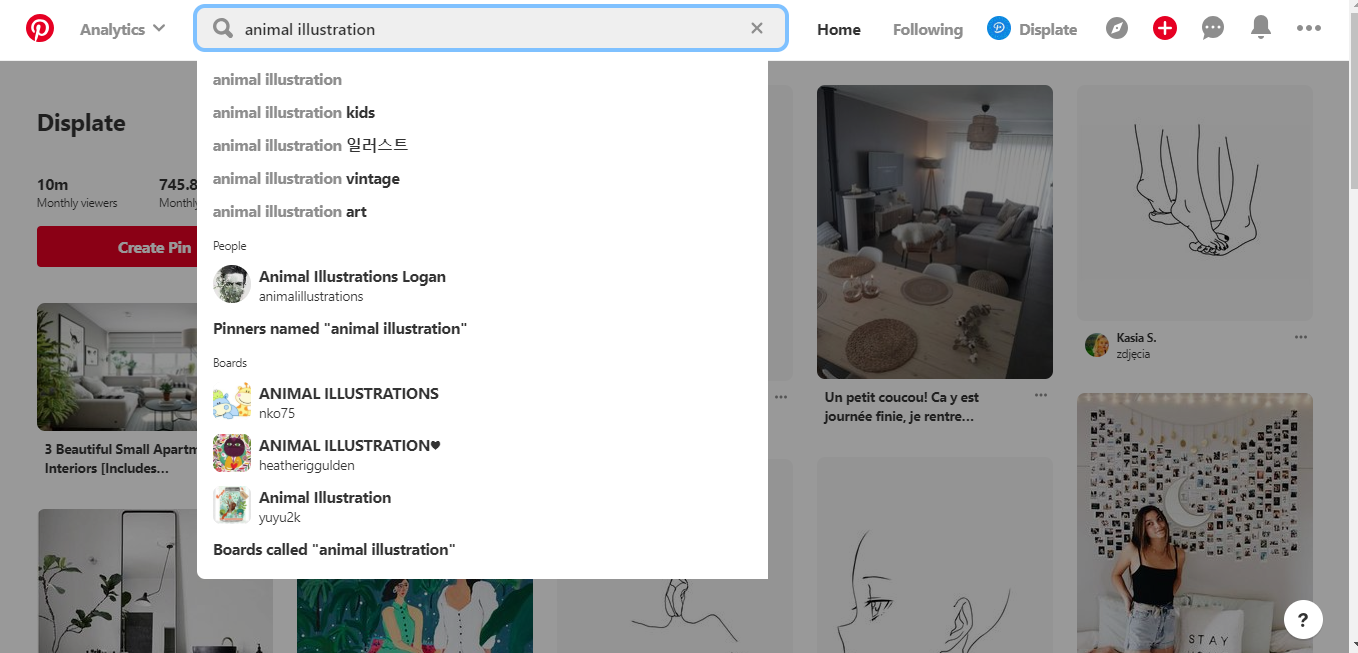 If you have a business page, go to Pinterest's Ads Platform and click the 'Ad group details' button. Now type your main keyword. You'll see some extra keywords in the suggestion field – it's a simple trick to create a diary of keywords you should definitely use while describing yourself, your pins and boards.
As you can see, Pinterest is your secret assistant in finding the long and short tail keywords and phrases that may help you become more visible on the platform. Don't be afraid to use them, you'll see the positive effects soon!
3. Pins
Make pinning your daily routine. Start with pinning designs straight from your Displate gallery. Install a Pinterest extension for your browser and right-click every artwork you'd like to appear in your Pinterest page. In this way, you'll be certain your works are properly linked. Congrats! You just made your work accessible for potential buyers.
Now it's time to clean up. Create thematic boards, e.g. Cat Art, Marine Landscapes, Newest Paintings. Make them clear and pretty – Pinterest community loves pretty. Play with boards, here's the idea – if you have photos from your happy customers – use them! Create a board with a fan-generated content and show-off!

Note that every Pin needs a description. No picture should be left without attention, so again – take out our favorite keywords and put them under your pins. Add at least 3 hashtags and you're ready to go, my friend!
4. Add Pins with your Share and earn links
Make your account your personal gallery. Add all designs you upload for sale. Point users from your other social media accounts to this gallery. Put behind those designs URLs to Displate with your unique Share and earn link and earn 41% more commission every time someone buys your art through that link!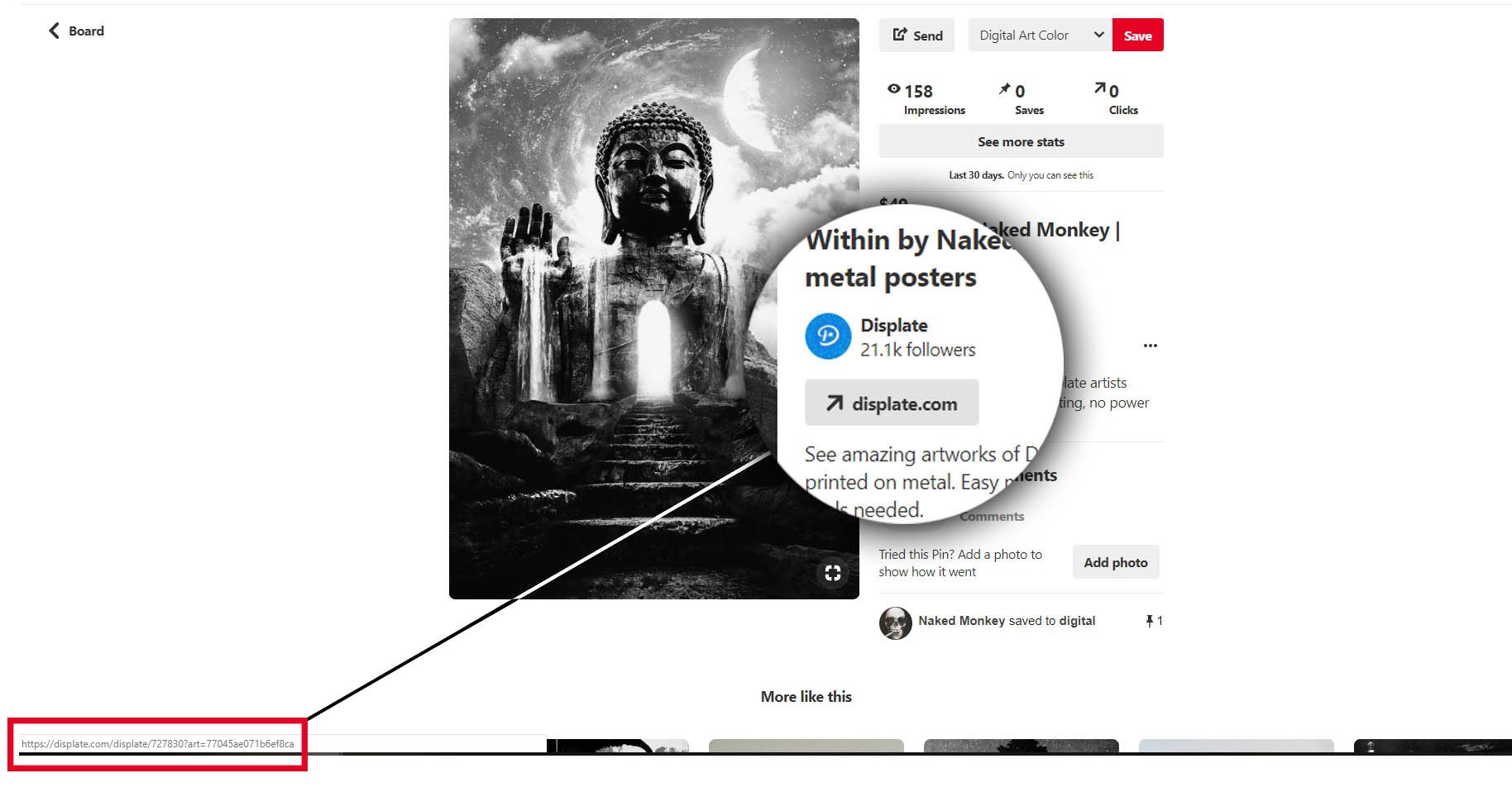 5. Pin from the others!
Keep up with what's going on on the Pinterest. Pin and comment from the others – it will help you build your community, bring new fans and customers to your profile and give you bigger credibility as an artist.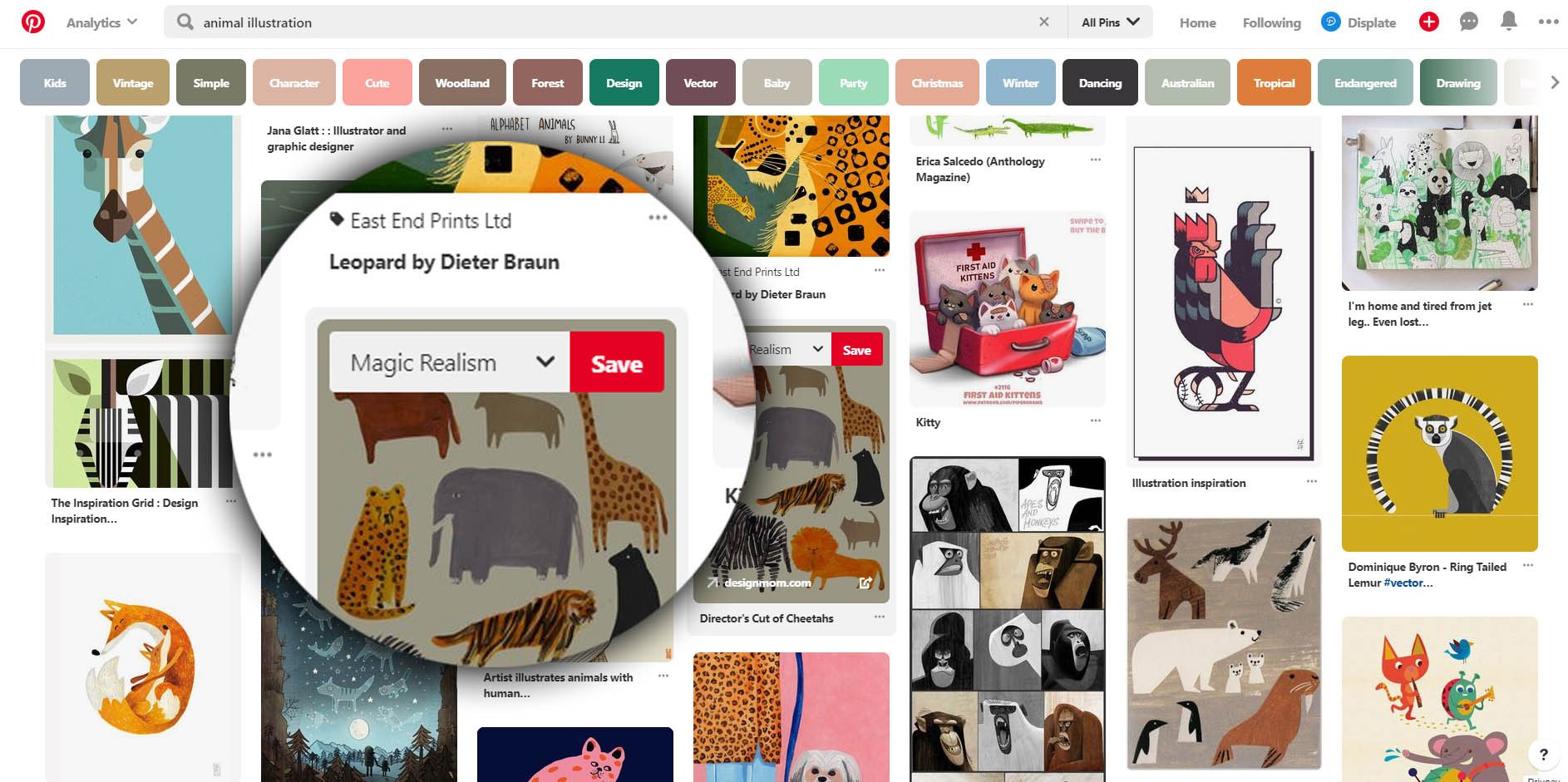 ⭐PRO TIP:
Pin 5-50 pictures a day. Doing it more often may cause in Pinterest blocking your account. Pin regularly – 80% your designs and 20% other pictures. It's a golden rule for artists.
REMEMBER!
Like everything in life, selling art through Pinterest takes time. You need to be focused, precise and patient. These are just the basic steps, but we totally encourage you to discover it's full potential. Because who knows, maybe it's a gold mine for you.
We're on Pinterest! Drop by, pin from our boards and stay inspired!